Wetlands are key stopover sites for so many migrating bird species throughout the autumn. They're the perfect place for them to rest and refuel as they make their long journeys from breeding grounds further north, down towards southerly wintering areas.
An early start
Autumn begins early for many of these birds. Leaving the Arctic as early as July, they appear at our wetlands in what we think of as summer.
Waders are often the first to start moving, quickly followed by warblers, wagtails and hirundines.
One-day delights
We must begin with a nod to the spotted crake at Caerlaverock on 4th July that escaped the dates of our spring roundup. And no, it didn't arrive here 'independently' from the US. Instead it's a rare breeder in the UK but commoner across Europe, so it's hard to tell whether it was wandering from the UK population or arrived from further afield.
A lesser yellowlegs at Welney on 31st July kicked off autumn wader migration in style. This species looks like a dainty common redshank, with of course, yellow legs. Sadly it had other places to be and there was no sign the day after. They're a reasonably regular vagrant from North America to these shores, but this was the first record this autumn for Britain.
Summer-holiday sandpiper
This species was last noted back in the spring at Steart Marshes and Llanelli, a pectoral sandpiper set up residency for ten days at Martin Mere 6th-15th August. With breeding populations across much of the Arctic tundra, this one was likely returning from Siberian breeding grounds, on its way to wintering along the African coast. Note the common sandpiper in this video for size, shape and plumage comparison.
Further south at Slimbridge, another pectoral sandpiper visited from 10th-18th August, at times proving rather photogenic.
Back up north at Caerlaverock, a juvenile red-necked phalarope stopped off on 19th and 20th August. These birds are a red-listed breeder, found in the summer months on the Scottish Western and Northern Isles. But they also breed in Iceland and across northern Scandinavia.
Unusually for a wader, they migrate to spend the winter at sea, feeding on insects and detritus at the surface. Key wintering areas for this species are the Arabian Sea and South Pacific Ocean, their lobed toes enabling them to swim strongly.
The individual at Caerlaverock was seen on the Folly Pond. The last record for Dumfries and Galloway was back in September 2020 at the same spot. Indeed, Caerlaverock have seen records of this species on the very same pond in 2012, 2008 and 2004, going to show that a particular species is well worth looking out for at the right time of year in the right sort of habitat.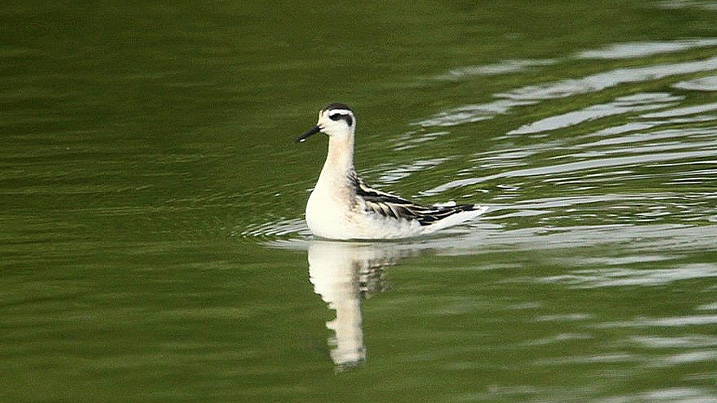 Juvenile red-necked phalarope at Caerlaverock © Chris Baines
September sights
Back to Slimbridge now for a couple of brief glimpses of rare birds. On 3rd, an ortolan bunting was seen on the foreshore of the River Severn but there was no further sign of it. This species breeds across much of mainland Europe.
If you read our spring rarity roundup, you'll remember the white-spotted bluethroat, a bird that held territory for many weeks, last being seen on 4th July. As in previous years, it popped up again in the autumn – seen on 10th September in the same spot.
October moves things up a notch
8th October saw a juvenile American golden plover at Slimbridge, the first for Gloucestershire since 2007…also at Slimbridge. It was seen a further three times during October, and again on 5th November with the growing wintering flock of European golden plover. Will the American stay settled with them?
This species differs from the European golden plover, by having a prominent supercilium (the white line above the eye), greyer plumage overall and an attenuated (long and pointy) rear end. They're long-distance migrants and usually breed on the tundras of northern Canada and Alaska before travelling to Patagonian wintering grounds in southern South America.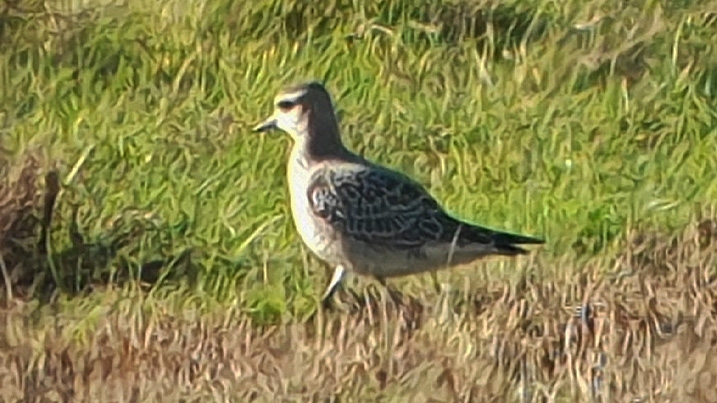 Juvenile American golden plover at Slimbridge © Martin McGill
On 9th, another pectoral sandpiper briefly visited the site – not fully giving itself up until 12th, when it spent the morning showing well, being seen up to 19th October.
A warbler from the east
Much of the second half of September and early October saw westerly winds, so there was little chance of easterly-migrating birds making it to us.
But on 9th October the first easterly breeze delivered Slimbridge the 3rd ever barred warbler recorded in Gloucestershire, the last being seen in 2014.
They're a relatively common autumn migrant on the UK east coast. Related to whitethroats, blackcaps and garden warblers, they breed across much of eastern Europe, with the closest populations in Germany and Sweden.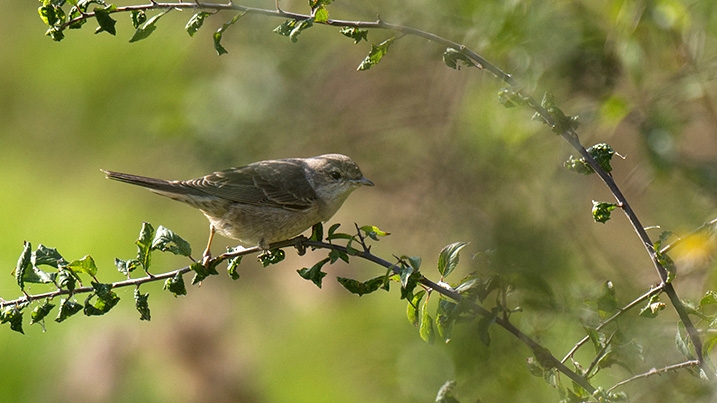 Juvenile barred warbler at Slimbridge © Jonathan Bull
Swans incoming
A nod to the whooper swans that turned up at Slimbridge on 12th October. They are of course a regular sight at Caerlaverock, Martin Mere and Welney, but usually only appear at Slimbridge in ones and twos.
Over 20 birds in one go here might be a sign of a burgeoning Icelandic population, with some birds on the lookout for different wintering grounds. A strong north-westerly tailwind helped these birds south, with Martin Mere seeing hundreds of whoopers arrive on the same date.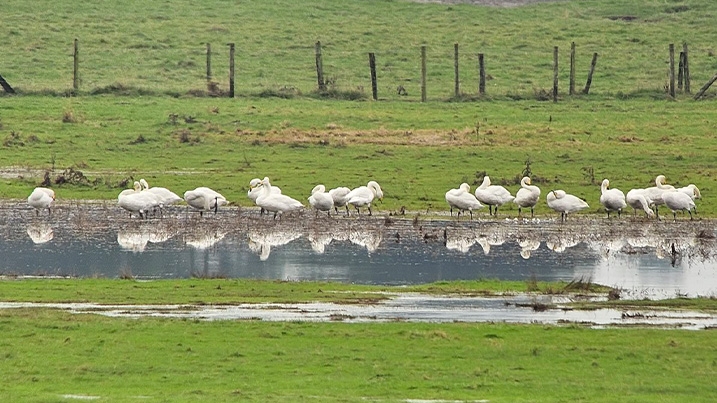 Whooper swan flock at Slimbridge © Slimbridge Sightings
On 12th October a possible purple heron was reported at Martin Mere, but there was no further sign.
A questionable goose
Back to Slimbridge where a lesser white-fronted goose arrived on 14th October. These birds were once recorded annually here, but the last was in 2003. The closest wild populations are in Scandinavia and traditionally get mixed up amongst carrier species such as Russian white-fronted geese, in easterly winds. However, this bird turned up in a north-westerly wind and associated with Canada geese, so it's likely to be an escaped captive bird.
Indeed, there was one seen with Canada geese in Wiltshire, earlier in the autumn; this could easily be the same bird that has made its way to Slimbridge.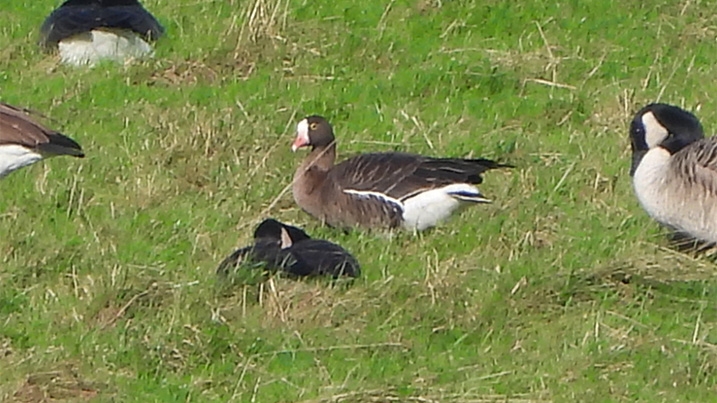 Slimbridge's lesser white-fronted goose © Paul Masters
Lightening strikes twice
Back in February, the first WWT rarity of the year was found at Slimbridge; an adult white-rumped sandpiper. On 6th November, a juvenile was found, making it an incredible double for the species at the site this year, with the last record back in 2007. Both were found by Martin, Senior Reserve Warden.
It's amazing to think this bird would have hatched as a chick just months ago on the high tundra of Canada or Alaska. They usually migrate to winter along the coasts of southern South America, with this one likely a result of being blown across the Atlantic on one of October's fast-moving storms.
Even if you didn't manage to catch up with any of our star species this autumn, there was a great deal more on offer:
Garganey, greater scaup, leach's storm petrel, bittern, cattle egret, glossy ibis, spoonbill, osprey, hen harrier, merlin, curlew sandpiper, Temminck's stint, little stint, wood sandpiper, spotted redshank, jack snipe, grey phalarope, great skua, Mediterranean gull, glaucous gull, little tern, short-eared owl, wryneck, water pipit, ring ouzel, pied flycatcher.
As October draws to a close so does the peak period for migration. The majority of summer visitors will now have departed, although a few may linger. Attention now turns to ducks, geese and swans, and other birds from the north escaping the first heavy snowfalls in Scandinavia. A careful look through increasing flocks of wildfowl, waders, thrushes and finches might just turn up something unusual.
Header image: The Slimbridge pectoral sandpiper with black-tailed godwit for size comparison © Nigel Tucker
---