The summer holidays are almost here! Let's forget about timetables, routines and setting the alarm clock it's time to prioritise new experiences, adventures and slowing down.
Our wetland sites offer all this and more. This summer you can discover our wonderful wetland world with the help of illustrated guides full of Quentin Blake's drawings. With imaginations sparked and inspiration flowing, explore your creative (or wild!) side and make amazing memories together. There's loads going on at all our sites (check out each centre's 'What's on' page for a full run down). But here, to get you started, are our top picks of family-friendly events and activities.
Get creative together
Inspired by our wetlands? Head to WWT Slimbridge's living wetland theatre for the Let's Draw Family Show. These interactive shows will inspire kids young and old to pick up a pencil and get creating. (11am daily 22 July - 3rd September). Continue the crafty fun at our Art Hub (open daily) and try your hand at our Drawing with Water activities on Tuesdays and Wednesdays (25 July – 30 Aug) Don't head home without taking a fun selfie or photo in our large frames (you won't find a better backdrop) and with our four large-scale Quentin Blake illustrations.
Summer stories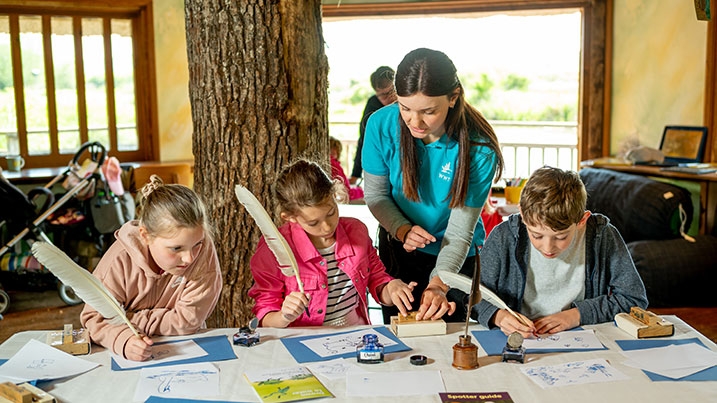 Our watery places have inspired many writers over the years and some of our best loved characters have made wetlands their home, think Ratty in Wind in the Willows or Pip in Great Expectations. Let your mind wander, dream and imagine this summer and see what our wetlands inspire in you. At WWT Arundel, you can enjoy a special story time in the Wildlife Garden every afternoon (22 July – 3 Sept) from books illustrated by Quentin Blake. At the weekends, inspired by Quentin's unique work, you can enjoy our outdoor drawing workshops and discover the beauty in nature as you create shadow art, viewfinders, soundscape drawing and more.
And breathe...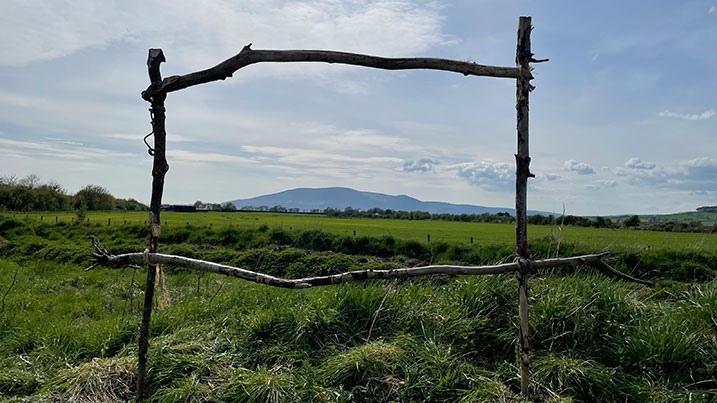 We know that though the summer holidays are fun, they're also exhausting, especially if you're chasing excited children around for days on end. Bring a little space to your day and draw from the tranquillity of your surroundings. You can connect with nature in our wildlife-rich reserves where there are quiet places to sit and reflect. Discover special places where you can take a deep breath and regain a sense of balance. Encourage the kids too, to sit (you might need snacks…) and watch or listen to the nature around them. At WWT Caerlaverock you'll find different aspects of the reserve highlighted to encourage a connection with the nature around you and help bring a feeling of calm to your day.
Crafty creatures
Make the most of the long, hot summer days and pencil in some family time at WWT Castle Espie this summer. Rediscover the joys of family favourites such as pond dipping and mini beast hunts. We can help you find and identify the weird and wonderful creatures that live in our ponds and woods, it's an exciting and accessible way to discover more about wetland wildlife and have fun with the kids at the same time. There's always lots to explore whatever the weather.
Watery fun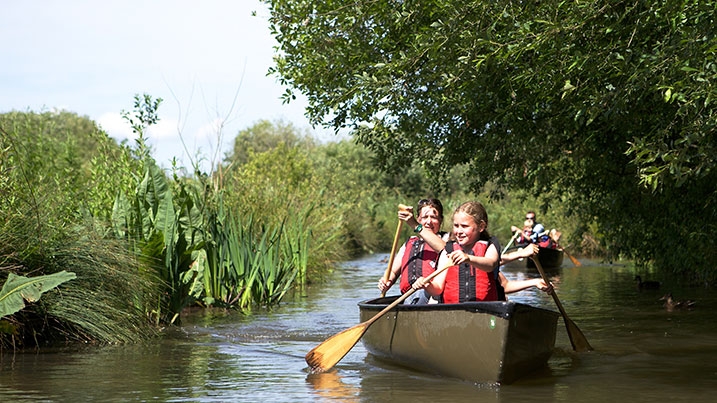 Ahoy captain! It's time to take to the high seas (well, our waterways actually but let your imaginations run wild) in a canoe at WWT Llanelli. While you're navigating, keep your eyes peeled for dazzling dragonflies, shy water voles, darting kingfishers - you can take a leisurely chauffeur-driven ride to the Canoe Safari Hut and back in our new canoe taxi. Canoes are only available during the summer holidays. You can also enjoy canoe and boat safaris at WWT Slimbridge and WWT Martin Mere.
Step back in time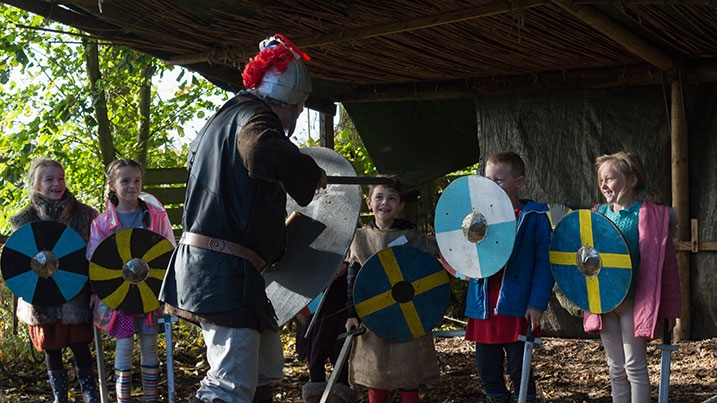 This summer we're getting creative in every way we can at WWT. So we're excited about the adventures planned at WWT Martin Mere this holidays. Join us for an adventure into the past and visit Mere Tun village where you'll discover how wetland materials were once used for everyday life. Then have fun gathering your own tools from our woods and wetlands and get arty. You can make clay models, try weaving and discover how materials like charcoal were made. It's a great day out for all with something for everyone to enjoy.
Fabulous feathery friends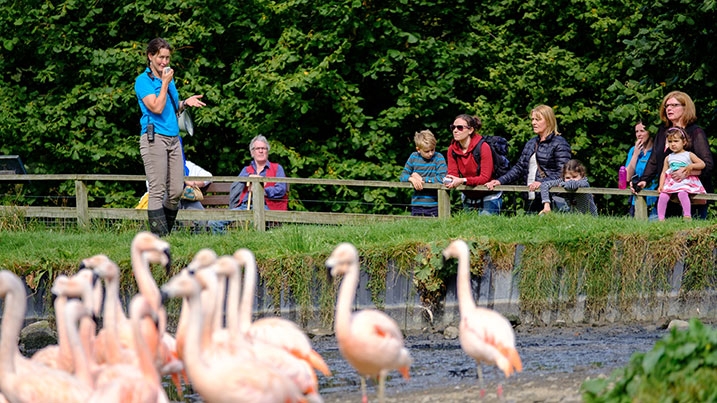 At WWT we love birds and so does Quentin Blake, it's one of the reasons our collaboration with this amazing artist came about. At WWT Washington our daily flamingo and otter talks are the highlight of the day for many of our visitors. During these fun, fascinating and interactive talks you'll get insights into all things feathery and discover why we're passionate about wetlands and the wildlife they support.
Calling all wetland adventurers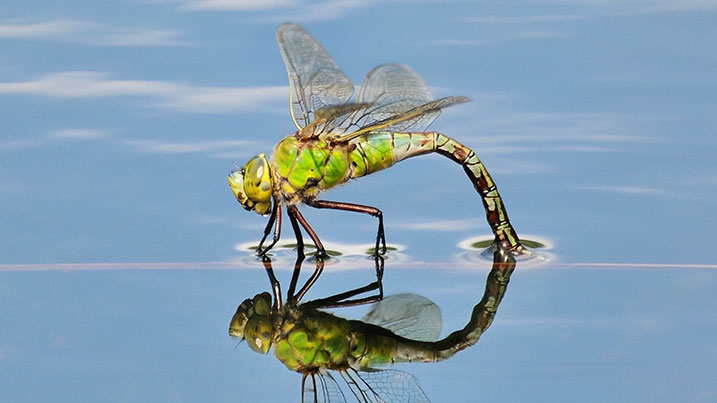 Ready for an adventure? There's nothing like the wilds of the Norfolk fens to inspire a wonder of the natural world. With its open skies and sense of space it's the perfect place for curious explorers. At WWT Welney we're prepared for adventures, so pick up an explorer backpack from the visitor centre, sling it on your back and set off and explore our wetlands. Your backpack has everything you need, including a birdwatching and bug hunting kit. Make sure your expedition leader takes you to the furthest reaches of the reserve on our summer walk. Come back and tell us what you've discovered. We can wait to hear!
After dark adventures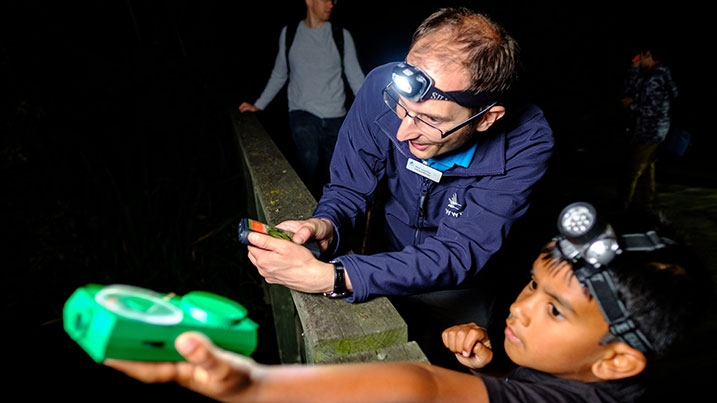 When night falls, our wetlands become magical places where your imaginations can really run wild. At WWT London visit after-dark every Wednesday in August (8pm – 10pm) and enjoy our Junior Bat Walks (for children aged 7+). London Wetland Centre is one of the best places in the capital for bats, which flit over our lakes and ponds after dark. Learn about these mysterious creatures and use special bat detectors to hear their hunting calls. We'll round off the evening's adventure around the campfire sharing stories and toasting marshmallows. Join us to discover the magic of wetlands by night and experience new and amazing wildlife on every visit.
Find your nearest wetland site and have a wild summer. Not a member? Book online and save time on arrival.
Find your nearest wetland site
---