It's the most wonderful time of the year, but this year things will be a little different. With many of us separated from our loved ones – and from nature, if we're stuck indoors – we're looking for ways to make a deeper and more meaningful connection this festive season.
Although the pandemic has affected all of us, the climate crisis hasn't gone away, and if you celebrate Christmas, you might be thinking about how you can honour all your usual traditions without having a negative impact on the planet. We've put together some ideas to help you have a creative, fun and nature-filled Christmas while keeping down your water, carbon and plastic footprints.
Eco-friendly gift ideas
Give a gift, help an animal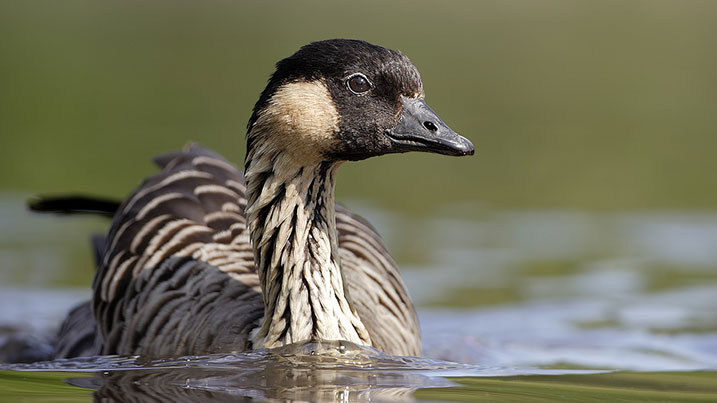 Who wouldn't be won over with the gift of a doe-eyed nene goose, a flamboyant flamingo, an energetic otter or an adorable duck? Although they're all lovable, many of the species in these groups are really struggling due to loss of wetland habitat and other human influences, and by adopting one of them you will directly help to ensure their future. Plus, you get a soft cuddly toy to represent your animal, as well as a pack full of fascinating facts and stories about your chosen animal.
The experience of unlimited wetland nature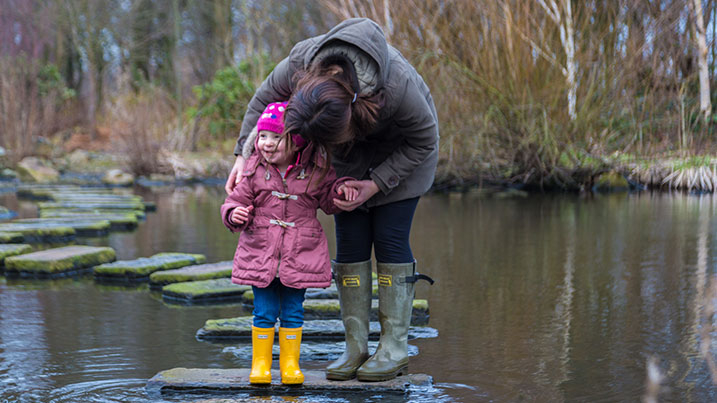 We're all looking for fulfilling ways to get outside this winter, and when the rest of the world goes quiet, wetlands come alive with the sound of birds filing the wide-open skies and the chance to see fantastic murmurations as the sun sets. Maybe you know someone who has visited a wetland centre and loved the experience but hasn't taken the next step, or they've had membership before but haven't got round to renewing.
If you know someone who could do with an unlimited pass to experience the soft sweep of a swan's wing and the rushing of water through the reeds (followed by a warming hot drink afterwards) then a gift membership could be the answer. Plus, WWT rely on memberships to support our conservation work, so you're helping keep wetlands healthy and full of wildlife while enjoying nature.
Buy second hand
The internet is full of websites reusing good quality as-new or slightly used stuff at bargain prices, and many charity shops do the same, without the delivery impacts, also supporting a charity. If you're buying new, buying independent and local is a good option, as this directly contributes to your local economy while being traceable and reducing the carbon footprint of your gift.
Try making a gift
Your recipient could appreciate the time and effort you've given as much as the gift itself, and it can be fun to make anything from jam to a bug hotel.
If you would like some ideas on what you could make, why not browse some of our tutorials on how to make a toad abode or bird feeder? It'll be totally unique.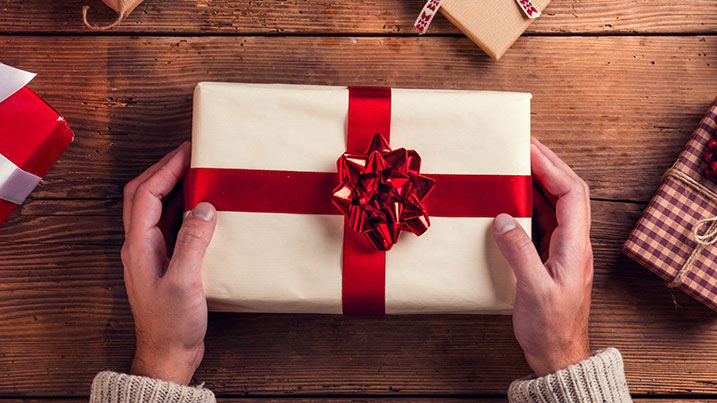 If you don't fancy making something (or don't have the time) we have a range of wetland-themed gifts from our brand-new online shop. From handmade homeware from independent creators to face coverings, accessories and books, anything you buy will have the added benefit of directly helping to protect, restore and create wetland habitat. The perfect gift for any nature lover.
Wrapping paper and cards
Spending so much time at home has made us more aware of the amount of waste we can get through, and at Christmas time this can especially build-up. Here are some ideas for a greener approach that still keeps that festive feel.
Brown paper wrapping has a simple and nostalgic feel, along with natural (plastic-free) string and can be recycled, unlike shiny or foil-backed wrapping. If in doubt, try the "scrunch test" – if the paper stays scrunched then it is more likely to be recyclable.
If glitter is essential for Christmas sparkle, then look for biodegradable glitter – it's just as shiny but isn't made up of thousands of tiny bits of plastic like traditional glitters often are - those micro-plastics can be very damaging, especially for aquatic nature.
Christmas cards
Here are three ideas to reduce waste: i) Use cards without glitter or bows on, as those cannot be recycled; ii) Keep the cards to cut out shapes and pictures to make cards or gift tags next year, and; iii) Many people might appreciate being sent Ecards instead.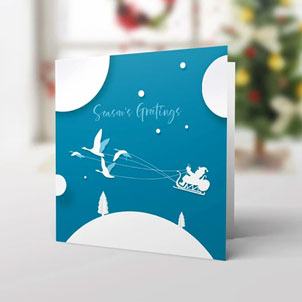 Oh Christmas tree, oh Christmas tree…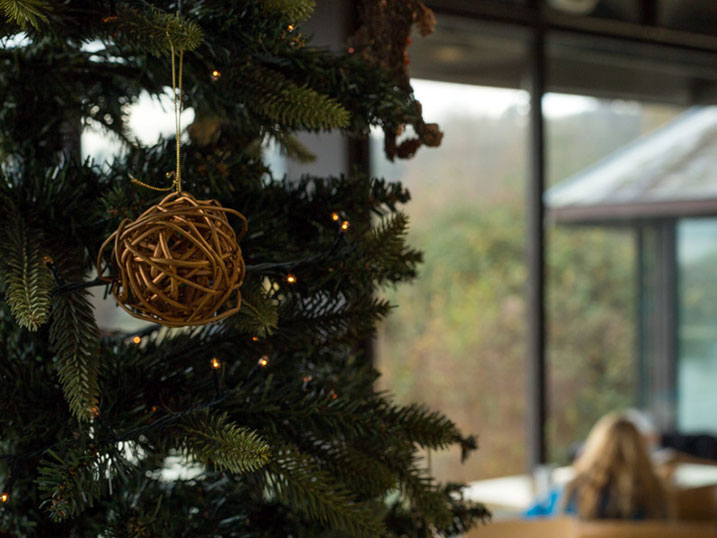 Some suppliers now offer Christmas tree rentals – which can last a few years till they get too big, rather than being thrown away after just one year's use.
It's a good thing to buy from suppliers advertising sustainability credentials - do ask them how sustainable their trees really are. Compost the tree in the new year – many councils will have local collection points – or you can plant it out if it has roots but only on your own land: birds love to nest in a maturing conifer but it can outgrow your garden so think carefully first.
If you're looking for ideas for Christmas decorations that won't languish with dust all year, why not hang edible Christmas decorations or ones made from natural materials rather than plastic ones which are often non-recyclable. You can create some simple nature stars with our easy tutorial.
If you do have much-loved old plastic decorations then it's a sensible idea to keep using them rather than using up more resources to replace them. Remember, re-using is better than recycling.
Our online shop sells sustainable, wetland-themed Christmas decorations with a wetland twist to add a natural, festive air to your home. Or why not try decorating with delicate origami swans and cranes; if you make enough, you could even string them into a chain and hang them up around the room to really bring the wild spirit of wetlands indoors.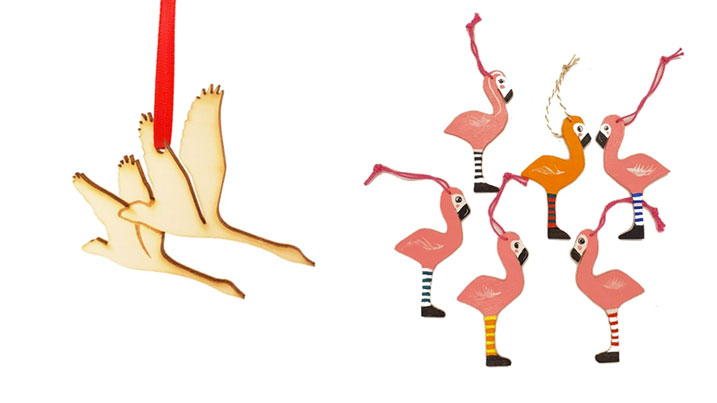 Food and drink
Christmas definitely isn't a time to skimp on food and drink! But there are easy ways to minimise your impact on the planet.
Look for:
Locally grown produce – with a lower transport carbon footprint. It's less convenient to go to your local shop or marketplace, but let's face it we're all looking for reasons to get some fresh air at the moment!
Food with less or no packaging
Organic food which avoids pesticides that can leach into wetlands – we know this is expensive, so don't worry if you can't afford it, but every little helps send a message to business.
Please don't pour hot fat down drains. It can re-solidify and block them or cause water quality problems where drains spill out into rivers. Throw it in the bin (if you need to wrap it, use beeswax wraps or fabric scraps rather than plastic cling film or foil).
A vegetarian or vegan diet uses up substantially less resources and has a lower impact on climate change than meat. So if you overindulge on meat over Christmas, why not consider at least reducing your meat intake - perhaps as a new year's resolution? It doesn't have to be all or nothing.
Our environmental pledge
We do our best to practice what we preach: at our cafes, our tea, coffee and hot chocolate is fair trade, our eggs are free-range, our fish and seafood is MSC (Marine Stewardship Council) sustainably sourced, our meat is Red Tractor Assured, we provide a range of meat free (vegetarian and vegan) options at our sites and source seasonal, products locally where possible.
Wetland nature can be damaged by the amount of water and energy used in making things (and the associated carbon footprint) and by plastic waste – which is as much a problem for wetlands as it is for oceans. So the less we use, the better it is for wetland nature.
It's time to celebrate
We find an eco-friendly Christmas means more, not less, of getting involved, getting creative and enjoying yourself. We wish you all a happy, healthy festive month – and thank you for helping wetland nature to be happily healthy too!
Have a greener Christmas