After the glorious riot of autumn's colour, the quiet of winter can sneak up on us. As the nights draw in and the days shorten, it's tempting to want to just snuggle down and cosy up indoors. Yet winter brings it's own special beauty to wetlands if you know where to look.
Nature's wintry beauty
As the temperature drops, our wetland world is transformed. The hard frost that follows a chilly, clear night can make even the ordinary appear extraordinary. Our world becomes monochrome and with no colourful distractions, the shapes and textures of our watery landscapes are revealed instead.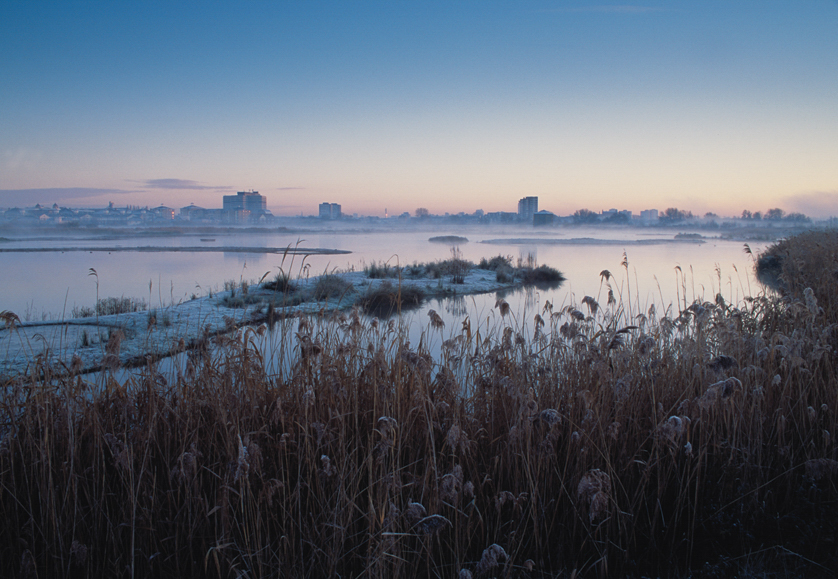 Combine a sprinkling of frost with low winter sunlight and it's the perfect opportunity to take a camera along with you to capture nature's subtle beauty. As our ponds and lakes freeze over, notice the patterns created as ice crystals form on the water's surface and freeze downwards. And if we're lucky enough to get a snowfall, discover the winter wonderland that nature's left behind.
Embrace the outdoors, whatever the weather
Winter weather can be the most dramatic and changeable. And it's precisely this that can make us feel alive. One day it can be balmy and still, and then overnight, the last traces of autumn are suddenly replaced by a frost and bone-chilling cold. One minute we can be lashed by wind and rain, then our hearts are lifted by the glimmer of blue sky on the horizon as the sun appears through dark clouds.
So wrap up warm and get outside and experience our great British weather in all its wonderful guises. Seek out puddles. Take time to watch the clouds as they skud across our winter skies and notice how their ephemeral beauty is reflected in our wetlands below.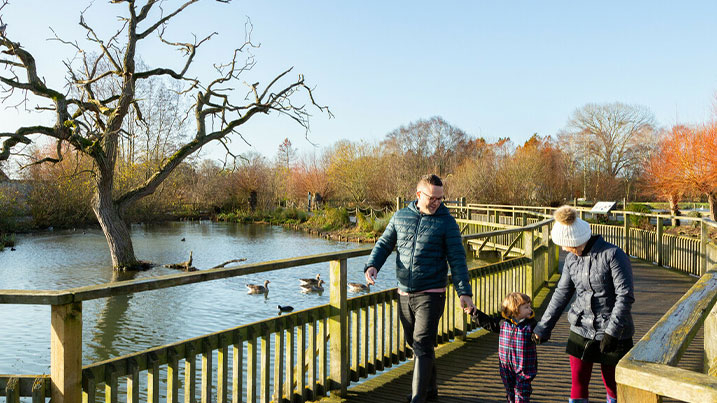 Notice the changes of temperature and how it feels on your skin. Welcome the cold and the wet. Just think how great you'll feel when you're warming up over a cup of hot tea and a delicious cake afterwards. Celebrate the flushed cheeks of your loved ones and the smell of their fresh wind-swept hair, as you return from a bracing walk across our reserves cherishing the memories you've made together.
If there's one thing this year has taught us, it's that getting outside in nature, is vital for our mental health and wellbeing. And even in the depths of winter when it's cold and wet outside, being around water and wetlands, in particular, can bring extraordinary benefits.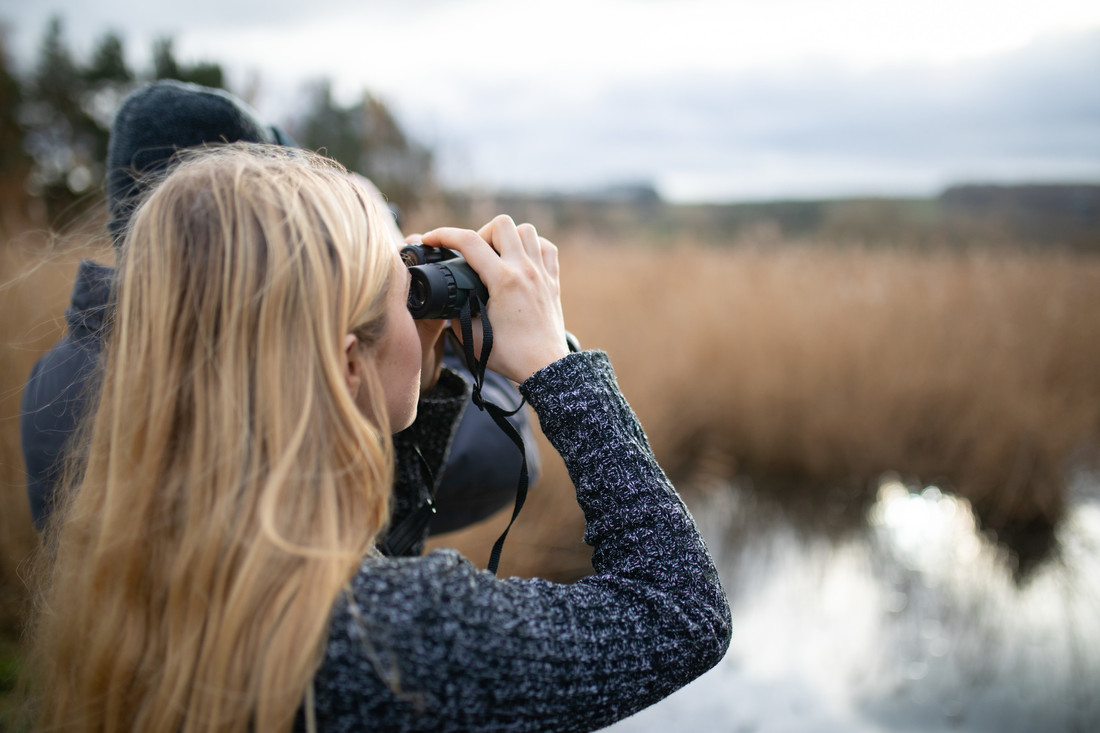 Listen to winter
Take time out to stop and listen to the sounds of winter as they travel across the vast expanses of our wetlands. Think of the soft strokes from the wings of a flock of swans passing overhead, the gentle honking of a skein of wild geese echoing across our misty marshes, or the crack of ice on a frozen lake or pond.
This season offers a rich and unique soundscape. It's almost as if winter's bareness amplifies and strengthens its sounds. At no other time of year are they so sharp and clear. It's as if to make up for the muted colours and deadened scents, winter's voices are the most vibrant and evocative.
Did you know sound travels further over frozen ground because it reflects the sound rather than absorbing it?
And with fewer distractions and birds around, it's also a great time of year to brush up on your bird vocalisations and calls.
Signs of nature
While many animals and birds migrate to avoid our cold winters, and others hibernate, there are still lots to find that stay active, especially if you know where to look and take the time to search for the clues they leave behind.
If it's been raining or snowing it's a great opportunity to look out for animal tracks in the mud or snow. The best way to identify a hare print (and also a rabbit's) is to look at the gait of the animal. Here are just some of the animal tracks we spotted on our reserve in Caerlaverock.
Winter is a great time of year to see kingfishers. Although you can find them all year round, sightings at our centres increase to a peak in December and January. Look for them as they perch near water as they fish for roach and rudd fry. Look along the edges of ponds, channels and ditches among the reeds for wading water rails and secretive snipe, while tiny firecrests and goldcrests can be seen flitting around in the hedgerows. Bullfinches become bolder in the cold weather and are easier to spot and congregations of ducks bring a welcome splash of colour to our winter wetlands.
Looking after our wildlife
But spare a thought for our wildlife. In the depths of winter, life can be hard, as their normal supply of food can be frozen under snow and ice. We find some of the best places to spot birds at this time of year at our centres is underneath our bird feeders.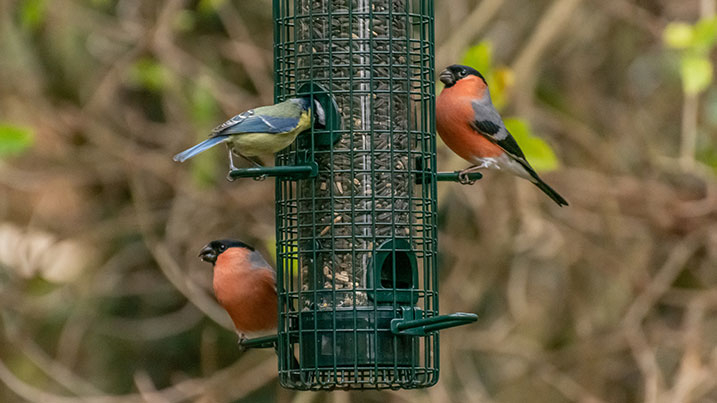 If you have one, now's the time to give it a clean and make sure feeders and birdbaths are replenished regularly during the winter months. It's also a good idea to melt a hole in your garden pond if it's frozen – just fill a saucepan with hot water and place on the ice until a hole's been melted. Avoid hitting the ice, as this sends shockwaves through the water and harms the wildlife that lives there.
Ready for a winter wetland escape?
Our wetland sites offer some of the most awe-inspiring places for you and your loved ones to experience the joy and restorative power of nature this winter. Our acres of wide-open spaces are packed with wildlife and are guaranteed to lift your spirits even in the depths of winter.
Let our wetlands help you regain a sense of peace and calm; let them be a place of recuperation, a place to heal during the long winter months. So wrap up warm, embrace our great outdoors and find solace in our wetland nature, whatever the weather.
Visit a winter wetland
To help keep everyone safe at the moment we've made a few changes to our sites and are asking everyone to book in advance, so we can give you the best possible experience. Please also check site details to plan your visit before you travel.
Find a centre near you