For many of us, especially those who live in towns or cities, one of our earliest encounters with wildlife was discovering the fascinating creatures that live in and around a pond.
---
Why pond dip?
Pond dipping is fun, simple and doesn't cost much, so it's no surprise that it's a popular outdoor learning activity for children at school and at home. And for adults feeling out of touch with nature, it's an ideal way to reconnect. It's also a conservation surveying method to help us monitor the biodiversity of a pond. To help you organise your pond dipping session, we've put together a guide that covers what you need to know.
---
What equipment do I need to pond dip?
You can find most of the equipment you need for pond dipping around the house or it can be made simply or cheaply.
The basic kit:
Long handled net.
Flour sieve - to investigate the mud at the bottom of the pond.
Empty clean margarine tub or white-bottomed plastic tray - make great makeshift aquariums to hold your catches.
Magnifier - great to get close up to your mini-beasts.
ID guide to help you record what you find (also a pad and pencil to write it down!)
Camera – to take a photo to look up later at home
Towel - to dry off your hands (if a cold wind is blowing and your hands get wet, you'll really appreciate this).
And don't forget your wellies and a change of socks just in case!
---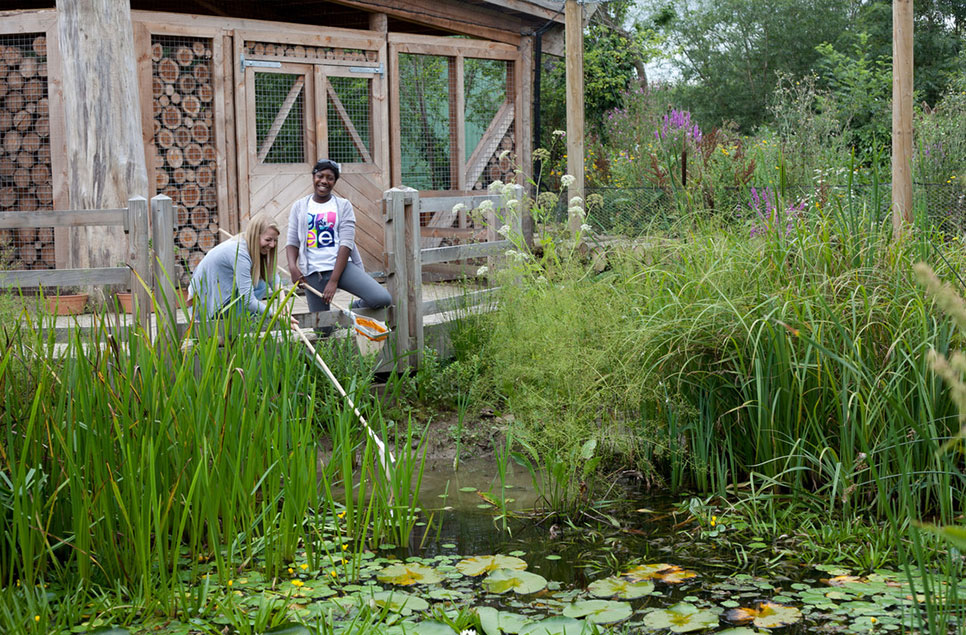 10 tips for pond dipping responsibly
As with any activity in nature, it's important to make sure you look out for the safety of the wildlife, and the pond dippers themselves. The following tips will help you pond dip responsibly and teach children the value of conserving the natural environment.
Always make sure you've got the permission of the pond owner first.
Wash and rinse your hands before starting so that you don't inadvertently transfer soap, lotion or sweat into the pond water.
Do not move animals between ponds. This risks spreading bacteria or disease and it is also illegal to move many species of wild animal.
If you're pond dipping with children make sure they're either kneeling or lying flat on their stomachs. Children should always go with an adult. For more information about pond safety visit the RoSPA website.
Wear waterproof gloves or use waterproof plasters to protect any cuts and grazes on your hands from infection. For the same reason, try not to touch your face with your hands while pond dipping.
Try to avoid touching any of the mini-beasts with your hands. Use plastic spoons and soft-haired paintbrushes to move your animals, not tweezers or forceps. Pipettes can also damage your catch.
Beware of leaving any predators in the containers for too long, (like great diving beetles and their larvae, dragonfly and damselfly nymphs,) or they may eat the rest of your catch. It's often helpful to separate carnivores out from the rest of your catch.
Make sure you return all of you catch – plants and animals - after you've finished identifying everything. Hold the container just under the surface of the water and slowly remove making sure all the creatures have been returned.
To avoid spreading disease or invasive species between ponds, make sure all equipment is thoroughly cleaned after pond dipping. Make sure there are definitely no creatures or pond weed in your collecting pots or nets. You can find more information on how to slow the spread of invasive species on the GB Non-native Species Secretariat website.
Wash your hands or gloves after any pond dipping activity and again when you've finished.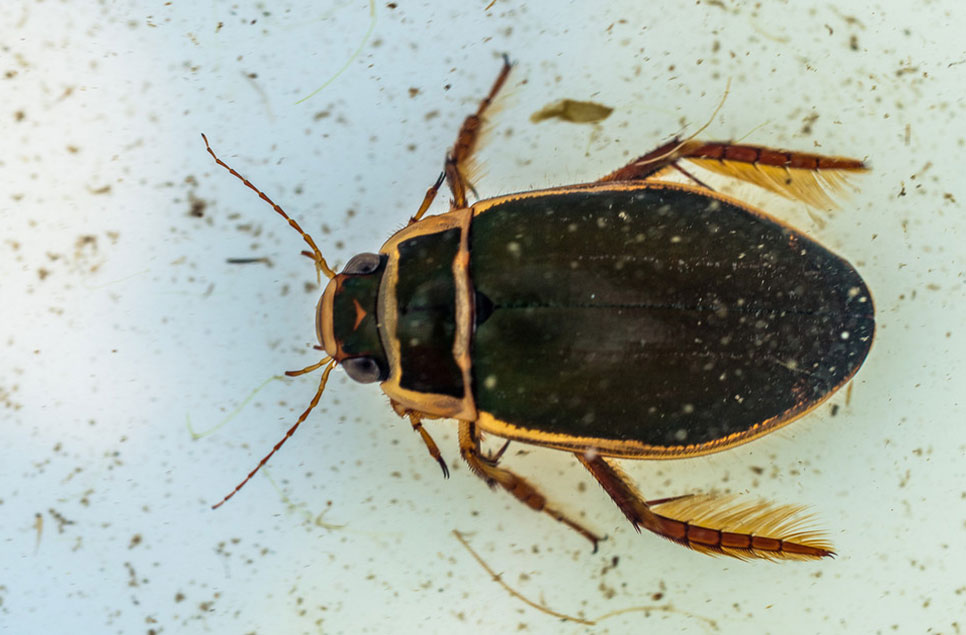 ---
How to pond dip in 4 easy steps
Before you start
Approach the pond slowly and quietly. Tiny vibrations can be picked up by the pond's wildlife even before your net touches the water. Before you dip, look closely at the surface. Can you see pond skaters, whirligig beetles or water measurers?
Look out for fish or amphibians close to the surface. Fill your white tray with water from the pond, ready to receive your netted catch.
Start dipping
The first sweeps of the net should be made in the open water with the whole of the net bag beneath the surface.
Push the net bag through the water making a figure of eight. Invertebrates live at different depths so make sure you sweep at the surface, middle and towards the bottom of the pond, making sure you don't churn up the bottom mud. Quickly lift the net out.
Move away from the edge of the pond and immediately turn the contents inside out into your white tray half filled with water. Wash the net bag in the water tray and look closely. You might not be able to see anything straightaway. But as you look more closely, you'll soon be able to see the mini-beasts darting around.
Repeat the process, observe and record
Record what you've found and dip again, this time closer to the bank and through the submerged plants. Sweeping through the submerged stems of emergents can be rewarding, but take care not to uproot the plants.
Any animals you want to examine further should be transferred carefully to another tray, making sure they have enough water and are not in direct sunlight.
Search the bottom mud
Before searching the bottom mud for creatures, return any creatures you've already collected to the pond.
Fill your white tray with water from the pond again. Scoop up a sample of mud from the bottom. Wash away the mud and silt and examine what you've caught. Which are the predators, prey and producers? Try sweeping in various places around the pond.
---
Want to find out more?
If you're a teacher interested in pond dipping or other outdoor learning activities, WWT's Learning Zone has more ideas and information to get you started.
We've also created a helpful guide to some of the beautiful beasties you might find down there!
At some of our centres, we manage dipping ponds to create the perfect habitat for pond life. Whilst we can't allow people to use their own equipment (in order to prevent the spread of invasive species), many centres run family pond dipping sessions at weekends and during school holidays, although due to COVID-19 this has had to be paused. At these sessions, all equipment is provided and our friendly staff will be on hand to guide you through the process and help you identify the creatures you find.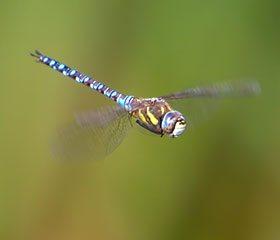 Let's stay in touch
For more helpful hints and tips on things to do in wetlands, interesting insights into wildlife and the latest news on our conservation work, sign up to our monthly enews.
Subscribe to the newsletter