Wetlands are wonderful places to visit and experience, but not everyone can access them easily. That was the case for one WWT supporter, John, who decided to turn his modest suburban garden in Gloucestershire into a wildlife oasis … by adding water.
Working closely with Guy, his trusted gardener, John set about bringing his vision for his garden to life. Today, seven years later, his garden is a haven for wildlife, centred on the ponds and water features. Water dominates, but the boundary trees, bushes and shrubs also provide handy perches and food for a wide variety of garden birds, and other, less common birds. John feeds his visiting birds and animals daily, and over the years, his wildlife visitors have become remarkably tame.
John takes delight from spending time in his garden, which he describes as being a constant calming comfort. Living with an enduring mental health condition, John says creating the garden, and being able to spend time in it, helps his daily wellbeing. For John, being able to watch birds year-round, feed their young, grub for food and bathe in the water, is every bit as important to him as his daily medication.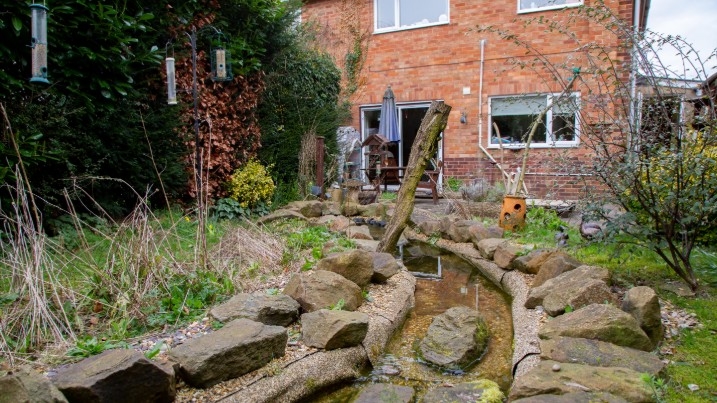 John's garden, or mature nature reserve as he prefers to call it, is what could be called a managed, un-managed garden. It has been 33 years in the making, and although it is looked-after, John's intention is to maintain a garden where nature in all its forms flourishes and thrives; a place where there is trust and mutual respect between the viewed and the viewer.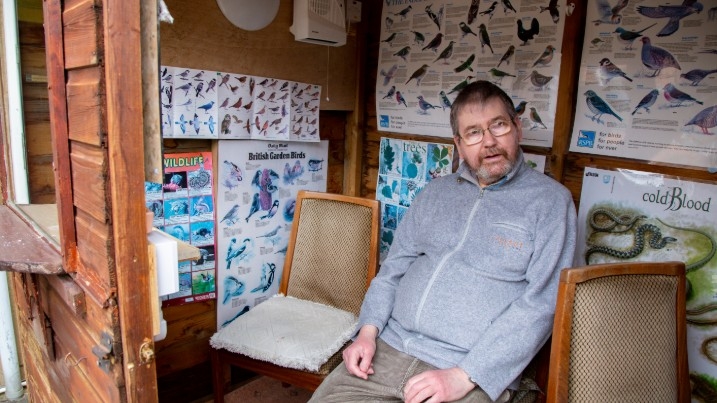 John's deep and ingrained love of nature was driven by his late father, who took him on a great many bird trips to local reserves. Over the years, he has spent many hours visiting birding hot-spots, including the bird feeding stations at RHS Harlow Carr in John's native Yorkshire, and spending time at WWT Slimbridge, where he marvelled at the views over Swan Lake.
At the heart of John's vision was his desire to create somewhere where he could simply sit and enjoy nature. A space of calm; a retreat from the pressures and stresses of modern life.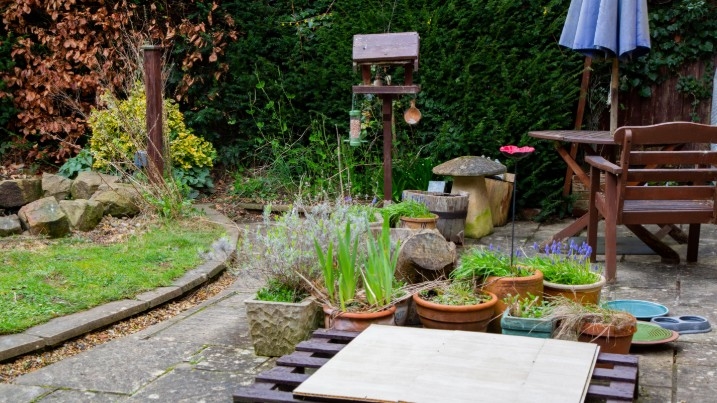 The central feature of John's garden is a 12m long curved stream, with a submerged pump to maintain the flow down the almost imperceptible slope. Dotted either side of that, John has seven different ponds, none of them bigger than a few feet across, as well as two bog gardens.
Whilst John has opted for a couple of off-the-shelf ponds, he's also repurposed a regular, discarded magnolia bathroom sink, complete with taps, which he's half-buried towards the top of the stream. Whilst not the most obvious, or possibly immediately attractive, of additions, this spring it was full to the brim with healthy frogs spawn. Proof, if any were needed, that the creation of a home for wildlife is easily within most people's reach, whatever the size of their garden!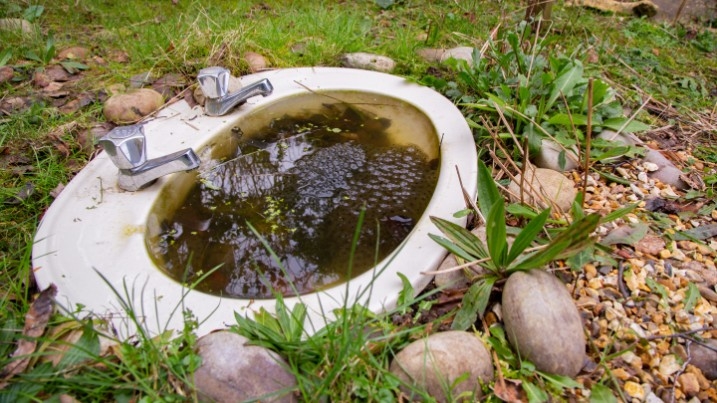 From the outset, John's water features proved a magnet for pond life; a pair of smooth newts even moved in on day one! Since then, amphibians like the common toad, frogs and newts have continued to return, with the various spots of water filled with their spawn and eggs.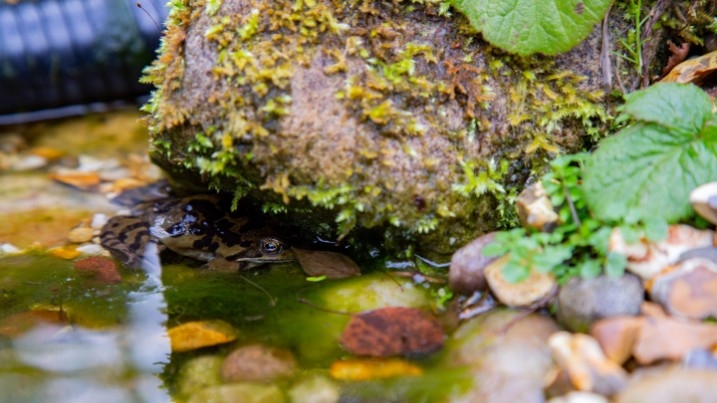 All of this amphibious activity has not gone unnoticed by local predators, and Guy has spotted a two-foot long grass snake, Natrix natrix, which feeds almost exclusively on amphibians. It's probably no coincidence that the grass snake also known as a water snake, and is known to be a strong swimmer.
As the days lengthen and warm-up, John tells of the insect emergence from his ponds; the hoverflies, damselflies, dragonflies. Over behind his hide, these insects merge with the bees travelling to and from the apiary nestled next to John's comfortable viewing hide.
The hide is a re-purposed garden shed, now equipped with heat, light and extra windows. It is a perfect space in which John can relax, unwind and simply observe nature from a distance, and without disturbing the natural theatre unfolding in front of him.
Gardening for wetlands
Get advice and ideas for creating a space that wildlife will love, by adding water.
Find out more
Although his sight is not the best, John has a keen eye, and an in-depth knowledge of birds, backed by an extensive reference collection of books, all housed in his 'Lapwing Library'. The library, complete with his collection of books on WWT and Peter Scott alone totalling 38, has helped him to identify 107 different species, including fly-overs, so far! It also houses books on his other two interests, cricket and football, but that's another story...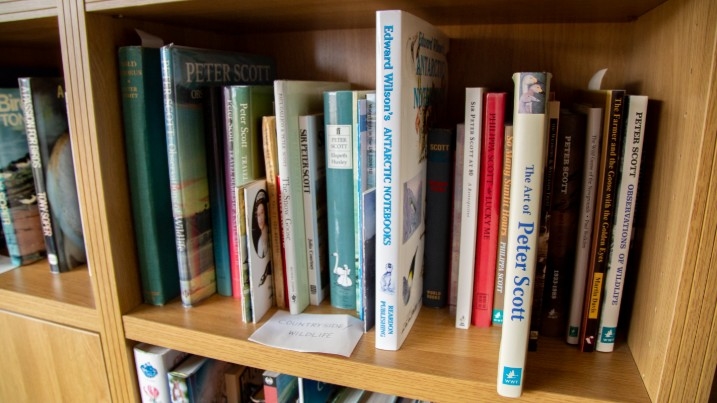 John feels incredibly lucky as his garden has attracted a wide range of butterflies, including the dappled shade, speckled wood, and the endangered large white, all of which provide ample food for the many varieties of birds that live in and visit the garden.
At the top of the garden, Bramley apples lie where they fell in last autumn, providing a welcome source of winter food for hedgehogs and insects. They are also attractive to the local badger family who have forged down a well-worn path from their sett in a neighbouring garden through to John's garden, where they are fed nightly.
Towards the far back corner, cut brash is pulled together to create a hibernaculum, great for hibernating reptiles and amphibians. The boundary consists of a mix of mostly native trees and shrubs, including yew, laurel and leylandii, planted initially for privacy, now left to extend into the garden. This creates ideal resting places for garden birds, as well as dappled areas of shade over on the ground below.