WWT London Wetland Centre hosted the launch of the Government's long awaited Environment Bill, which includes measures to protect habitats including wetlands and water bodies into the future.
With the 104 acre urban wetland reserve as a backdrop, Environment Secretary Theresa Villiers told an invited audience: "Our natural environment is a vital shared resource and the need to act to secure it for generations to come is clear".
The Bill will introduce principles to guide English environmental law after Brexit, and provide statutory environmental improvement targets. Government would be held to account by a new Office for Environmental Protection.
For wetlands, the Bill includes measures to reduce pollution and waste, ensure future building projects produce a 'net gain' for biodiversity, and for water companies to work together to manage water. There are also measures to protect nature from damaging over-abstraction of water.
Speaking after the launch, WWT Conservation Director James Robinson said:
"WWT welcomes the publication of this long awaited and landmark piece of legislation, which will play a critical role in ensuring wetlands and wildlife are sufficiently protected after we leave the EU. It is particularly good to see the Bill includes legally binding targets for water.
"Defra ministers must be congratulated for getting this legislation this far. As MPs prepare to scrutinise it during its parliamentary stages, we need to see a further strengthening of key elements, including providing the new watchdog - the Office for Environmental Proteciton - with the ability to issue fines as a deterrent to potential polluters and a legal undertaking that the UK will not slip behind the EU's environmental standards after Brexit."
Ms Villiers cited WWT's work alongside Natural England and RSPB to increase numbers of breeding black-tailed godwit in Norfolk, as an example of how conservation work can turn round declines being seen in species across the country. Read the whole speech here.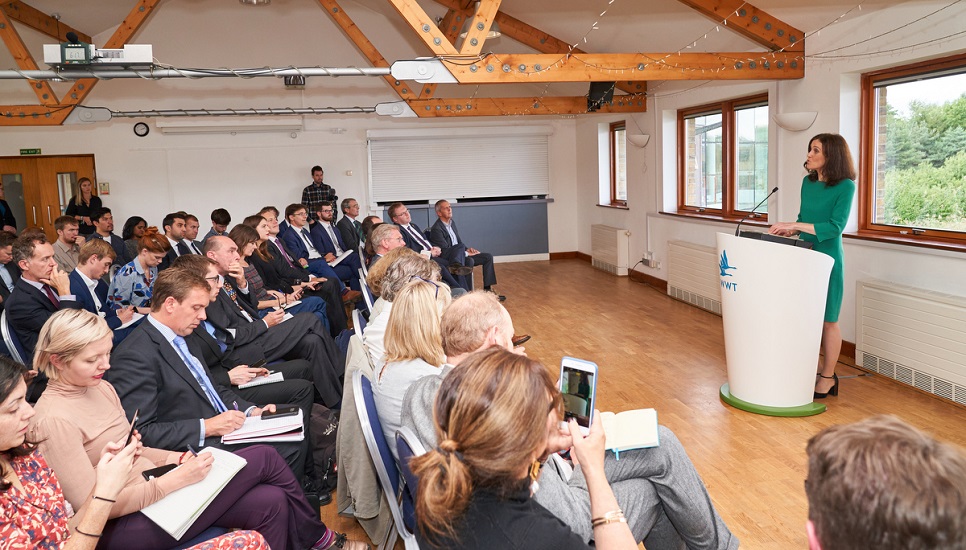 After her speech, Ms Villiers joined WWT's Chief Executive Martin Spray and Conservation Director James Robinson for a tour of WWT London Wetland Centre, which she described as: "A haven of serenity in the heart of this great, global city".