Internationally renowned bird sculptor, Guy Taplin, whose works have been snapped up by the likes of Michael Palin and Jacqueline Onassis, is selling one of his bird sculptures to help save the spoon-billed sandpiper.
The artwork, called 'Up Curlew' has been offered up for private auction at Messum's Art Gallery to raise funds for the endangered bird. No reserve has been placed on the piece and bidding is available to everyone this November.
Guy Taplin is a self-taught artist and was born in 1939 in London. When his family moved to Hereford during the war, he developed a passion for nature and in particular birds.
Guy said:
I fell in love with birds from a young age and it's this affinity that has informed my artwork.

This is a great opportunity to take that passion and use it to raise money for a cause dear to my heart – the spoon-billed sandpiper. With just around 200 left in the wild, I want to support WWT in its efforts to revive the population.
'Spoonie' numbers have been in decline due to a mixture of widespread habitat loss and trapping on wintering grounds. Shockingly, just three chicks out of every 20 eggs laid make it to adulthood. Conservationists at WWT have been working in the birds' breeding grounds in remote Arctic Russia, collecting, incubating, hatching eggs and head-rearing chicks ready for safe release once they've fledged. This process has helped increase the number of fledglings that survive each year by 20% but support is needed for its continued success.
Guy Taplin's bird sculptures can be seen in the Royal Collection, the Tate Gallery & the Arts Council of Great Britain. Private collectors include Joanna Lumley, the Guinness Family, the late Gerald Durrell and Sir Michael Palin.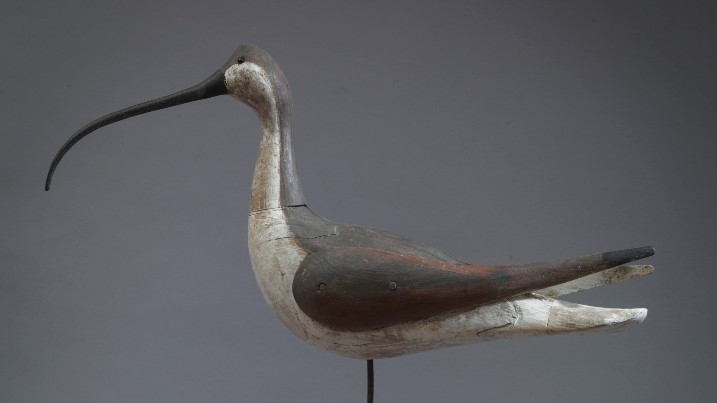 This is a unique opportunity to acquire an important sculpture by the much loved artist while providing money for an important cause.
Bidding for the magnificent 'Up Curlew' (normal retail value £5,250) starts on November 16 and ends at 5pm, November 20.

The auction will be managed by London art gallery Messum's, who have represented Guy for over twenty years. For details on the auction and to receive a bidding form, please contact Katie Newman on 01628 486565 or email katie@messums.com