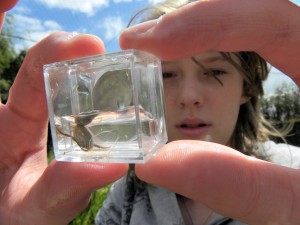 Schools across North London are helping to ease flooding and water pollution problems in their local river catchment by creating wetland habitats which store rainwater and provide homes for wildlife.
The first batch of schools in Barnet and Enfield areas of the Pymmes Brook catchment has completed their new wetlands. Pupils, teachers and parents at Friern Barnet Secondary School today [Tuesday 30 April] celebrated with a planting ceremony to finish off the project with plants which will attract frogs, butterflies, dragonflies and birds to the school grounds.
The wetland forms part of a Sustainable Drainage System, known as a 'SuDS'. It includes ponds, swales (grassed channels) and a water butt which will store rainwater, and so help to reduce flooding pressure on local drains and the Pymmes Brook.
The new wildlife areas will bring to life lessons learned inside the classroom and provide much-needed resources for learning outside in school grounds. Learning Advisers from the Wildfowl and Wetlands Trust (WWT) have worked with the schools to identify learning opportunities throughout the curriculum.
Sue Pritchard, SuDS for Schools Manager at WWT said:
"Rainwater is a key ingredient for a healthy environment, yet in London's suburbs much of it runs quickly off our roads and roofs and overloads our drains and rivers like the Pymmes Brook.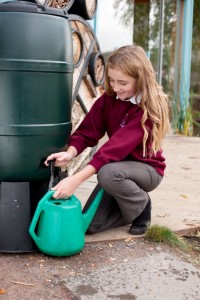 "The schools are doing an amazing job of creating wetlands which store and clean our rainwater, ease flooding and create vital habitat for a wonderful range of British wildlife.
"The schools are helping their local communities while the children themselves now have somewhere safe to get outside and have hands-on fun, learning about water and wildlife. This will give them a vital and healthy connection with nature they might otherwise have missed out on."
The SuDS for Schools project brings together the expertise of the Environment Agency, Thames Water and the Wildfowl & Wetlands Trust (WWT).
Alastair Driver, National Conservation Manager at the Environment Agency, said:
"This pilot project demonstrates how wetlands can effectively store water, reduce flood risk, reduce pollution and provide great wildlife habitats.
"Organisations and individuals need to work together to improve water quality and wetlands for the benefit of people and wildlife. This is a great education project and we hope it will encourage others to create sustainable urban drainage schemes in their local area."
The 'SuDS for Schools' project is being implemented at 10 schools in the Pymmes Brook catchment, which runs through Barnet, Enfield and Haringey and flows into the River Lee. Tomorrow, Hollickwood Primary School will plant their SuDS and two other schools – Coppetts Wood Primary School and the Susi Earnshaw Theatre School – have also had planting days this month
To find out more about the project visit sudsforschools.wwt.org.uk or to see SuDS in action visit the London Wetland Centre.
---