The winners of our annual photo contest let us see the beauty of the wildlife at our centres with fresh eyes.
Photography is one of the main ways we communicate about the world. It's the easiest way to save a precious memory or share a special moment. But capturing an instant in time isn't just about securing a memory – it can help you appreciate your life more every day. Photography is one way to be fully present in the moment, to breathe and to experience what you're looking at, not only through your eyes, but through all your senses. It can help you see the world – and indeed your own life – with a fresh perspective.
In this year's competition for WWT members, we were overwhelmed by what our members see at their local WWT centres – a world of colour, grace, quirky characters and great wonder. It's obvious that nature 'speaks' to our photographers through their camera lenses – and we're honoured to share their vision.
The images shown here are just a handful of those entered in the competition. Our congratulations to Wendy and everyone whose photos were shortlisted. Wendy wins a pair of Swarovski CL Companion 8x30 binoculars, worth £910, thanks to the support of Swarovski Optik.
WINNER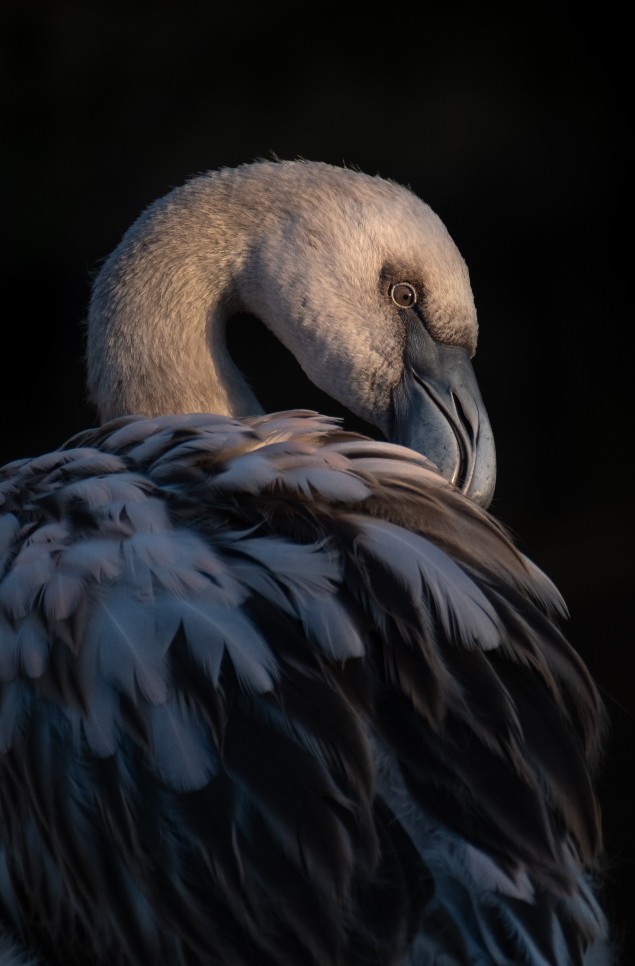 PINK POTENTIAL BY WENDY CHAPMAN - SLIMBRIDGE
Wendy says: 'I photographed this young Chilean flamingo in lovely afternoon light. I wanted to make an image that showed the lovely colours of the feathers. This chick moved into an area of light and shade, and when it turned its head to preen, I pressed the shutter. The combination of deep shadow and golden light gave me just the image I was hoping for.'
The jury says: 'We loved the originality of Wendy's vision of this well - known bird. Beautifully composed, nicely exposed and pin-sharp, this is a strikingly intimate shot and a worthy winner.'
RUNNER UP
DELIGHTFUL DAMSEL BY LYN IBBITSON-ELKS - WELNEY
Lyn says: 'This common blue damselfly was trapped in a web and I decided to extricate it – a delicate procedure, but I managed to release it. It was still for a while and I hope I can be forgiven for convincing myself that this expression was a smile of gratitude.'
The jury says: 'This image offers a fresh perspective on a hard to photograph species. The eye-level approach has captured an endearing pose – with the damselfly appearing to hug the stamens – and focused on the big eyes.'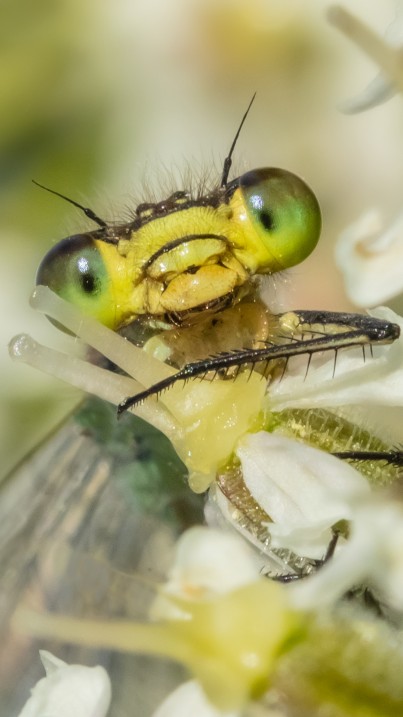 THIRD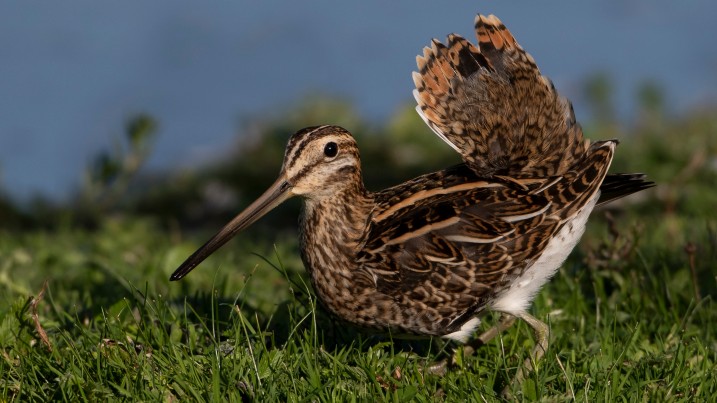 ALARMED SNIPE BY ANN KARIN SOLHEIM - SLIMBRIDGE
Ann Karin says: 'This photo was taken from Rushy Hide. Some jackdaws disturbed the secretive snipe, which crouched, startled.'
The jury says: 'This image shows that patience is often rewarded with amazing bird behaviour. This striking pose – with the tail feathers beautifully fanned – highlights the snipe's intricate feathers. The image is pin-sharp, despite the fleeting moment.'
COMMENDED SHOTS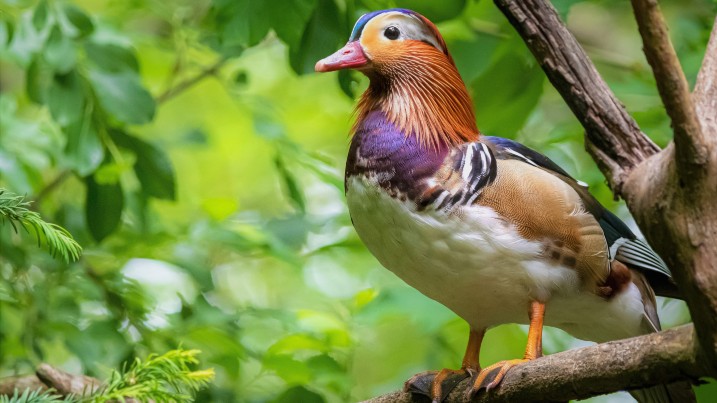 TREE DUCK BY CHRIS BISHOP - ARUNDEL
Chris says: 'While walking the Woodland Loop, I saw a flash of colour in the trees. Looking up, I expected to see a goldfinch, but was delighted to find this male mandarin duck. The species nests in trees, but I'd only ever seen them on the ground or water before. It was lovely to see the claws that help it climb so well displayed.'
The jury says: 'This is a real treat. We loved the vibrant colours and composition.'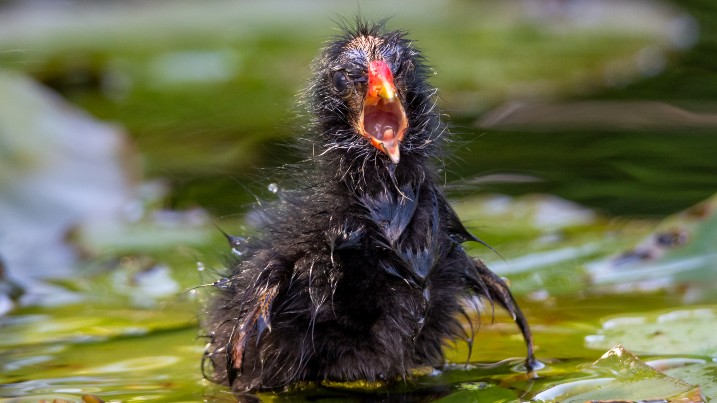 LITTLE CHICK, BIG WORLD BY LESLEY BARKER - CASTLE ESPIE
Lesley says: 'This image was taken in one of the ponds in the sensory garden. It was June and there were young popping up everywhere. There were two little siblings together, barely more than a couple of days old. They were hungry and calling for their parents, while trying to balance on the lily pads. After reading photographic advice in Waterlife, I wanted to get down level with them, so I lay on the ground to capture the moment they called. The image shows how vulnerable young birds are. When their parents did not return, the pair were eventually taken in by WWT to be cared for.'
The jury says: 'How many people would've overlooked this tiny, scraggly young moorhen? But Lesley not only saw it, she helped tell its story, a glimpse into its life. We loved the intimacy of this eye-level view.'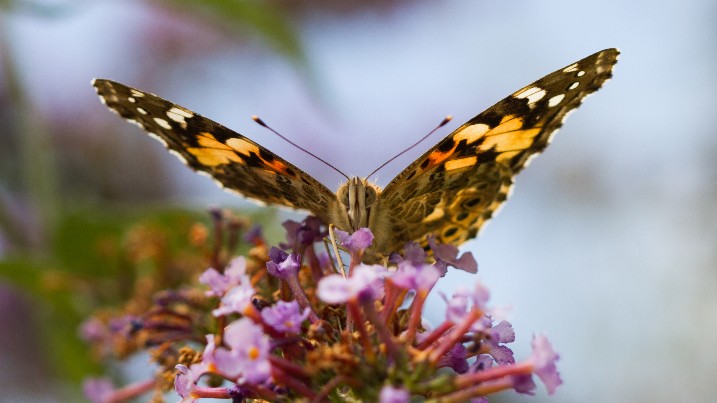 SUN-LOVER BY PAUL KIRKHAM - MARTIN MERE
Paul says: 'On a glorious day, this painted lady was soaking up the sun and sipping nectar just below the Harrier Hide. She allowed me to get close enough to use my macro lens, enabling me to capture a portrait that's a bit different from the usual top-down view of their beautiful wing markings. You can even see her long proboscis darting into the flower.'
The jury says: 'The sunlight shines through the wings of this butterfly like stained glass. The behaviour, low level and symmetry are beautiful.'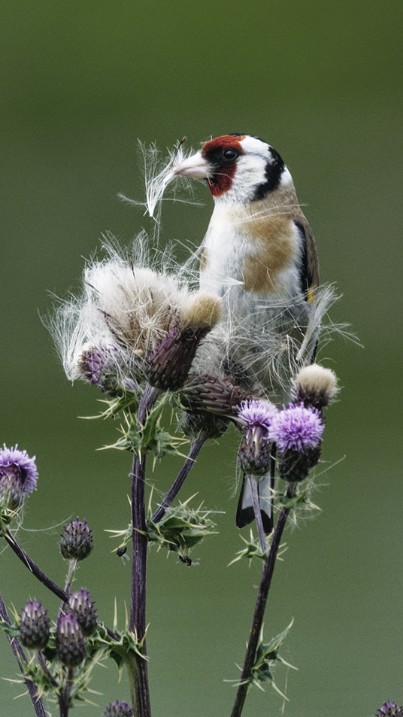 DOWNY DELIGHT BY STUART BRYAN - SLIMBRIDGE
Stuart says: 'Last July, I had just paused in the Peng Observatory to pack away my camera equipment after a long afternoon photographing gulls and avocets when I saw this goldfinch devouring a thistle near the window.'
The jury says: 'A perfect portrait showing the long, slim beak that makes the goldfinch a specialist thistle feeder. The diffuse background allows you to concentrate on the exquisite detail.'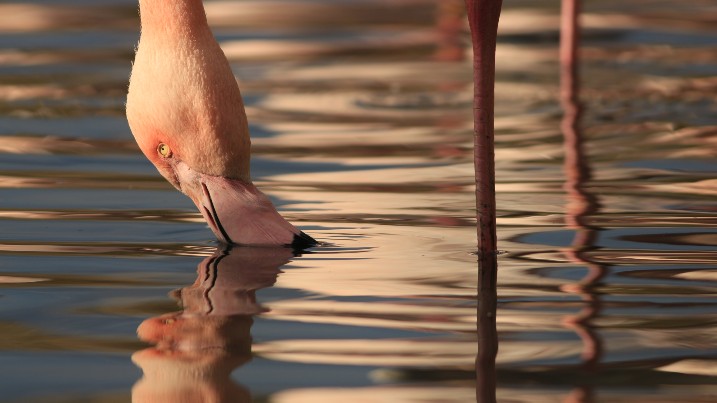 PRETTY FLAMINGO BY PETER SMITH - SLIMBRIDGE
Peter says: 'My wife and I spent a day dodging heavy rain with Edward and Ava, our grandchildren. Sheltering in the flamingo hide, we watched the birds, pointing out their behaviour. As the rain slowed, the sun peeped through the dark clouds, creating the most beautiful light. I hurriedly reached for my camera and took a handful of pictures of our favourite individual filtering the water with his head upside down, much to Edward's amusement. As quickly as the sun came out it disappeared, so we decided to head back to the café for a hot chocolate. A truly magical memory.'
The jury says: 'We loved the intimacy of this low-level image and the beautiful warm light that focuses the attention on the flamingo's yellow eye. The reflections and light rippling on the water create a sense of tranquillity and capture the mesmerising power of water.'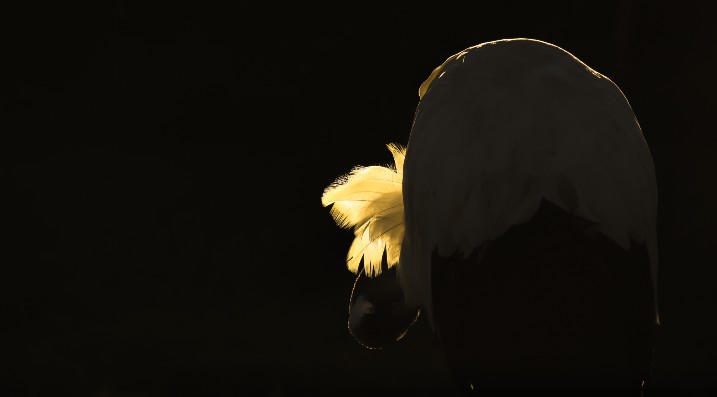 GOLDEN MOMENT BY PAUL COLLINS - SLIMBRIDGE
Paul says: 'The red-crowned crane is an elegant bird I've always wanted to photograph in its native Japan. So when I learned Slimbridge had a pair I leapt at the chance to test out some photo ideas. On a summer's evening, the sun was filtering through the trees at the back of their enclosure. As the cranes preened their wings, I realised that, with a change of position, the light would shine through their feathers. I waited until the sun was low to capture this golden moment.'
The jury says: 'A unique and unusual image of our iconic cranes that demands a closer look. The technically challenging rim lighting brings out a soft side to these statuesque birds. Intriguing!'
Are you a keen nature photographer, or a beginner interested in learning more? Many of our wetland centres run photography courses suitable for different skill levels. Find your nearest centre
Read our winter photography tutorial by one of our resident photographers to help get the most out of this season's spectacular wildlife.