Local volunteers from Slough have been trained to identify river-residents to monitor pollution in the Salt Hill Stream by WWT experts.
The participants were taught how the tiny creatures living in our rivers and streams can be very sensitive to pollution, and need a good habitat to survive. If the volunteer monitors find that there are very few invertebrates living in the stream, this could indicate that the stream is polluted or isn't a suitable habitat for wildlife.
The teaching was delivered, as part of WWT's Saving the Salt Hill Stream project in partnership with Slough Borough Council, Thames Water and the Environment Agency.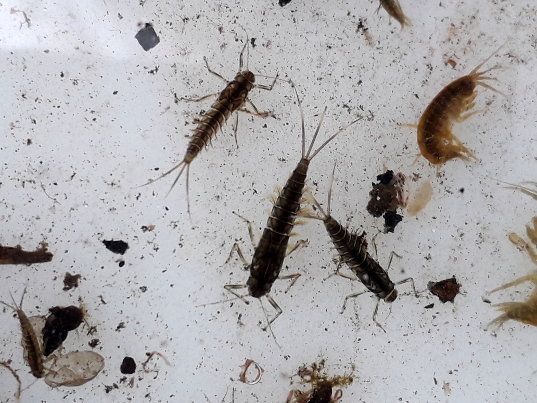 WWT's Working Wetlands Conservation Officer Claire Hutchinson said:
The tiny aquatic invertebrates, also known as riverflies, are key creatures at the bottom of the food chain, which means they are food for larger animals like fish and birds. Without them, our rivers would be empty and unhealthy.

It's fantastic that we have such dedicated volunteers who care about the Salt Hill Stream, want to protect it from pollution and are keen to learn more about the creatures living in it. Once you start looking, the variety and abundance of life in rivers in our towns is amazing! We want to encourage people to take an interest in conserving it.

The volunteers will monitor the health of the Salt Hill Stream once a month, and any major changes in the number of invertebrates will be reported to the Environment Agency. The training was delivered as part of the Riverfly Partnership monitoring scheme with support from the Heathrow Community Fund.

If you're interested in learning more about the Saving the Salt Hill Stream project please contact Claire Hutchinson at claire.hutchinson@wwt.org.uk.

For more information on the project, please visit here.