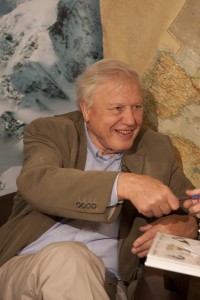 "Make no mistake, Captain Scott was a hero and his party were great human beings," Sir David Attenborough told a captivated audience at the London Wetland Centre yesterday.
Scott left a legacy of "courage, amazing superhuman courage," Sir David added, recalling his own discomfort on stepping into the empty Antarctic hut from which Scott's party launched their successful attempt on the South Pole.
"It was mostly a smell of tar, rope and antiquity. There was an anorak hanging on a hook and a bench with the test tubes and Bunsen burners with which Edward Wilson [the expedition's scientist] did his experiments.
"Suddenly I felt I couldn't stay any longer," Sir David added. "I felt the personalities of these huge extraordinary characters who opened up the Antarctic. I had to get out of the hut. It was an experience I will never forget."
Sir David's recollection was among highlights he recounted to mark the publication of Edward Wilson's Antarctic Notebooks, a collection of the naturalist's sketches and paintings.
Dr Wilson was a member of both Scott's expeditions and the book incorporates a selection of artwork from the two journeys.
The scientist's body and his drawings and watercolours were found alongside Scott's corpse after the exhausted and demoralised party ran out of supplies on their return from the South Pole. They had been beaten to the frozen landmark just months earlier by Norwegian Roald Amundsen.
Dr Wilson sketched penguins, albatrosses, skuas and fish. He depicted stunning landscapes, spectacular skies and outlines of unimaginable shores.
Much of his work was in pencil and unfinished. Beside each was a colour code for completion later.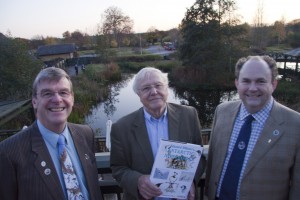 The book has been compiled by Dr Wilson's great nephews Chris and David Wilson, themselves professional naturalists. "A lot of the drawings were of species never seen before," David Wilson said. "But perhaps most important were the topographical drawings, some 70 yards long, of newly discovered coastlines.
The impact of the expedition's work was still being felt today, David Wilson added. "Penguin skins they collected were later used to prove the existence of DDT which led to it being banned in the US and later across the world."
Also found beside the bodies was Scott's famous last letter to his wife which included the immortal words about their two-year-old son Peter: "Make the boy interested in natural history if you can; it is better than games".
That she did and 65 years ago in 1946, Peter founded the Severn Wildfowl Trust, later to become WWT. "Peter aroused the world in a way that was before his time," Sir David Attenborough said. "He became a universal figure. He made everyone realise that the natural world is in danger from ourselves and we have a responsibility to do something about that."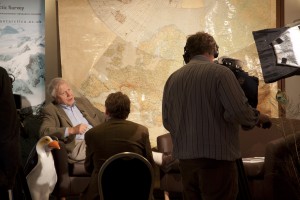 WWT Chief Executive Martin Spray stressed the inspiration Captain Scott drew from Dr Wilson and the legacy for WWT of Captain's Scott's words for his son. "That simple message, in my view, changed the world," he said. "Peter Scott was a man of extraordinary achievements."
---