Spring is a fantastic time of the year for photographers. As the days lengthen and the temperature starts to warm, learn how WWT reserve warden and photographer Arron Roberts photographs new life and a plethora of colourful subjects, including details of camera used and settings.
Early spring
From March, nests will start to appear with moorhens and coots busy stealing material from each other to construct their own perfectly-formed cups to lay their eggs in. In some areas on WWT reserves the wildlife has become accustomed to visitors, mostly due to the free food on offer which makes them more approachable. Mallards and greylag geese also lay near the paths where the youngsters often come running to you in search of an easy meal.
Here I used a wide angle lens at eye level to achieve a more creative composition.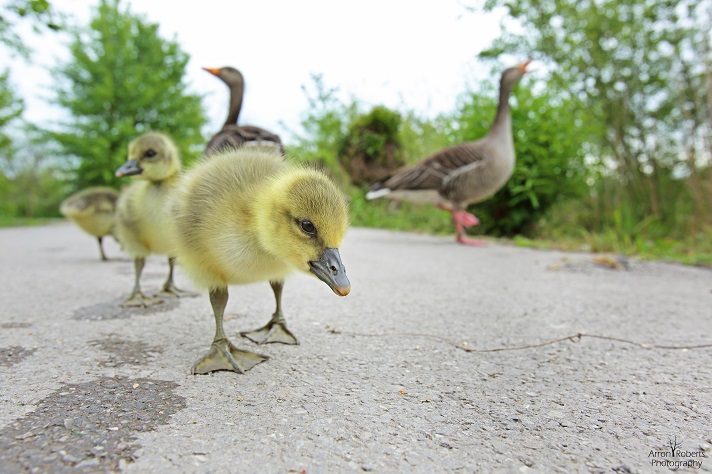 PHOTO: Arron Roberts | Greylag Goslings- Canon 5d iii, Canon 16-35mm f2.8, @25mm, f8, iso 400, 1/500 sec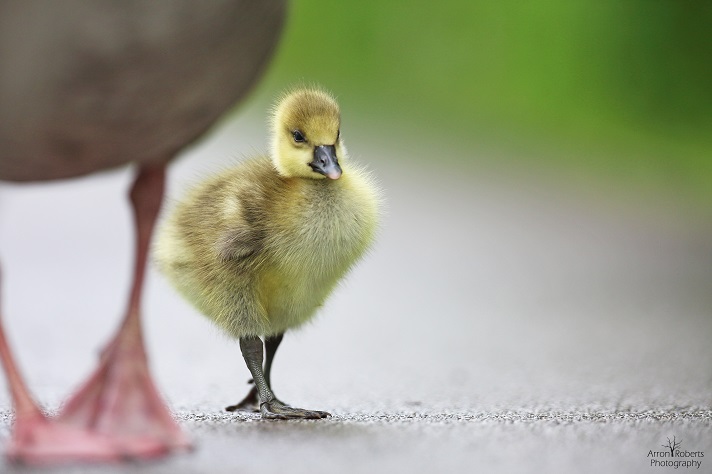 PHOTO: Arron Roberts | Canon 5d iii, canon 300mm f2.8 ii, Canon 1.4x extender iii, @420mm, f4, iso 320, 1/1250 sec
One species you can easily see up close in the wild is the oystercatcher, which is known to raise its young within close proximity of people. Once fledged, the chicks can be seen running around in the grassy verges on the hunt for insects and invertebrates to eat.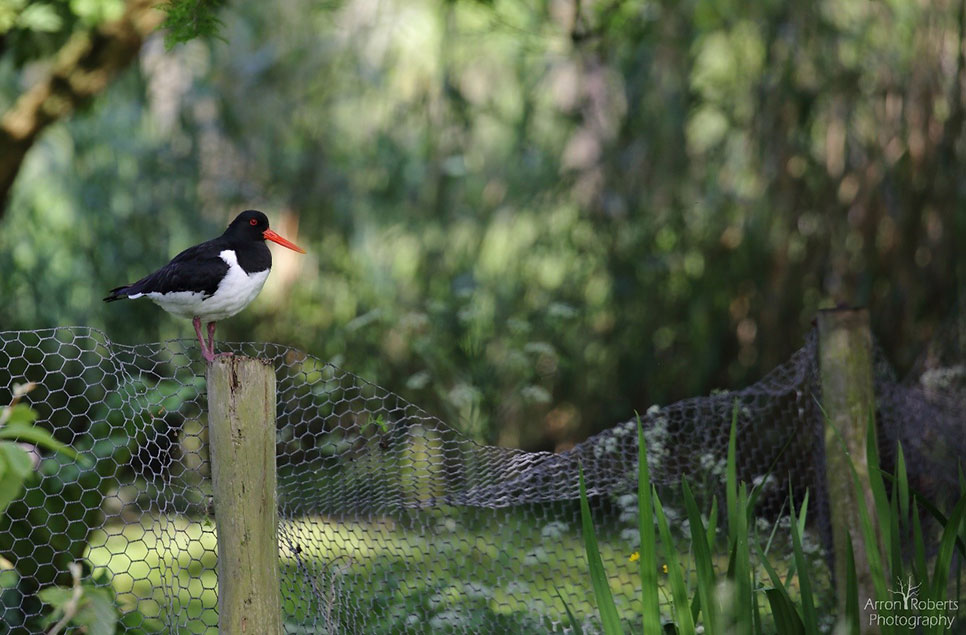 PHOTO: Arron Roberts | Oystercatcher- Canon 5d iii, canon 100-400mm f5.6 ii, @400mm, iso 400, 1/400 sec.
Late spring
Summer migrants start to return from their winter grounds to breed in the UK. As well as waterbirds, keep an eye out for smaller passerine birds such as willow warbler who are often found fly catching from the tops of willow trees or picking out insects attracted to the blackthorn blossom. Swallows and martins also make their homes in wetlands using the plentiful supply of insects that gather above the water's surface.
Get up close
Orchids bloom towards the end of spring and are definitely worth taking the time to photograph. During May and June some areas become covered in several species. Look out for common spotted, southern marsh, bee, and wasp orchid to name a few.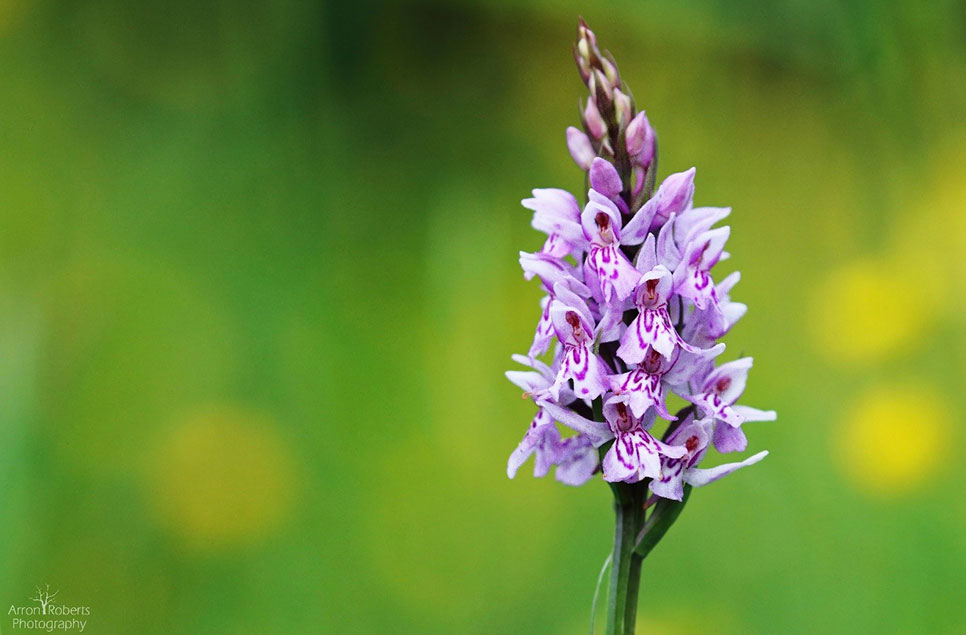 PHOTO: Arron Roberts | Common Spotted Orchid- Canon 70d, Canon 100-400mm f5.6 ii, @214mm, f6.3, iso 640, 1/100 sec
Dragonflies and damselflies
With the increase in temperature, insects and invertebrates start to appear. A wetland supports a wide variety of species, the most striking and well known being dragonflies and damselflies. They become more active during the heat of the day. Keep an eye out for larger hawker species quartering over their territory, up and down the water's edge looking for their next meal. Damselflies are more delicate fliers and spend most of their time closer to the water and bankside vegetation. On colder wet days they tend to hide away from the miserable weather, so it may still be worth a look for them hidden within the vegetation or on the underside of leaves. Try to arrive as early as possible as dragonflies and damselflies can be seen resting on stems covered in dew, trying to warm up from the rising sun.
For this photo I positioned the sun behind the Common Darter dragonfly making the dew drops glisten on its wings and abdomen, creating this magical effect.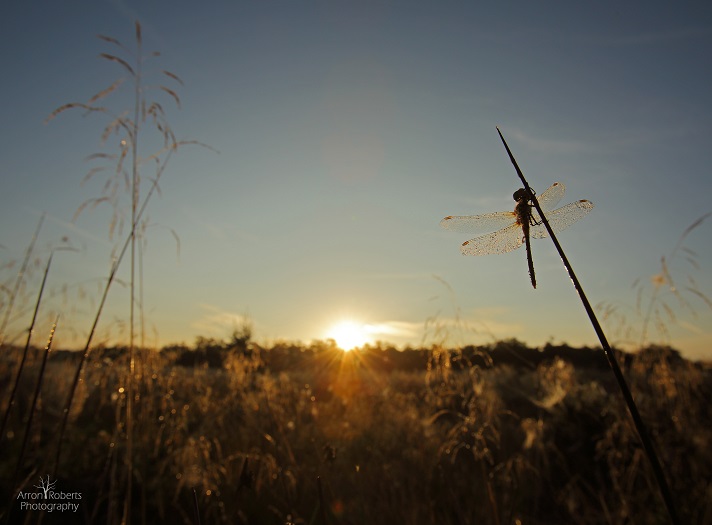 PHOTO: Arron Roberts | Common Darter- Canon 5d iii, canon 16-35mm f2.8 lens. @17mm, f10, iso 200, 1/500 sec.
A range of lenses can be used to achieve different photographs. Have a go with a mid-range zoom to capture them in flight or choose a macro lens and admire their incredible colours and detail. For more of a challenge, try a wide angle lens to give context including the wider environment they inhabit.
See what spring has to offer at your nearest WWT wetland - here's how to plan your trip. You can stay up to date with the latest sightings and future photography events on Twitter, Facebook and Instagram, or email us your best photos at waterlife@wwt.org.uk.
For more information on the photography, images and equipment used please take a look at my website and feel free to get in contact with any further questions: www.arronrobertsphotography.co.uk