With fog forecasted across the country this morning, swan counters on the Ouse Washes in Norfolk were bracing themselves for tricky counting conditions with poor visibility. Fortunately, the fog did not materialise, and all were treated to glorious sunshine and the stunning sight of 1,226 Bewick's swans, most of whom were found on the Welney reserve (WeBS). Since the last count on 26 October, over 1,000 swans have arrived from the continent and several thousand more are expected to flock to the area during the winter!
Meanwhile, numbers in the Netherlands are now reaching 4,500, with around 1,600 birds on the Borderlakes in the centre of the country (Wim Tijsen/Martin Jansen).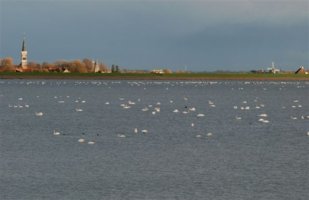 Bewick's on Lake Ijsselmeer, Holland (Otto de Vries)
Only 6-10% of birds recorded on arable land in the Netherlands have been cygnets although many families may still be residing further east.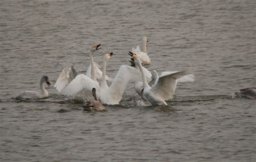 Breeding birds are thought to leave the breeding range later than non-breeding birds, with cygnet development perhaps influencing the departure patterns of pairs with young. Age counts will therefore be conducted in mid-winter to provide a more accurate reflection of breeding success in 2010.
Back at Slimbridge, 12 swans are settling in for the winter and establishing themselves before several hundred more arrive in the coming months!