After the mass exodus of Bewick's swans from UK wintering sites at the weekend, cold north-easterly winds and snow on the continent have stopped many in their tracks! Rather than flying straight on to Germany, large flocks have congregated at sites in Holland with 500 birds now in the Lauwersmeer area and 600 at the Makkumer Noordwaard (W. Tijsen). While the autumn migration takes 4-6 weeks, adverse weather may mean that spring migration takes up to ten weeks, with most birds leaving wintering grounds by mid-March and not arriving on Russian breeding grounds until late May.
Some of our Slimbridge birds are among those waiting in Holland for the weather to change before continuing with their journey. Riddler (ringed YXU), Luvari (AGJ) and Roscoff (BBF) have all been spotted foraging near Zaandam in the west of the country (J. Zorgdrager). Riddler (who has been visiting Slimbridge since 1991) and Luvari were last seen at Slimbridge on 24 February and Roscoff left with mate Rhune the following day.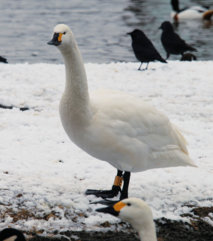 The remaining 144 Slimbridge swans are also sensibly staying put. Although numbers on the Ouse Washes have dropped considerably in recent days with 812 birds left this morning (WeBS), the mass migration seen over the weekend has certainly ground to a halt for now….