Staff at WWT were overjoyed as the second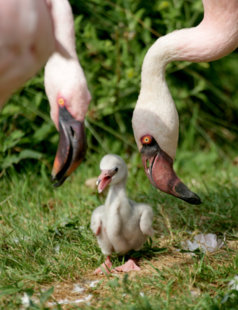 lesser flamingo ever bred by them in captivity hatched this week.
But the mood was tempered by news that three quarters of the wild population in Africa is threatened by industrial development.
In the wild, as in captivity, lesser flamingos' fastidious nature can hamper their breeding. They only breed well when in large flocks of thousands and are sensitive at nesting stage.
It can take as little as a slight change in water level or for something to pass overhead and the birds can abandon their nests.
So plans to build a soda ash extraction plant at Lake Natron in Tanzania, where the vast majority of lesser flamingos gather to breed, is alarming conservationists at WWT.
The skills and techniques developed with captive flamingos can pay dividends to wild populations. For example, building artificial nest mounds for wild flamingos has been used with great success at sites in Europe and Africa.
Tens of thousands of flamingos have hatched in the wild directly as a result of this technique pioneered in captivity. Conservation breeding programmes also help develop vital skills for re-introduction projects for endangered birds.
Rebecca Lee, WWT Senior Species Conservation Officer and Chair of the IUCN-SSC/Wetlands International Flamingo Specialist Group says: "It's partly a numbers game. In the wild they breed in very large flocks of tens and sometimes hundreds of thousands of birds. Flock density seems to play an important role in encouraging birds to display and initiate nest building.
"In captivity, it's well known that flocks of less than 40 flamingos will rarely breed. At WWT we use mirrors to give the birds a sense of a bigger flock."
Threat to main breeding site
The lesser flamingo is currently classified as Near Threatened on the IUCN Red List – but that situation could change very quickly.
At the moment about three-quarters of the global population live in the Great Rift Valley in Africa, and almost all of these breed at only one site – Lake Natron, in Tanzania.
Plans to build a soda ash extraction plant at the lake are placing the future of this critical breeding site under threat.
Four years ago, plans for the plant were shelved following worldwide concerns over its environmental impact both from the extraction of soda ash and its associated infrastructure.
Commercial industries require soda ash in the production of pharmaceuticals, glassmaking and even making everyday washing powders.
But now the Tanzanian president, Jakaya Kikwete, has revived the plans – which could see 200,000 tonnes of soda ash being extracted from the lake each year – despite his government accepting an award for shelving them at the Nagoya biodiversity summit last year.
Disturbance from the soda ash extraction has been identified as one of the greatest threats to the flamingos' future survival.
The development and associated infrastructure would potentially displace around 75% of the world population of lesser flamingos.
WWT chief executive Martin Spray concluded: "The breeding colony of flamingos on the caustic Lake Natron is truly one of nature's greatest spectacles and this site has been designated by Tanzania and internationally for its importance to wildlife and people.
"Lesser flamingos lay only one egg at each attempt – and we know that disturbance can have a marked effect on breeding success. Any changes at Lake Natron could very quickly bring about a catastrophic decline."
Footage of the lesser flamingo egg being incubated by parent prior to hatching yesterday
Photo of flamingos and chick at top of page by William Wattling