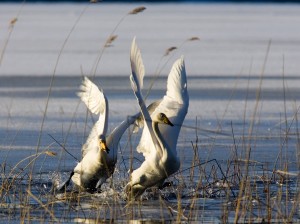 The Wildfowl & Wetlands Trust is 65 today.  
WWT has saved species, pioneered scientific research and helped governments and communities reap widespread benefits from wetlands.
Since its formation at Slimbridge in 1946, as the Severn Wildfowl Trust, WWT has opened eight more centres, covering 2,600 hectares, in England, Scotland, Wales and Northern Ireland.
Six of those sites are part of larger Ramsar wetlands – areas recognised globally for their high wildlife value. More than one million people visit WWT reserves every year, over half of whom are children.
Martin Spray, Chief Executive of WWT, said: "WWT has become a major force in wetland conservation in a very short time.
"Our science has saved species and our centres have become hubs of learning, inspiration and recreation. WWT's founder Sir Peter Scott saw that enthusing people about nature was paramount, a principle that remains at the heart of all we do.
"Wildlife would be devalued without it, and our attempts to conserve nature for future generations would fail."