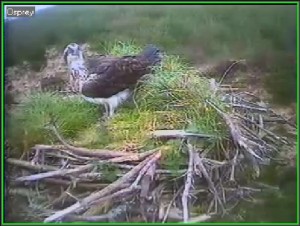 On the 2nd of April at 14:40 hrs, an osprey was seen to land on the nest via our CCTV system. We were alerted by the excited shouts of a family in the visitor centre, just finishing their lunch and watching the monitor.
We rushed to the big screen to get a better look and there was our resident female osprey.
She has a very distinctive head pattern and it is undoubtedly the same bird that has bred here with AW since 2009.
She is three days later than last year but that is understandable with the lack of good southerly winds and a brisk north-easterly in the last few days.
Hopefully AW is not far behind and will arrive before another male tries to take his place.