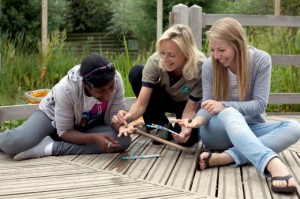 GCSE science lessons won't be complete without school children doing fieldwork outside the classroom, says the Wildfowl & Wetlands Trust.
Government proposals to reform the subject content of science GCSEs currently have little reference to learning outside the classroom. WWT is welcoming the proposals' emphasis on science education but says they would be enhanced by including fieldwork outside the classroom, because good science is based on collecting good evidence.
WWT Learning Adviser Carolyn Robertson says:
"WWT is the one of the world's leaders in wetland conservation. Our scientists work around the world monitoring the health of wetlands and flyways used by migratory birds. That fieldwork is an important part of the scientific process. Without it, we wouldn't have good evidence with which to identify problems and create solutions.
"Using primary evidence – that you have found out for yourself – to make decisions is an important skill to develop when learning about science, and also when learning about tackling problems in life generally.
"Getting outside the classroom has other rewards too. Research shows that children benefit physically and emotionally by being close to nature. And nature benefits from children being inspired to care for their environment."
WWT has submitted its recommendations to the Government's consultation on GCSE content here. The results of the consultation and the Department for Education's response are due to be published in autumn 2013.
WWT is one of the leading providers of learning experiences outside of the classroom. More than 2.2 million children have been on a school trip to a WWT wetland centre since the 1940s. A £1m funding package from HSBC bank is allowing WWT to train 300 teachers to provide out-of-classroom teaching, with another 12,000 teachers gaining direct experience in taking learning outdoors. HSBC's funding will also allow 60,000 children from disadvantaged areas to learn subjects through hands on activities at WWT's wetland centres across the UK.
To find out more about WWT's 'Inspiring Generations' free school visits scheme, visit www.wwt.org.uk/inspire