Last year, 520,000 people across the EU answered a European Commission consultation, by far the largest ever response to an EU consultation.  Yesterday, their call was answered with a brilliant victory.
This year, one woman flew 4,000 miles from the icy Russian tundra, all across Europe, over White Cliffs of Dover and back to the UK, dangling from a parachute and strapped to a fan. Sacha arrived back safely this week.
Both of these record-breaking efforts share a common cause: to demand that Governments uphold our nature-protection laws.
The #defendnature campaign and Flight of the Swans show how an important idea can create a shared sense of purpose, a thread of activism that runs from the individual, through organisations and communities, to the national level and beyond. Today, the launch of the UK's largest ever campaigning conservation alliance — Greener UK — creates a powerful link between 8 million individual supporters and the international activism we need to restore our natural world.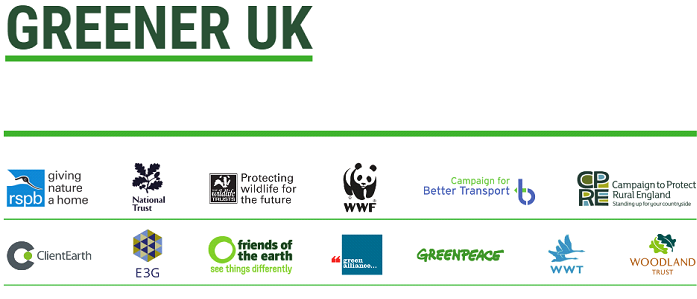 The UK is home to some of the most impressive environmental organisations in the world. They cover a fabulous range of interests: hedgehogs and birds; woodlands and wetlands; air, soil and water. Together, they have millions of members, far more than all our political parties combined. Their work is professional, science-based and conviction-led, with just a hint of delightful eccentricity.
Some individual campaigners have asked why we can't work together more often. There's often lots of collaboration behind the scenes—for example, at WWT we're proud to work on policy with Wildlife and Countryside Link, The Climate Coalition and Sustainability Hub—but coordination on public policy is often frustratingly illusive.
So, when 13 major environmental organisations come together to speak with one voice, we must surely sit up and listen. WWT is joining Campaign for Better Transport, ClientEarth, CPRE, E3G, Friends of the Earth, Green Alliance, Greenpeace, IEEP, National Trust, RSPB and WWF and together, as Greener UK, we will hold the Government to its commitment to leave our natural environment in better condition for the next generation.
The idea is clear: political change brings serious risks; handled badly, Brexit could seriously undermine our environmental protection. However, political change also brings opportunity. With the right political will, this Government can take the UK forward to lead the world in environmental improvement.
Already, over 145 MPs have signed our Greener UK pledge. They too are convinced that the Government can pass on thriving natural world on land and at sea, clean air and water, communities connected to nature, and a sustainable economy. There is already support across Parliament for an agenda that doesn't just protect nature, but actively seeks to restore our natural world.
The key is recognising that the environment touches so many aspects of our lives and the Government's agenda.
The Prime Minister has spoken about a fairer Britain that works for everyone. If we're to achieve that, then we need to recognise the huge social injustice that comes from a damaged environment. Just think of the thousands of people who suffer respiratory disease or even early death because of air pollution; consider the people whose homes and businesses are ruined by flooding, made worse by unsustainable development and climate change. For a fairer UK, we need a Greener UK.
The Chancellor has spoken about the importance of responsible debt management, aiming to bring the UK's books into balance. If we're to achieve that, then we need to recognise the massive "borrowing from the future" that comes from over-exploiting our natural world. If we over-fish our seas today, we profit at the expense of future generations. If we farm our soils so intensively that they become unproductive, then we will have built an unsustainable natural debt. For a stronger economy, we need a Greener UK.
We must bank the brilliant environmental protection we enjoy now and build on it with a pioneering programme of environmental improvement. Today, we are calling on the Prime Minister to show international leadership on climate change, introduce a system of sustainable land management, and take decisive action to restore and enhance our natural environment.
With the right mix of individual inspiration, cross-sector cooperation, and political leadership, surely we can pass on a cleaner, healthier, more sustainable country for people and wildlife – a Greener UK.
Richard Benwell
Head of Government Affairs