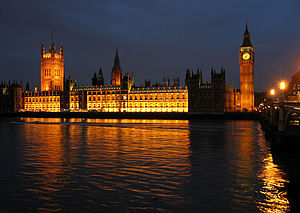 Leaving the EU is a time-consuming exercise. The Parliamentary process could leave little room for other matters. Yet today, the Commons Environmental Audit Committee topped its new Brexit report with a powerful demand for new environmental law.
At WWT, we wholly agree with this recommendation; we must bank our EU protection and build on it with new UK law to protect and invest in our natural world. We are part of a growing movement calling for modern environmental law. The Government must make time for nature amid its gruelling Brexit schedule.
Why new law?
New law is needed for two reasons: first, when we leave the EU, the force of our current environmental law will be dulled. Some rules will not be compatible with a post-Brexit Britain, others will be compromised by stagnation and lack of enforcement, becoming "zombie legislation".
Second, our current law does not go far enough: the state of nature is in decline, our water quality doesn't meet the mark, and our air isn't fit to breathe. We need new law to set a clear, legally-binding course for improvement.
What should it include?
New environmental law could come in a variety of guises: the French have a new biodiversity law that incorporates environmentalism in the civil code, the Welsh have a fantastic new Future Generations Act, which created a Future Generations Commissioner to oversee long-term sustainability. There are many ways to recognise our need for nature and improve its protection, but there are some common hallmarks that make for effective law. At WWT, we'll be campaigning with our partners in Wildlife and Countryside Link for:
milestones, setting legally-binding targets to improve our natural world: water, air, wildlife, and wonderful habitats like wetlands.
money to invest in nature and enrich our environment. That means pledging public money for public benefits, like flood risk relief, supporting wildlife and helping people enjoy nature. In law, this could take the form of polluter pays levies, or new markets to make sure environmentally-positive actions are rewarded.
monitoring for delivery, with regular reporting in Parliament, independent scrutiny, and proper legal enforcement.
Of course, these must come in addition to a commitment to implement, resource and enforce the laws we inherit from the EU, like the Birds and Habitats Directives, chemicals regulations and the Water Framework Directive.
When should Government act?
The Article 50 process to leave the EU will be invoked by the end of March.  There will be a 'Great Repeal Bill' to transpose EU law into domestic legislation. The back and forth of politics, negotiations and international relations is intensifying.
Amid this melee, we must make sure Government remembers our need for our natural world, highlighting the environmental jeopardy of political change, as well as the opportunity for improvement.
We are expecting the Government to publish a consultation on its 25 year environment plan shortly. Already, the plan has been delayed by many months. We cannot afford to let our environmental protection fall to the wayside along the road to Brexit.
This is, perhaps, our biggest opportunity to make the Environmental Audit Committee's recommendation a reality. We will be campaigning for the plan to include a commitment to legislation.
You can join us by following this link when the consultation is published and, in the meantime, you can read more about our proposals. As always, we'd love to hear what you think.
Richard Benwell
Head of Government Affairs