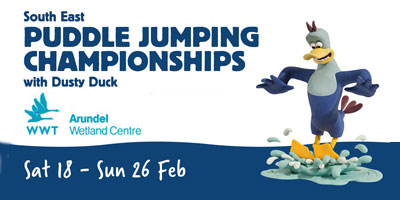 This February half term, children are being encouraged to grab their wellies, get outside and join in Southeast puddle jumping championships being held at WWT Arundel Wetland Centre.
This year WWT's new children's character, Dusty Duck is joining in the fun and helping kids create the biggest, craziest splash possible.  Dusty was exclusively designed by the world-famous Aardman studios to help celebrate WWT's 70th anniversary by getting children closer to nature.
Children will compete against each other to see who can produce the biggest splash from their puddle jump.  They will also be judged on their enthusiasm and jumping style.  The daily competitions are held at 11am and 2.30pm plus there are plenty of jumping practice zones around the reserve. Daily winners will be announced throughout the half term and some lucky 'super-splashers' will receive a fantastic prize from Dusty Duck himself!
Every contestant will receive a 'splashtastic' sticker to acknowledge their puddle jumping skills.
Visitor can also grab a map and follow the Celebrity Dusty Duck Trail with 14 GIANT Dusty Ducks designed by UK celebrities. Entry the Design your won Dusty Art Competition and the Trail contest to try and win Dusty Duck gift bags!
Hannah Clifford from WWT said:
"We know that children love nothing more than to splash about in puddles, so we thought we'd give them the chance to channel their inner splasher through our nation-wide puddle jumping competition at our Wetland Centres.
We're also delighted that Dusty Duck will be involved as he loves nothing better than getting out the fresh air and splashing about with all his puddle jumping friends.
It's all a lot of fun and we know that children who love puddles often grow up to be adults that love the outdoors. So through these championships we're gently nurturing a love that may help protect wetlands and the wildlife that depend on them for years to come."