At WWT we believe the cup of tea is mightier than the sword. So we were delighted to join in some tea-based activities as part of the Climate Coalition's week of action on climate change.
Across the country, people invited their local MP for a cup of tea, a slice of cake and a chat about what climate change means and what we can do about it.
One of those intimate tea parties took place at WWT London Wetland Centre. Local MP Zac Goldsmith kindly came along to meet a group of WWT volunteers and members (Zac is the tall man in the photo). Everybody got a chance to chat with him over refreshments.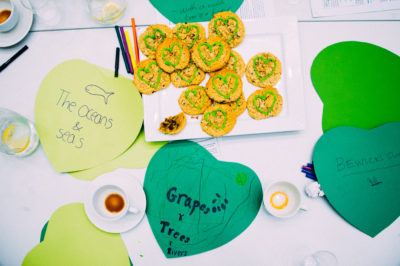 A key early discussion focussed on whether the new Environment Secretary Michael Gove has the ability or the will to take action on climate change. A constructive point was made that Mr Gove is a big name in a small Government department. This can be useful in opening doors at bigger departments.
The discussion was surprisingly chirpy, though that may have been due to some wonderful 'green heart' cookies being passed round. We celebrated record levels of UK electricity being generated from renewable sources, and a good UK track record so far on carbon reduction.
We even saw a positive in Donald Trump's withdrawal from the Paris climate change agreement, in that it's created a sense of unity elsewhere. There are plenty of other countries (as well as influential people in the USA) looking at the commercial potential of clean energy.
Each of us were able to get a point across. Mine was to push for more Government interest in putting solar panels on the massive acreage of roofs of public buildings – which Zac confirmed he is already looking although planning is a devolved matter.
The green hearts we're holding up in the big photo at the top of the page each have something we love written on them. This reflects that climate change affects all of us in every way – families, jobs, hobbies, interests and every living thing.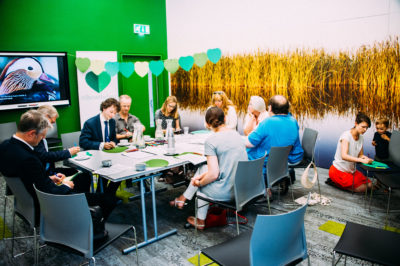 Tackling climate change will take some big actions by politicians alongside lots of little actions from the rest of us. Moments like this are great ways to make sure those big and little actions work together. Thank you to all the MPs who gave time to the Climate Coalition's week of action.
Next time you visit a WWT wetland centre we can't guarantee you'll meet your local MP. But if you love nature then we'd love to chat and hear your thoughts. The kettle's* always on.
*An energy efficient kettle of course, or in the current hot summer weather why not go for a cool glass of water!