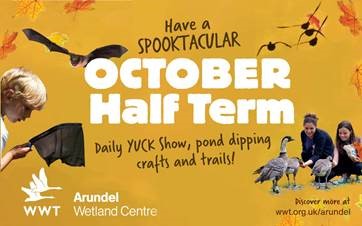 Children and their families can enjoy spooky fun at WWT Arundel Wetland Centres this October half term. Discover the gross side of nature at the Yuck Show at 11 am and 1.30 pm every day of half term.  Professor Batwing welcomes children to Toadworts Laboratory where experiments reveal carnivorous tadpoles, super slug slime and piles of poo!
Lizzy Pearce from WWT Arundel Wetland Centre said:
"Our visitors always love Halloween, so this half term were giving families something a little bit extra by incorporating the weird and wonderful side of nature into our activities.  Children often find the gory, yucky side of the natural world fascinating so we're indulging their imaginations."
Families can also go pond dipping for mini-beasts and create creepy crafts for kids.  Look for the hidden pumpkins on the Spooktacular Trail, take a BOO-tiful boat safari and feed ravenous webbed-footed creatures at the hand feeding bay (ducks), all included in your admission price. So much fun it's scary!
The Wetland Witch's Potions Class is back on Sat 28 Oct. Children discover dark secrets of wetland plants and learn to write spells with quill feather pens at 10 am – 11.30 pm or 1pm – 2.30 pm. Cost is £3 per child for the workshop but does not include centre admission price.
WWT Arundel Wetland Centre is open 7 days a week from 9.30 am – 4.30 pm during October 21-29 half term. There is free parking, with the Water's Edge café and a gift shop onsite.