WWT's 1000 volunteers are the backbone of the charity, without them, the scale and reach of the charity's conservation work would not be possible. Daniel Modley, 32, volunteers at Steart Marshes in Somerset where he examines invertebrates as part of his animal conservation degree. Here, the former Royal Navy medical assistant tells us about swapping the open sea for scientific study on the wetlands.
My practical day volunteering begins with meeting the staff at the reserve office to chat to them about what has been sighted at the reserve during the week.  Tasks for the day are set, which can include hedge maintenance or stock fencing to creating drinking bays for the herds of cattle which graze at Steart to keep the meadows in optimum condition for wildlife. It's always nice to visit different parts of the reserve.
I particularly enjoy tasks such as clearing ponds while wearing waders and up to your waist in water. It is physically demanding but also quite satisfying at the same time.  I enjoy going to parts of the reserve that are off limits to the general public, where you can easily be distracted by the bird life around. I am a novice with bird species, but definitely keen to learn more.
We get a fantastic range of birds here. We got the spoonbill feeding at Otterhampton marsh the other day. Over the summer, there has been an explosion of avocet chicks. We've had seven pairs successful breed. When I first started out here two years ago there was just one pair down by the breach. That's a record for Steart.
We are so lucky to have such a wonderful place like this literally on our door step. Just a few years ago the reserve was arable farmland. So much has changed and so much is possible.
I lived locally in Somerset until I turned 17 and left to join the Royal Navy where I served for five years as medical assistant, stationed in Portsmouth with a stint at Arbroath.
I've had quite a diverse career so far. I wanted to train to be a nurse when I left the Navy however I felt as time passed, I wanted a complete change in direction. I have always loved the natural world, as I've got a bit older I've increasingly become more interested in ecology, so not just an organism, but its relation and place within the physical world.
When I was in the navy, I never imagined I'd be taking samples and studying the presence of invertebrates in the Steart marshes. Life is strange.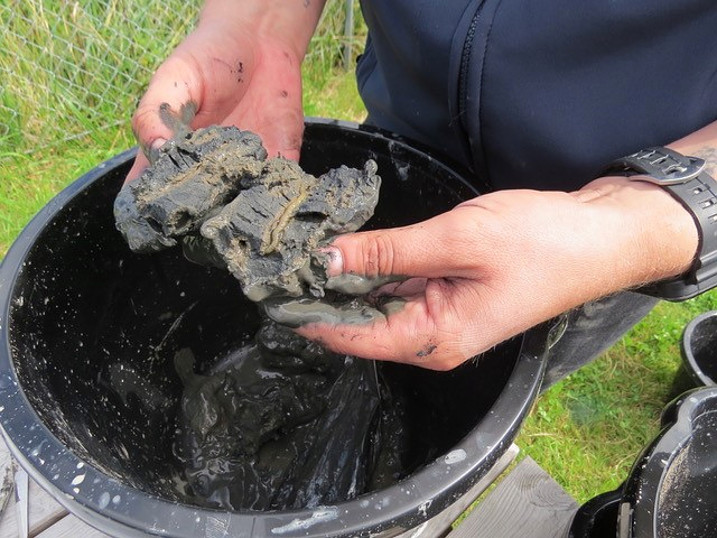 This period shaped me into the person I am today. Military training gave me a strong work ethic and taught me that team work is essential. People working together as a team can achieve great things. My military life has also given me the strong determination to succeed.
When I first started, I had no idea about the different species of birds at all so it was always going to be a big learning curve for me and I've still got a long way to go. With my research project, I'm picking up stuff every week.
You learn something new every day especially at Steart from staff and volunteers who have a wealth of knowledge about birding and butterflies.
I have learned how to carry out surveys on water vole and butterfly transects. I also assist with the monthly otter surveys here at Steart. It's amazing that they are present. It's a key indicator that there is an abundance of food resources for them here. I would love to see one but I haven't been that lucky yet.
The smell of otter spraint (poo) is quite pleasant! But it can be disgusting if you misjudge a spraint, take a good whiff and get it wrong! Your nose becomes accustomed to the otter scent after a while.
Steart has its own microclimate so you have to be prepared for all weathers. You quickly become an expert in predicting what's going to happen. You can roughly tell how many minutes the rain will last by looking at the clouds rolling off the Quantocks.
I normally get quite muddy while collecting data for my project which isn't really surprising when working on the intertidal area! However, the practical jobs themselves are very satisfactory, I spend some of my spare time at the reserve and it's nice to walk past parts and think: 'we've accomplished that.'
The opportunities are endless. I'm hopefully going to volunteer on Lundy Island in the Bristol Channel at Easter, helping with the puffin and grey seal counts so looking forward to that.
I am so grateful for the opportunity to volunteer here and for the support from the members of staff and other volunteers, since I've returned to education. I'm a mature student but if I get stuck on something one of the wardens will keep me right. Tell me what to look for, or what information I need.
I am also thankful for the awards from our supporters including our big funders like players of People's Postcode Lottery who help us see through our conservation work.
If I wasn't on my course I would still be volunteering. I love it. There are around 60 volunteers here and I'm proud to be one of them.
The most rewarding part of being a volunteer at Steart is that with every task, you are making a difference, whether that's enhancing the visitor experience or managing habitats for wildlife which in turn will provide food or shelter for wildlife thus giving biodiversity a helping hand.
Putting theory into practice is the best kind of learning.
I am extremely grateful for the support of all the staff based at Steart, I feel that I have grown in confidence since first becoming a volunteer in June 2015. I am grateful for the training days and the volunteer thankyou days. I feel very appreciated.
This is what I find fascinating – a few months ago, I wasn't that interested in invertebrates but now I have completely changed my mind. Without the invertebrates there wouldn't be the birds that use the reserve to feed. Conservation work starts off small!
---
Support from players of People's Postcode Lottery helps train and equip Daniel and our other volunteers to provide the best possible conditions for wildlife to flourish at our Steart Marshes reserve and our others reserves and helps enable our visitors to enjoy and learn about wetlands and their wildlife.