Sacha Dench of the Wildfowl & Wetlands Trust (WWT), will be named as one of Britain's 'Women of the Year' at a prestigious lunch to celebrate '2017 Woman of Achievement'.
She will join over 400 women from all walks of life and represents not only herself, but the millions of women who make a difference to the world every day.
Sacha, 42, is attending in celebration of her record-breaking solo 7000km journey by paramotor from the Bewick's swans' breeding ground in arctic Russia to WWT Slimbridge Wetland Centre in Gloucestershire.
She braved ice cold temperatures, polar bears, injury, thunderstorms and snow to provide a birds eye view of the challenges facing the continent's smallest and most threatened swan species.
Sacha, who lives in Gloucestershire, studied biology at University College London, and worked with marine animals before joining WWT in 2009. Apparently fearless, she is also a champion free diver and cave diver, able to plunge 63m in just one breath.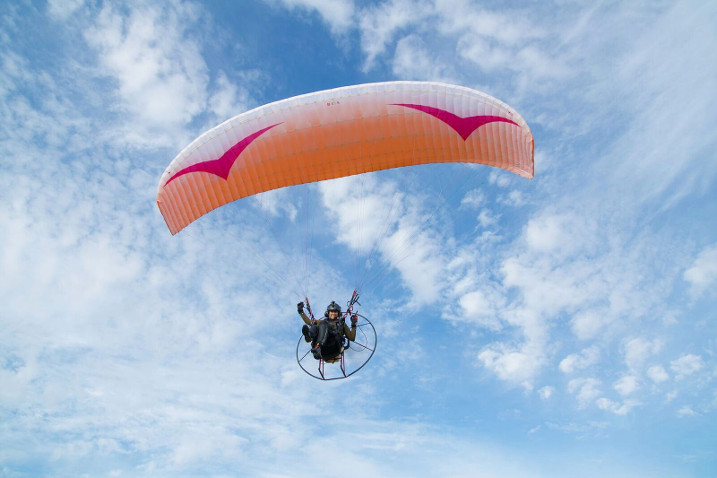 Sacha says:
"It's an honour to be recognised alongside these inspirational and extraordinary women and I cannot wait to share this special day with them.
"WWT carries out important conservation work. Flying for 7,000km alongside migrating Bewick's swans has helped to highlight the plight of this iconic bird. It was an incredible experience and there were many brilliant women behind the scenes who made this unbelievable journey possible.'"                    
Sacha joins a long list of celebrated women that includes Eimear McBride, Ellen MacArthur, Fern Britton, Dame Harriet Walter, Dame Jacqueline Wilson, Julie Walters CBE, Lindsay Lohan, Lulu, Mel Giedroyc, Nadiya Hussein, Nicole Kidman, Professor Mary Beard, Sally Lindsay Lohan and Theresa May.
Women of the Year has recognised, celebrated and inspired women of all backgrounds since 1955 and continues to shine a light on ordinary women, doing extraordinary work, through an annual Lunch and Awards ceremony, Alumnae events and on-going foundation work.
Sandi Toksvig, President of Women of the Year, said: "I'm looking forward to the honour of welcoming these incredible women to the Lunch in October. These women are making a huge difference in their own way, and it's important that we celebrate such extraordinary work. I would love to show the room to every schoolgirl growing up in Britain today and tell them 'you can be whatever you want to be: just look at these incredible women.'"
Exceptional women will receive special awards at the Lunch for being an inspiration to others, demonstrated by their courage, selflessness and dedication. These special Women of the Year Awards are sponsored by Barclays, Good Housekeeping, ITV's Lorraine and Prudential and will be announced on Monday 16 October 2017.