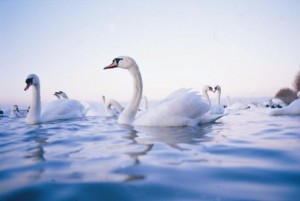 Concerns that lead poisoning from gunshot can affect animal and human health have widened, following a scientific paper by the Wildfowl & Wetlands Trust (WWT) which suggests a third of waterbirds sampled suffer from lead poisoning through eating lead shot and that the law set up to protect them isn't working.
The RSPCA, RSPB and Humane Society International/UK have joined with WWT to reiterate that viable alternatives to lead shot are widely available and that these should be used to combat widespread suffering of wildlife and health concerns.
The organisations have added their voices following the WWT report and Food Standards Agency (FSA) advice which has raised concerns around humans regularly eating lead-shot game.
The organisations are calling on the Government to request that the Lead Ammunition Group (LAG), which was established to advise the Government on the key risks to wildlife from lead ammunition, reports by March 2013 so that its findings can inform the Law Commission's review of wildlife legislation.
This comes as winter migrant birds, including Bewick's swans and pink-footed geese, start to arrive in great numbers across the country. The birds graze on farmed and other managed land as they arrive and often mistake lead shot for grit.
Voices of support
WWT Chief Executive Martin Spray said:
"Lead is already banned from petrol, pencils and paint. Shooters in some other countries have already adapted to using non-toxic alternatives to lead for their shot.
"The evidence of the damage caused by lead shot poisoning has built to a point where it cannot be ignored. New research which is peer-reviewed and published in a scientific journal shows 1 in 10 waterbirds sampled died from lead shot poisoning, and a government agency has advised that eating lead-shot game on a frequent basis can expose people to potentially harmful levels of lead.
"I hope that people who shoot – who are often great carers of the countryside themselves – will take account of the new evidence and switch to the non-toxic alternatives to lead shot."
RSPB Director of Conservation Martin Harper said:
"This new evidence reinforces just how widespread and harmful the effects of lead are. With a recent government funded study showing low compliance with existing regulations in England on lead shot use, it's not surprising unacceptable numbers of wildfowl are still dying avoidable deaths from lead poisoning.
"We also know the problem extends away from our wetlands. Several other bird species ingest lead shot in the same way as waterfowl, and birds of prey can suffer lead poisoning from accidentally ingesting shot in their prey. These are real issues which must be addressed as quickly as possible."
RSPCA Wildlife Veterinary Officer Mhairi Fleming said:
"We see lead poisoning in a range of bird species which have mistakenly eaten lead shot, are visibly ill and have been spotted by concerned members of the public.
"I think there is awareness in the hunting communities of the problem of lead poisoning, but there is a core who may not be aware of the level of sickness and distress it causes to individual birds.
"Lead poisoning also creates financial costs for individual centres to provide x-rays, blood samples, laboratory tests and the 3-4 months of care needed if these birds are to survive and be released".
Humane Society International/UK Veterinarian and Executive Director Mark Jones said:
'In spite of regulations restricting its use, lead shot continues to result in the poisoning and death of many thousands of birds in Britain each year. Lead shot has been banned in several countries including Denmark, the Netherlands and Norway. Lead can be entirely replaced with non-toxic alternatives.
"This continued and unnecessary threat to our wildlife is unacceptable. It's time lead shot was banned across Britain."
Sign the petition
There is an online petition where people can show their support for stopping the use of lead shot.
Find out more about lead poisoning in birds.
The FSA guidance on eating lead-shot game, which advises that to minimise the risk of lead intake, people who frequently eat lead-shot game should cut down their consumption, is available here.
The FSA say the advice is especially important for vulnerable groups such as toddlers and children, pregnant women and women trying for a baby, as exposure to lead can harm the developing brain and nervous system.