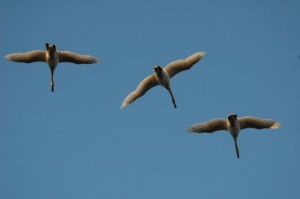 The sudden change in the weather has prompted an overdue influx of endangered Bewick's swans to the WWT Slimbridge Wetland Centre in Gloucestershire.
The swans migrate from arctic Russia each year to spend the winter at Slimbridge, the former home of conservationist Sir Peter Scott.
The swans arrive gradually over several weeks. This year the bulk of them were several weeks late, but the cold weather and favourable flying conditions saw 38 new swans arrive over night, bringing the total now at Slimbridge to a more usual 86 birds.
Julia Newth is a Wildlife Health researcher at the Wildfowl & Wetlands Trust (WWT). She monitors the swans' throughout their time in the UK. She said:
"Bewick's swans are vulnerable to all sorts of threats on their long migration from Russia. We know every individual swan that comes to Slimbridge, so this is a wonderful time of year to see familiar faces return safely, bringing their new families with them.
"We are especially pleased to see the return of 21 year old Riddler, with mate Riddles, who first visited Slimbridge as a cygnet in 1991. Furthermore, one of Riddler's offspring, Pen Pal, has also arrived after a twelve year absence from Slimbridge!"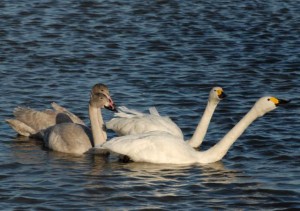 Each swan has a unique pattern of black and yellow on its bill, something that researchers at WWT have been using, like a fingerprint, to identify and monitor individual birds.
Visitors to the WWT Slimbridge Wetland Centre can see the swans up close each day at 4pm, when they are fed on the lake where they roost.
Julia Newth continued:
"At Slimbridge we have a unique opportunity to study the swans. They breed in a very remote area of Russia and generally are very wary of people. Through our work we are able to identify and deal with the threats they face, such as illegal shooting.
"It is fantastic that the public get the opportunity to see them up close too. They are such beautiful birds, whose everyday lives make epic stories; it is a thrilling introduction to the natural world."
Julia Newth writes a blog about the swans at Slimbridge and her study of them at www.wwt.org.uk/swandiary.