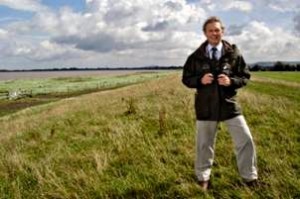 Martin Spray, the Wildfowl & Wetland's Trust's Chief Executive, has expressed his surprise and pride at being awarded a CBE for his work in wildlife conservation.
Mr Spray has devoted half his career to working for conservation organisations and has been with WWT since 2004.
Mr Spray, reacting to news of being awarded a CBE, said: "From a personal point of view I'm a bit overwhelmed and extremely proud to receive this, especially as it is awarded on the recommendations of others.
"I'm also thrilled to see that the importance of work in wildlife conservation has been recognised in this way.
"I think I have been part of a team at WWT ensuring that the organisation goes from strength to strength, and that we are always carrying out the vision and work which our founder Sir Peter Scott would have wanted."
The first part of his career was spent in the government sector in a variety of managerial positions.
In 1988 he moved into the conservation world as Area Manager with the World Wide Fund for Nature and three years later to the Berkshire, Buckinghamshire & Oxfordshire Wildlife Trust as its first Chief Executive.
Prior to moving to WWT he was seconded to the Royal Society of Wildlife Trusts as its Acting Chief Executive.