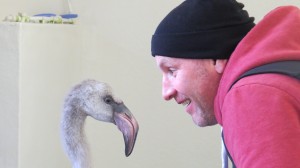 TV wildlife presenter Mike Dilger is urging everyone to head down to their nearest wetland centre on this year's World Wetland Day, Saturday 2 February, to find out just how amazing these habitats are.
While wetlands might sound a bit muddy and soggy, that's exactly why they're so good for wildlife. They are among the most abundant habitats in the world. Ponds, lakes, marshes, riverbanks and moors are great places to spot the likes of dragonflies, water voles, otters and swans.
Mike is at WWT London Wetland Centre on World Wetlands Day where his is finishing a marathon tour of all nine Wildfowl & Wetlands Trust visitor centres around the UK, in just nine days.
Mike Dilger said:
"Water is vital for life. There's obviously lots of it in wetlands and that's why there's so much great wildlife too. So put on your boots and raincoat and see what you can find.

"Many people might not realise the UK has the highest number of wetlands globally designated as being of international importance, in the world.

"The UK is one of the world's great places to experience the spectacle of thousands of swans, geese and ducks grazing across a dramatic and beautiful wetland landscape. Winter is a great time to get out there because our bird numbers are swelled by winter migrants from the arctic.

"In nine days I've seen something different and amazing at every WWT centre. Seeing wetlands at a visitor centre has the added advantage of feeling extra-safe and having somewhere dry and a nice cup of tea after having fun."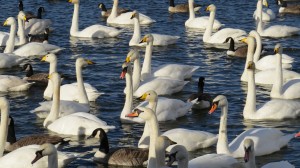 Mike is travelling round all nine centres to raise money for WWT's conservation work in the UK and around the world including WWT's project to save the spoon-billed sandpiper. It's one of the world's rarest and most unusual birds, there are probably less than 100 pairs left.
WWT is working with communities and governments in Asia to safeguard the future of this species. We are creating a breeding programme in the UK to rescue the spoon-billed sandpiper from extinction – just as we succeeded in doing 60 years ago with the nene (Hawaiian goose). You can still meet and feed the rare and friendly nenes at WWT visitor centres today.
Mike's unforgettable experiences in the last nine days include:
Piloting an electric boat through the wetlands at WWT Arundel Wetland Centre
Feeding the swans at WWT Slimbridge Wetland Centre – we've known each wild Bewick's swan individually for more than half a century through each bird's unique bill pattern.
Feeding more than 500 birds in under an hour at WWT Llanelli Wetland Centre
Meeting captive beavers at WWT Martin Mere Wetland Centre, Lancashire, as well as the centre's herd of English Longhorn Cattle.
Tracking ringed birds and watching huge flocks of waders at WWT Castle Espie Wetland Centre, south of Belfast.
Watching the entire 30,000 strong population of Svalbard barnacle geese from WWT Caerlaverock Wetland Centre, near Dumfries – there were only 300 of these in the 1950s!
Exercising the flamingos and feeding the otters at WWT Washington Wetland Centre, Tyne & Wear.
Feeding wild whooper swans at WWT Welney Wetland Centre, Norfolk.
Opening a new bird hide at WWT London Wetland Centre, an oasis for wildlife and tranquillity in urban West London.
Mike's tour culminates at WWT London on World Wetlands Day 2 February, which is the anniversary of the international convention on wetlands, signed in the city of Ramsar, Iran, in 1971. There are now over 2000 internationally recognised Ramsar sites – wetlands of international importance – around the world.