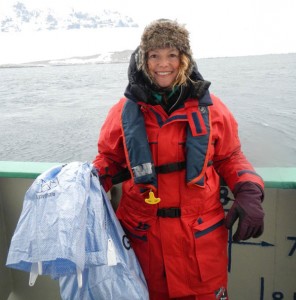 100 years ago Captain Scott and his team bravely battled the Antarctic elements. Knowing he was about to lose that battle he wrote to his wife and urged her to get their young boy interested in nature. That letter inspired their boy, Sir Peter Scott, into a lifetime of protecting our natural world, including the founding of the Wildfowl & Wetlands Trust (WWT).
TV presenter Kate Humble has retraced those steps, this time with your letters of inspiration. We asked you to write to a person of your choice to ask them to do something amazing. 600 of you wrote in and a panel of celebrity judges picked the top 100 to be posted from Antarctica.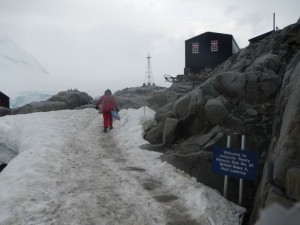 It's not been easy. Kate's ship was beset by bad weather. But bravely Kate and the crew used a dinghy to get from the ship into Port Lockroy in rough seas. Even after making port, the ascent to the Port building was slippery and dangerous. Sack in hand, Kate and the crew made it to the post box as the weather closed in on them. Your letters are now on their way!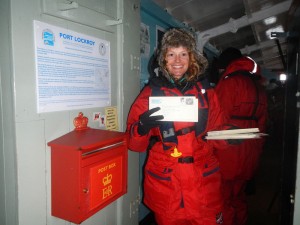 This tiny outpost is run by the UK Antarctic Heritage Trust from where they manage the world's most southerly post office. The Trust's Director Rachel Morgan said: "We were thrilled that Kate Humble was able to make it through tough ice and weather conditions to post the Scott 100 letters at Port Lockroy. No doubt there were a few penguins on the path that she had to navigate around! It's an honour for us to be a part of this project and for our post office to be the conduit for the dissemination of these important letters to such influential people".
Among the letters being posted was the winning letter, written by Brent Astley Richards who lives near Cardiff. He visited our wetland centre in Llanelli, Carmarthenshire, where he told us why he wrote his letter. Llanelli is one of nine WWT wetland visitor centres connecting people with nature right across the UK, click here to find the one nearest to you.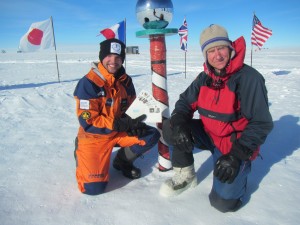 Not only have the letters arrived in Antarctica, some of them have been on a detour – explorer Henry Evans of the International Scott Centenary Expedition took some to the geographic south pole! You can read more about Henry's own adventures at his website.
If that wasn't enough, those letters have been passed on to Captain Scott's grandson, Falcon, who took them on the final leg to Port Lockroy to rendezvous with Kate. It's taken several attempts to get those letters into the port because of the bad weather!
What now? If you wrote a letter and know the person it's going to, you'll see it arrive. If it's someone famous you may never know what happens, but you will know you have done your bit to inspire something good in the world. When your letter arrives, it will include a link for the recipient to see this video message from some of the judges:
Whether your letter reached the top 100 or not, every one of you has written something amazing and the effect of that can only be positive. Thank you, and well done.