Spring is the season of New Life but, before then, each animal must find a mate.
In this wintry weather, animals of all sorts are flirting as if their life, or their legacy, depended on it.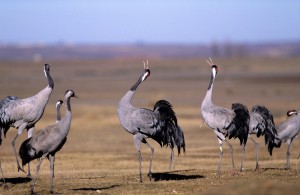 Cranes dance with each other, like teenagers at a school disco. Shelducks do a supercharged strut atop high obstacles. Flamingos march in unison and fashion nests from mud with their beaks. Songbirds sing, while the luckiest are already building nests. Heron and jackdaw nest colonies are visible in the leafless trees. Buds burst and snowdrops, primroses and daffodils bloom.
Martin McGill, Senior Reserve Warden at WWT Slimbridge said:
"Spring hasn't quite sprung, but our wildlife is out there, strutting its stuff already. Everyone wants to get the edge in the race to breed and this means there are some beautiful displays of animal behaviour to see at WWT Wetland Centres.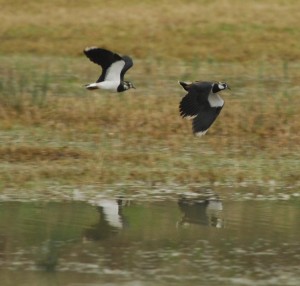 "My personal favourite for this time of the year is seeing the lapwings' acrobatic courtship display, in which they tumble and roll through the air over the wetlands. They do it throughout the day so come down and see if you can spot it for yourself or just immerse in the stunning sights and sounds as our wetlands awake"
Some of the top things to spot at WWT Wetland Centres include:
Flamingos performing group courtship dances: marching, wing-saluting and head-flagging. Flamingos also blush a much deeper pink when they are thinking about breeding and they can enhance this by applying 'make-up' to their feathers from their preen gland.
Cranes bob, bow, pirouette and pause in their dance and, in courtship, they march and call in unison with their life partners.
Frogspawn is visible in ponds
Lapwings performing their acrobatic courtship flights, tumbling and rolling through the air
Pairs of great crested grebes performing their elaborate courtship ritual on water
Songbirds sing long and loud to compete with each other for breeding territory and the attention of females
Male mallards displaying and posing on the water to any unaccompanied females – a few mallards have paired and hatched young already during the winter.
Colonies of grey herons and jackdaws building their nest villages – much easier to see before the trees are covered in leaves.
Male shelduck doing their supercharged courtship: throwing back their heads, puffing out their chests and calling from the roofs of hides and other elevated points.
Black and white oystercatchers noisily calling as they settle disputes and chase females, having returned from spending the winter at the coast.
Marsh harrier and buzzard pairs flying high and calling loudly
Kingfishers setting up their bank hole nests