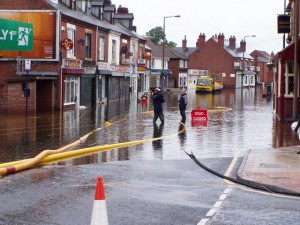 Communities have been left to face ever increasing risk from flooding, according to the Wildfowl & Wetlands Trust (WWT), after Communities Secretary Eric Pickles yesterday announced big exemptions allowing developers to continue directing rain water to sewers.
Nine out of 10 new developments have been automatically excused from installing SuDS – areas where rainfall can seep into the ground to reduce flood risk – and a large number of caveats have been added to rules governing the remaining developments. The decision will pile pressure on existing sewers, many of which are at full capacity already, while climate change is increasing the risk of storms.
71% of respondents to a recent Government consultation, including WWT, warned that the changes to the Flood and Water Management Act 2010 would mean water couldn't be managed sustainably over the long term. Furthermore a large number of respondents warned that the exemption of smaller developments could have a cumulative, detrimental effect on flood risk.
Despite the weight of public opinion and the Government's own figures backing the economic case for SuDS, Mr Pickles' written statement said that the changes had been brought in to avoid "excessive burdens on business".
WWT Head of Conservation Policy Jeff Knott said:
"SuDS are a really positive solution which can help address many of the major problems we face as a society. SuDS protect communities from flooding, they create valuable habitat for wildlife and beautiful open space in our crowded towns and cities which can measurably benefit human health and well-being. What's more, by the Government's own figures, the 'excessive burden on business argument' simply doesn't add up."
Yesterday's statement by Mr Pickles announces changes to the Flood and Water Management Act 2010. The Act was instigated by Sir Michael Pitt's review following the devastating 2007 floods which affected more than 55,000 homes. The Pitt Review sets out the need for urgent and fundamental changes to adapt to more frequent periods of heavy rainfall, and particularly highlighted the need for "strong national leadership".
Responding to this, Mr Knott said:
"As the Pitt Review emphasises, Government has a clear role in providing leadership and guiding developers through this time of change. Instead, they appear to be cutting them loose. SuDS are generally cheaper than traditional drains, but whichever way you look at it, there is an overriding public need to not flood our communities.

"The Communities Secretary's decision to go against the recommendations of the Pitt Review and the findings of his department's consultation has come as both a surprise and a disappointment. WWT believe that SuDS are an invaluable opportunity to improve and protect communities. We will continue to support proven wetland solutions to the problems facing society today."
The Community Secretary's Written Statement to Parliament