What is it about wetlands that makes you feel good?
Nature has always been there for us but the positive impact of the natural environment on our health and wellbeing was not something we may all have been aware of until now. Research shows that spending time in 'blue', watery places in particular, can bring higher benefits than green spaces in improving how you are feeling, reducing both negative thoughts and levels of stress.
Blue spaces could be anything from your family pond, local river or canal to a wetland area as big as that at the WWT Castle Espie Wetland Centre. Water has the power to calm and inspire us and here at Castle Espie, our setting on the edge of Strangford Lough means we are surrounded by water with plenty of wide open spaces to slow down and appreciate wetland nature.
Sights and sounds of spring at Castle Espie
Wetlands can be dramatic and changeable and now that spring has finally sprung, an abundance of new wildlife is awakening from a long winter slumber.
From the return of migrating birds full of birdsong and the arrival of ducklings in our ponds and lakes, to the emergence of butterflies and wildflowers across the reserve, spring is a fantastic time to reconnect with nature.
Here at Castle Espie, we may not be able to welcome our supporters through the doors right now but we've enjoyed continuing to bring you virtual updates of the sights and sounds of our wonderful wetlands.
Breeding Season
Black-headed gulls are once again returning in high numbers to breed around the reserve at Castle Espie. We're extremely excited to see the amber-listed species successfully breed and increase in numbers here over the last 10 years. The majority tend to bed down on our Shingle Bank and Freshwater Lagoon and can be easily spotted from the Turtle Hide, Brent Hide and Crannóg.
Over on our peninsula field just off our normally well-trodden visitor path, you will find it's not only the ducks and geese springing to life. Amphibian life is once again starting to stir with frogs taking advantage of these quieter times by popping up to say hello and taking over the pond leaving behind a sea of frogspawn.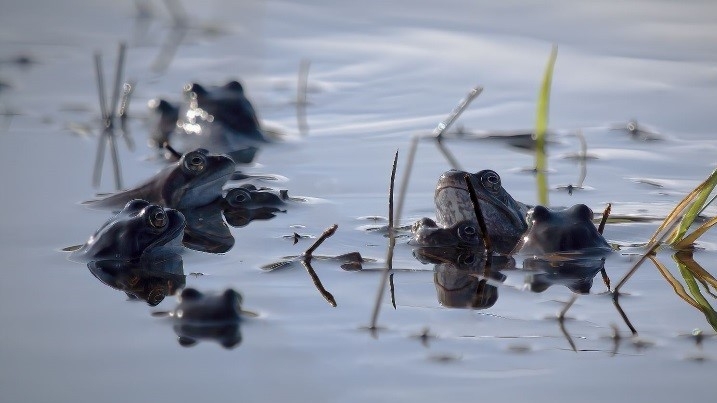 Image Capture: Jonathan Clark
The Secret Swamp
Hiding in our woodland, the Secret Swamp, from where we broadcast one of our recent Facebook Lives, is bursting to life with the appearance of beautiful marsh marigolds. A member of the buttercup family, this plant is a familiar sign that spring has arrived which you may already have spotted on the edge of a pond or a river bank near you.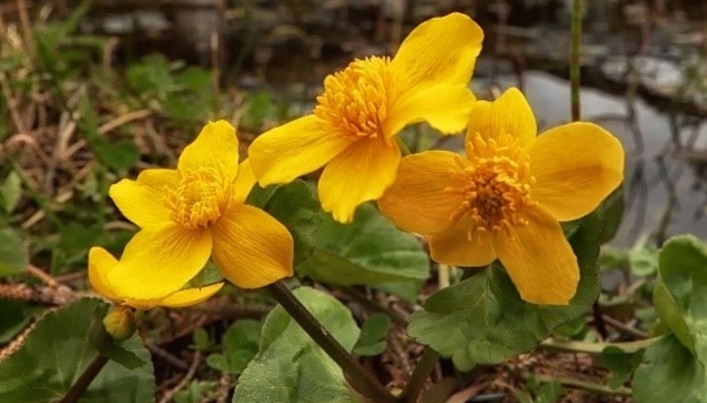 Image Capture: Jonathan Clark

Another sign that Spring has sprung over in Secret Swamp are the abundance of catkins which have started to appear, most notably on our willow and alder trees. Catkins are how wind-pollinated trees like willow and alder reproduce, appearing before the leaves to give them the best chance of success. Their appearance will be an important food source for the insects that make the swamp their home.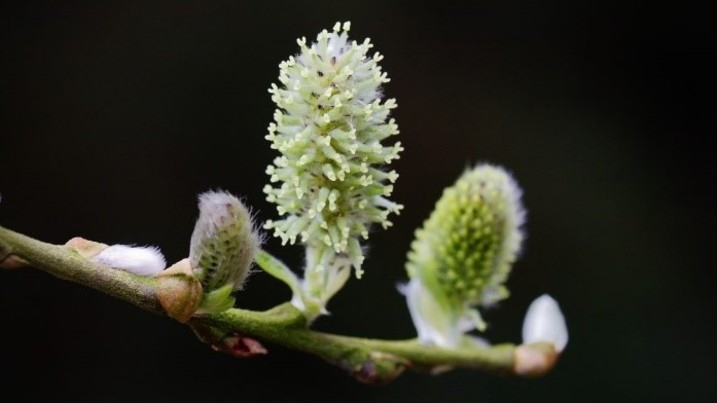 Image Capture: Jonathan Clark (Willow Catkins)

Woodland Warbling
It's not only the plants, insects and amphibians marking the start of spring. Over in the woodland many of our bird species including chaffinch, goldfinch, great tits, blue tits and long tailed tit have been spotted foraging in the area for nest materials such as spiders webs. They will line the inside of their nest with them to make them soft for their new born chicks which will soon be on their way! If you're lucky enough, you will also hear them singing in the tree canopy, helping bring a cheer to all of those still working away on the reserve to maintain it for when visitors can once again return.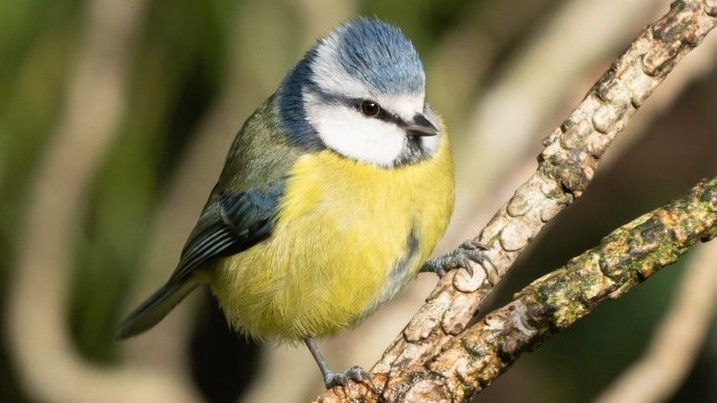 Image Capture: Lesley Barker (Blue Tit)
Close Encounters
Finally, the highlight for many of our younger visitors to Castle Espie, a walk through our Close Encounters area, can best be described as an orchestra of sounds. From the ah-wooo of the eider ducks to the sharp trill of the light-bellied brent geese, these are the unique sounds of the wetlands at Castle Espie.

We look forward to welcoming you back to Castle Espie as soon as it is safe to do so but in the meantime, here's our top 5 tips for connecting with nature in your area:
Engage all the senses – touch, smell, sight, hearing, taste.
Explore the positive emotional connections with nature – calmness and happiness
Look for the beauty in things – appreciate natural scenery or engage with nature through art and music.
Look for the hidden meaning in nature - traditions, localness, seasonality and language. Nature is everywhere, from folklore to place names.
Show compassion by developing a moral and ethical concern for nature – make ethical product choices or help wildlife.
See what works for you and just enjoy the benefits it brings. Don't forget you can keep yourself topped up with your daily dose of wetland wildlife by following our social media channels @WWTCastleEspie.
Wetland Wellbeing hub
For more information about the benefits of wetlands to our wellbeing check out our Wetland Wellbeing hub.
Find out more