Introduction to ditches and scrapes
What are ditches and scrapes and where can you find them?
Scrapes are shallow ponds, less than 1m in depth, which hold rain or flood water seasonally but stay damp for most of the year. Shallow with gently sloping edges, you can see them in fields all over the UK but most often on farmland, where they create obvious water features.
They make a significant difference to wildlife, especially in agricultural areas and are often created in areas of damp or floodplain grassland, or set aside land. Ditches are more familiar to most of us, they're open channels that usually run along the boundaries of fields or alongside roads. They're important because they allow excess surface water to drain from agricultural land and roads in a controlled way. Both ditches and scrapes tend to be manmade.
What lives in ditches and scrapes?
Ditches and scrapes support a lot of aquatic wildlife, particularly wetland plants and insects such as water beetles, dragonflies and hoverflies. Larger, shallow ditches and scrapes can be valuable for wading birds, amphibians and small mammals. Vegetation on the banks is also important. Many plants provide valuable food for wildlife but these damp places also contribute to wildflower-rich grassland.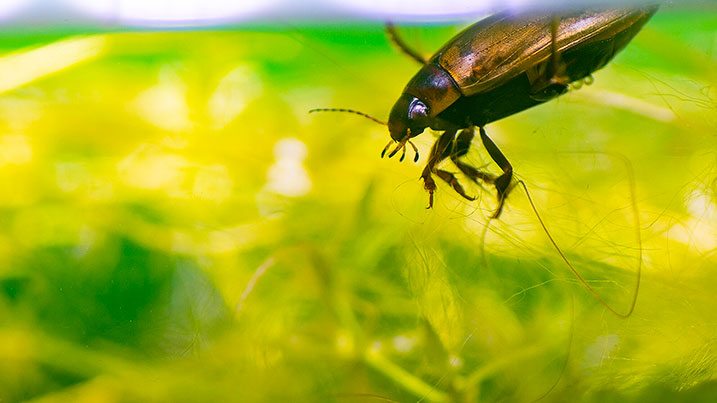 Research has shown that wet features can provide very important feeding areas for breeding wading birds such as lapwings and redshanks, and their chicks, which find lots of invertebrate food in and around the wet muddy edges. Other farmland birds such as tree sparrows and yellow wagtails may also benefit from these insect-rich areas. You might even find kingfisher darting in to grab tiny fish or amphibians.
Perhaps the most iconic ditch species is the great silver water beetle – our biggest water beetle and now almost entirely restricted to this environment.