Introduction to estuaries
What is an estuary?
Estuaries are found on the coast, where a body of water is surrounded by land, but open to the sea on one side, with rivers or streams flowing into it. Where the tides bring in the salty sea water and it mixes with the freshwater rivers, the water becomes brackish or slightly salty.
Where can you find estuaries?
Despite its relatively small size, Great Britain is uniquely gifted with estuaries. The Severn Estuary is one of the most important. It has the largest tidal range in Europe, a vast array of wildlife, a rich cultural heritage and a wild and beautiful landscape. It's a globally important site for nature which is why WWT's founder, Sir Peter Scott decided to set up WWT Slimbridge on its banks in 1946.
From WWT Steart on the Severn Estuary to WWT Caerlaverock on the Solway Firth, and WWT Llanelli on the Burry Inlet Estuary, many of WWT's sites are also found on the shores of our estuaries.
What lives in an estuary?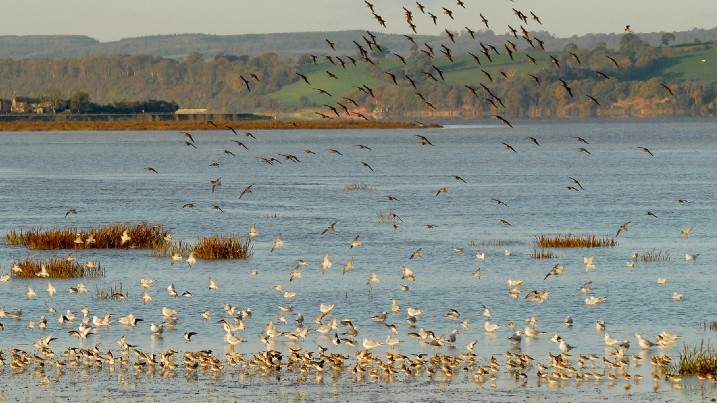 Many plant and animal species thrive in estuaries. Their mudflats and saltmarshes act as extraordinary 'larders for wildlife', supporting an abundance of creatures. It's been estimated that the shellfish and worms found in a single cubic meter of estuary mud can contain as many calories as sixteen chocolate bars.
Because of this, the UK's estuaries provide the perfect pit stop for wintering and migrating birds. They come to rest and refuel with many staying the entire winter as our mild climate keeps our estuaries free from ice.
At peak times, the Severn Estuary can accommodate up to 100,000 waterfowl and waders.
For migratory fish, estuaries like the Severn perform an essential role, acting as a superhighway, linking breeding and spawning grounds. Shad, sea trout, lamprey and salmon swim up the Severn to spawn, while for the critically endangered European eel it's a lifeline after their extraordinary 4,000-mile journey to our shores from the Sargasso Sea.
And estuaries give beyond their margins. These rich feeding grounds also boost wildlife in the surrounding landscape, feeding a vast array of animals from fish to frogs, bats to birds. Breeding birds like common tern come to raise chicks in the insect-rich floodplains surrounding the estuary.