The Easter holidays are here, and with warmer weather on the horizon and buds bursting into flower you might be looking to nature to keep your young adventurers entertained. Your local wetland is the perfect playground.
Although we think that a rainy day has its own charms and can be just as fun (hello puddle jumping) we know that sometimes you'd rather stay inside cosied up. Or perhaps you're choosing to stay indoors for safety reasons. Either way, it's not always possible to get to a wetland, but this doesn't mean you can't still make most of what the natural world has to offer. So bearing that in mind, here are some of our favourite family activities to try, whether you're exploring your local nature or becoming an indoor explorer.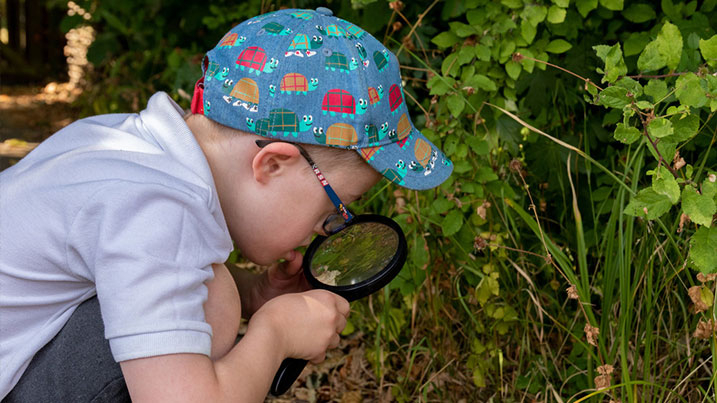 Outdoor fun
1. Become an undercover birdwatcher
Birds can be a bit shy, so why not take your birdwatching to the next level by building your own hide in the garden or by a window? Going incognito like a pro wildlife photographer is a great way to get closer to nature without disturbing it. Staying still and observing isn't always easy, so by building your own hide you'll have a great place to practice being quiet, not moving and just taking in as much of the world around you as possible. Many birders say that watching birds gives them a wonderful chance to focus and be really present in the moment – regardless of how many species they actually spot.
To make your own hide, just follow our simple step by step guide.
2. Make a LEGO bird table
So you've got your hide… but the birds are few and far between. If you want to encourage more birds to your garden or outside your window, one way to do this is to provide a source of food and water. This tutorial combines two of our favourite things in one, helping nature and playing with LEGO!
How to make a lego bird table: watch the video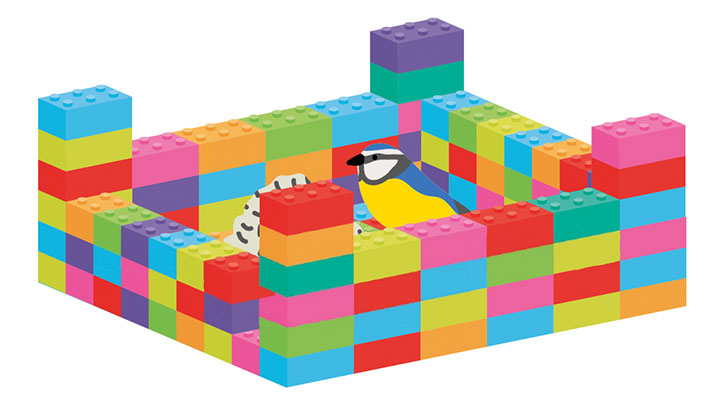 3. Go garden bird spotting
Hide? check. Happy birds munching away? check. Immediately, you notice that some of them are different: some you recognise, but some you've never seen before.
You don't need to be able to ID birds to get a lot out of watching them, but if you find it fun to be able to put a name to a beak, our common garden birds guide might help.
Feeling ready to take your skills out and about? Read our birdwatching for beginners guide to get started.
4. Look at feathers
One of the most incredible things about birds is their feathers, which only get more fascinating the more you look and learn about them. Why not head out to your local wetland and see what kind of feathers you can find there? Just be careful not to get too close to any nesting birds.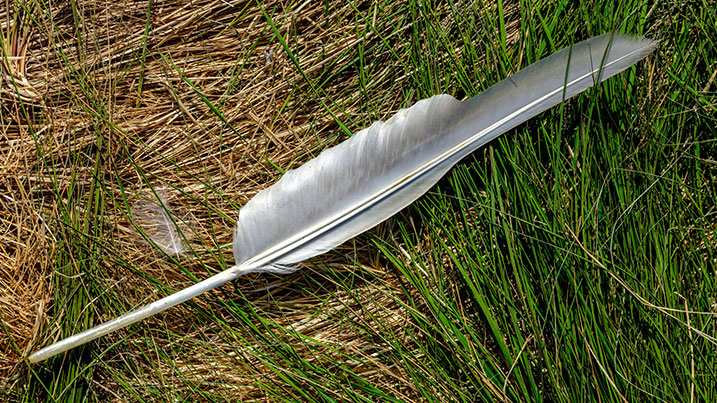 Feather colours are formed by either pigment or structure, or both. Structural colours, such as the blue of a kingfisher or the iridescence of a lapwing, are produced by the bending of the light through the feather. If you hold it up to the light, it will appear brown. Look really closely at a feather, and you'll see how it's made of thousands of individual strands, creating so many different patterns and shapes. So next time you find one, why not take a much closer look?
5. Make a bug hotel
Many of the garden birds we know and recognise are insectivorous, which means they love to dine on a juicy creepy crawly. Did you know that many flying insects actually start life underwater, and they're reliant on wetlands for the majority of their lives?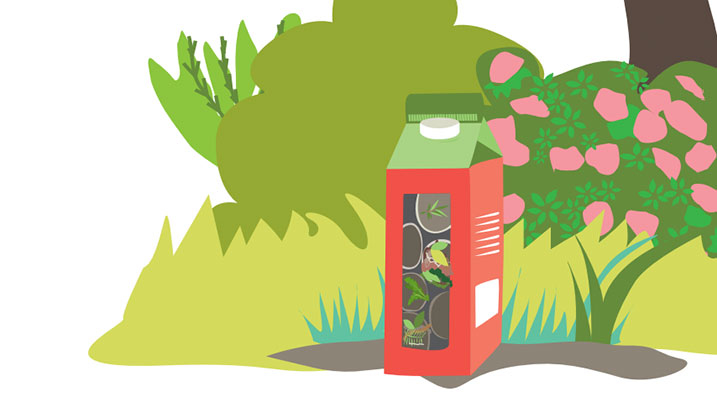 Make your own bug hotel to provide homes for mini-beasts where you live, and give an old juice or milk carton a whole new lease of life while you're doing it – a double win for nature.
Invertebrates are often underrated, but they are a vital part of nature, providing a source of food for other animals, helping to pollinate plants and recycling nutrients back into the soil. Birds, bats and amphibians all rely on mini-beasts as food source in spring, whether they're fattening up after arriving back from a long migration, or emerging from hibernation and getting ready for the breeding season.
Indoor activities
1. Draw what's outside your window
Tired of looking out at the same view every day? Maybe it's time to look at it in a whole new light. This fun drawing activity gets you to look – really look – out your window, and draw what you see there. It can be as accurate or as expressive as you like, and if you can convey a sense of emotion through your picture then you're well on your way to creating art. Can you inject new life into the view through your markings on the paper, through your use of colour and texture? What wildlife is out there, going about its day? What sounds can you hear, how does this influence your creation?
Print out this window template or have a go at drawing your own.
2. Take the Easter chicks quiz
What's the best way of identifying a young bird? Probably looking at its parent, as they can be hard to identify, usually coming in humbug stripes or murky browns and blacks for better camouflage from predators. But there are some tell-tale giveaway signs. Take our fun quiz and see if you can work out what each youngster is going to be when it grows up, then amaze your family when you come back to your WWT centre.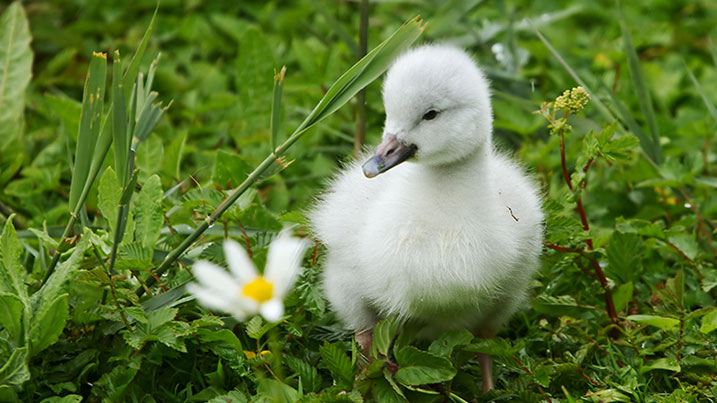 3. Make a spring nature mobile
This activity combines both indoor and outdoor fun. First, go on a nature hunt (this could be a back garden, park or your local wetland) and gather up some lightweight items, as well as a good stick. Then, create your mobile – no two will be the same and it's a lovely way to remember your favourite places with all your senses when you're at home.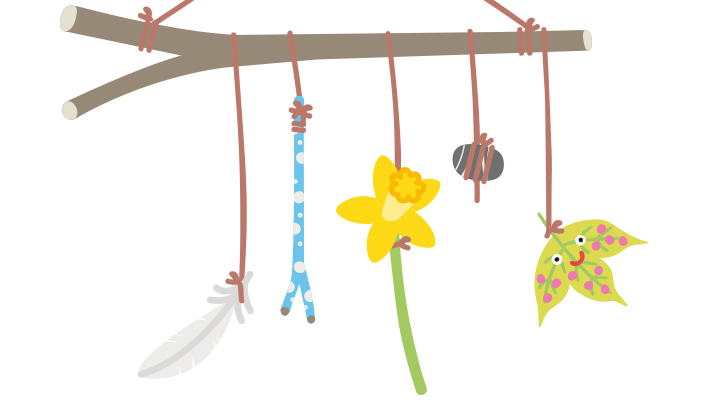 4. Make an origami frog
In our latest origami tutorial, find out how to make a simple jumping frog. You could even draw a series of beautiful lily pads on a pond for them to jump across. All you need is a square piece of paper, and some patience to practice those folding skills. Once you've worked out the technique, it's easy.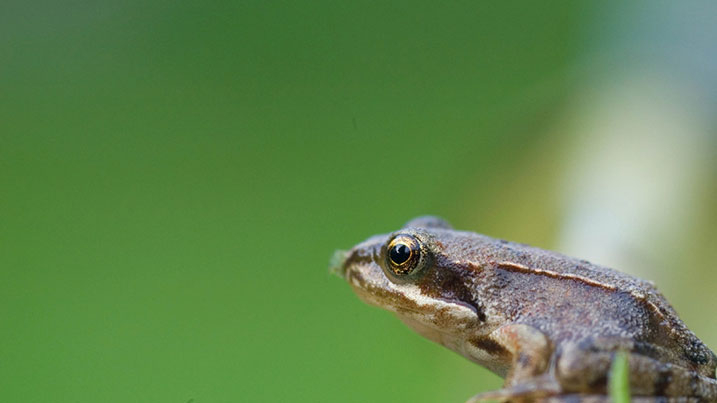 5. Wordsearches and colouring-in
We've got spring on our minds, and now so will you. Can you find all the springlike words in our wordsearch? If words aren't your thing, you can try your hand at colouring in. Easter wouldn't be complete without an egg hunt, and there are loads hidden in this picture. Can you find them all? When you're done, colour in the duck using your favourite spring colours.
Help! I've run out of things to do…
We have plenty more nature-themed boredom busters to keep everyone entertained and occupied on our fun and learning hub.
Find activities