Department of Environment, Food and Rural Affairs Minister Rebecca Pow was given a tour of WWT Steart Marshes in north Somerset today to find out how healthy wetlands can reduce flooding, pollution and carbon, helping people and wildlife adapt to climate change.

The visit follows a WWT parliamentary reception at Westminster last week to highlight the need for wetlands to be at the centre of efforts to tackle climate change and biodiversity loss – by soaking up CO2, mitigating flooding, saving wildlife and improving our own wellbeing.
Steart Marshes, created in 2014 by WWT and the Environment Agency, showcases the multiple benefits of wetlands, demonstrating how wetlands are both productive and useful.
Vulnerable to the changing tide, low-lying farmland was transformed into 1,100 acres (450 hectares) of salt marshes and freshwater wetlands to protect the local community from flooding while at the same time, storing tonnes of climate-causing carbon. The varying habitat now sustains a huge mixture of birds, mammals and plants and are connected via a system of ditches and water control structures and grazed by local farmers, whose specialist salt lamb and beef goes to market at premium prices.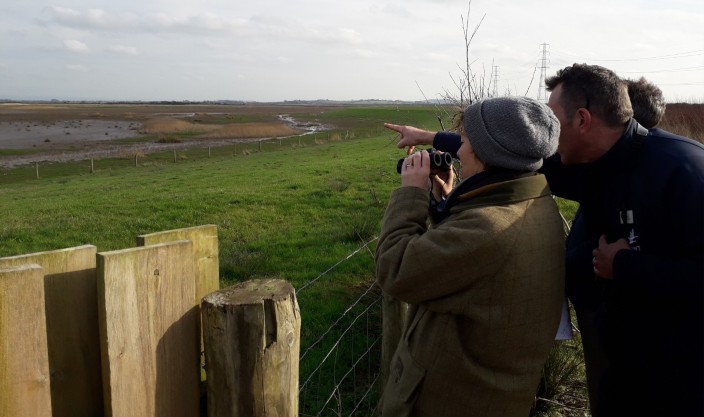 Mrs Pow, who is also MP for Taunton Deane, met with staff at WWT Steart to discuss how the Trust can work with the Government to effectively address the looming climate and nature crisis by creating and protecting wetlands.
Minister Rebecca Pow said:
"It's wonderful to see first-hand how natural flood management projects like Steart Marshes are helping the UK to better protect against flooding while helping to reach our net zero target by 2050.
"Working with the Environment Agency this government will have invested £15m in natural flood schemes across the country by 2021 as we continue to adapt to climate change."
A total of 40% of the world's known species live and/or breed in wetlands yet freshwater species have nosedived by 83% since 1970 with wetlands populations dropping faster than land and marine animals.
Beyond that, wetlands support our own wellbeing. Blue spaces - environments that primarily consist of water such as rivers, lakes, wetlands and coasts - have been shown to have enhanced benefits for health. Steart provides local recreation for dog walkers, bird watchers, nature lovers, cyclists and horse riders, as well as a place for young people to kick off a career in conservation.
Volunteers living with a range of physical and mental health conditions have directly benefitted from working outdoors and weekly health walks have been setup. Staff at WWT Steart are currently working with the Somerset Wellbeing and Learning Community as they develop a Somerset Recovery College for people living with mental illness.
There is an urgent need for greater funding and greater effort to protect and restore wetlands in order to meet the climate and nature emergencies, with key international summits taking place later this year
Tom Fewins, Head of Policy and Advocacy, said:
"Wetlands are the natural solution to some of the biggest problems our planet faces and it is critical we recognise their value in facing the climate and nature crises.
"Wetlands are amazing carbon sinks and provide valuable flood protection; they are incredible for wildlife and even benefit our own wellbeing, so we must recognise and invest in them so that they can do even more.
"We welcome the Minister's visit and look forward to working with her Government to make 2020 a 'super year' for the environment and begin to build a world where healthy wetlands thrive and enrich lives."