A very happy new year to you from all of us at the Wildfowl & Wetlands Trust.
In 2016 we'll celebrate 70 years since Sir Peter Scott founded WWT.
Scott wrote in his autobiography: "I have an itch to create, and my life is too short for all the things I want to make". 27 years after he passed away, we're still creating landscapes, experiences and innovative ways to save wetlands for wildlife and people.
Children in schools are getting firsthand learning about nature through wetland features we've created for them. Communities around the world are working with our advisers to improve natural water quality for themselves and their wildlife. At our wetland visitor centres in 2016 you can enter our puddle jumping championships or walk our LEGO® brick nature trails while getting close to nature among internationally important wildlife reserves.
[caption id="attachment_54449" align="alignright" width="200"]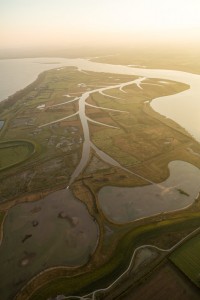 Steart Marshes from above - WWT gets creative on a huge scale, all these channels are manmade to create a working landscape which protects homes for people, and creates homes for wildlife[/caption]
Some of our wetland centres also have notable birthdays. After Martin Mere celebrated its 40th in 2015, it's Arundel's turn to reach 40 in 2016. Our oldest reserve - Slimbridge - will be 70, while our youngest – Steart Marshes – will celebrate its first birthday.
Our work has never been more important. Climate change will see more extreme weather causing both flooding and drought. Wetlands relieve this by storing water naturally, which helps to keep people and wildlife alive and safe, and give us wonderful places to get close to nature.
Here's to a creative 2016!