Today has been interesting just sitting and watching the camera. When the camera came on the female was sitting on the nest by herself. Soon after, another Osprey turned up bearing a very stand out yellow ring and landed right on her back. Our female however didn't lift her tail but she didn't exactly force him off either, so I do wonder if this 'love triangle' might be going on again.  I managed to get back on the recording and took a screen grab of the bird, rotated the picture 90 degree and it appears that the yellow ring might be coded 08, the last figure is certainly an 8. Now the tricky part if to cross check this with some of the data and see if this ring is real and if so whether we can get any information on this individual.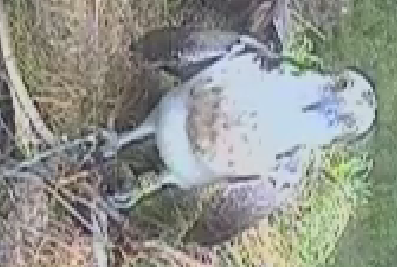 This yellow ringed male stayed on the nest for 10 minutes then got chased away by what I assume was our male. About five minutes later what appeared to be two Ospreys flew behind the nest, but at the same time a wing tip dropped over the camera lens, which led me to wonder if there were potentially four birds around today?
For the rest of the day the female spent a lot of time sorting out the nest, bringing sticks in and also re arranging the grass to form a nice cup shape. But there wasn't much seen from any of the other birds which had been around.
For constant live updates on the Ospreys check the twitter feed @WWTCaerlaverock