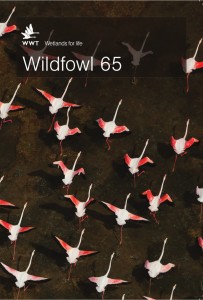 New aspects of the lives of wetland birds are revealed for the first time in the latest issue of Wildfowl, published by the Wildfowl & Wetlands Trust (WWT).
The charity's annual scientific journal is a way of sharing new research that could help conserve wetlands and the birds that rely on them.
Among the highlights in this year's Wildfowl are papers describing:
social behaviour traits of different flamingo species, inferred from observations of captive flocks at WWT Slimbridge and Zoo Berlin
the dimensions and mass of red-breasted geese, based for the first time on large data sample including many birds caught by WWT in Bulgaria
how lesser flamingo flocks distribute themselves across Kamfers Dam in South Africa in relation to the availability of food and the risk from predators
recommendations for managing farm land in California to benefit wintering Aleutian cackling geese, whose numbers have increased hundred-fold since the 1970s
fossilised bones of the extinct Chatham Island duck and concluding its likely size and inability to fly
Wildfowl Editor, WWT's Dr Eileen Rees, said:
"A diverse range of species and conservation issues feature in this year's issue of Wildfowl. I am greatly indebted to the many individuals who have either shared their research, or helped to edit and produce this issue. I thank the readers for their continued enthusiasm and hope that this issue of Wildfowl brings us several steps closer to helping the species, habitats and conservation initiatives described therein."
All issues of Wildfowl dating back to 1948 and including the current issue are available to read for free online at wildfowl.wwt.org.uk. Printed copies are also available to purchase by emailing wildfowl@wwt.org.uk.