Reasons for the recent decline of common pochard are investigated for the very first time in the latest issue of Wildfowl, the international scientific journal of the Wildfowl & Wetlands Trust (WWT).
The number of common pochard migrating to the UK for winter has decreased by 60% since the 1980s, despite the number that breed here doubling over the same period. This decrease reflects the widespread declines in breeding numbers recorded elsewhere across Europe, of which little has been understood until now.
The paper by 29 researchers from across Europe describes the changes that have most likely affected the pochards:
Fewer gulls – colonies of nesting black-headed gulls provide perfect cover from predators for other nesting birds, and their widespread disappearance is known to have affected pochards' breeding success.
More nutrients – nutrients washed off farmland prompt explosions of plants and algae in the wetlands and waterways, preventing pochards and other birds diving for food.
More predators – the escaped American mink was introduced to Europe for fur and, along with fellow invasive aliens raccoons and raccoon dogs, have become major wetland predators, killing pochards and other creatures in great numbers.
Wildfowl Editor and WWT Research Fellow Dr Eileen Rees said:
"Shedding light on the problems such as those facing the common pochard is why Wildfowl is so important. Waterbirds live complex lives and their wetland habitats are entwined with our own need for food and water. Waterbird populations are often spread across nations and continents, and they're highly mobile, breeding, staging and wintering in different places.

"Wildfowl has long been acknowledged as an international scientific journal dedicated to wetlands and the birds that inhabit them. We're able to report the concerted efforts of colleagues from institutions across the globe to help our understanding of these magnificent birds. I'm delighted that yet again we have a rich and broad selection of papers to share."
Research published subsequent to this review additionally suggests a link between the decline in common pochard wintering in the UK and lead poisoning.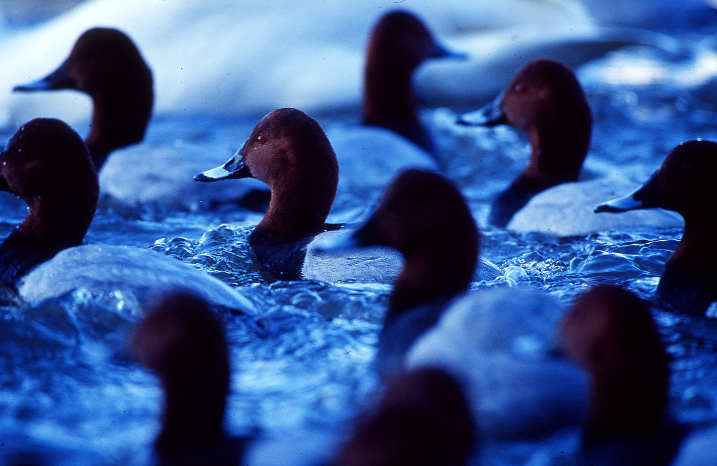 Other papers published in this issue of Wildfowl include:
An assessment of another pochard – the southern pochard in South America – which is suffering a similar fate to its northern namesake, but probably for quite different reasons.
Updates on programmes to restore trumpeter swans and Aleutian cackling geese to their former breeding distribution and to improve their conservation status
An assessment of habitat use by lesser whistling-duck and cotton pygmy-goose at a site in Malaysia
Reports on recent trends in numbers for the Icelandic whooper swan population, for greylag geese in south Sweden, and for seaduck and diving duck species in Japan.
The first ever description of one small, isolated population of goosander in the Balkans.
Reports on habitat use by long-tailed duck in the Baltic, on hunting bags for duck populations in France, and on how a combination of the type of nest box mounts and habitat cover influences conspecific brood parasitism (and thus breeding success) for wood duck in North America