WWT's 'swan woman' Sacha Dench had tea with Russian Ambassador, Alexander Yakovenko, yesterday, during which they discussed the protection of endangered wetland birds and possible future collaboration with Russian organisations.
The invitation to Sacha and her colleagues came following the Flight of the Swans expedition, in which Sacha flew from Russia to the UK in a paramotor to follow the migration of Bewick's swans, who's numbers have declined by a third in a decade. The 7,000km journey took over two months, through many dangers including storms and power lines. The Russian embassy sent a representative to meet Sacha on her arrival at Slimbridge, Gloucestershire at the end of her journey.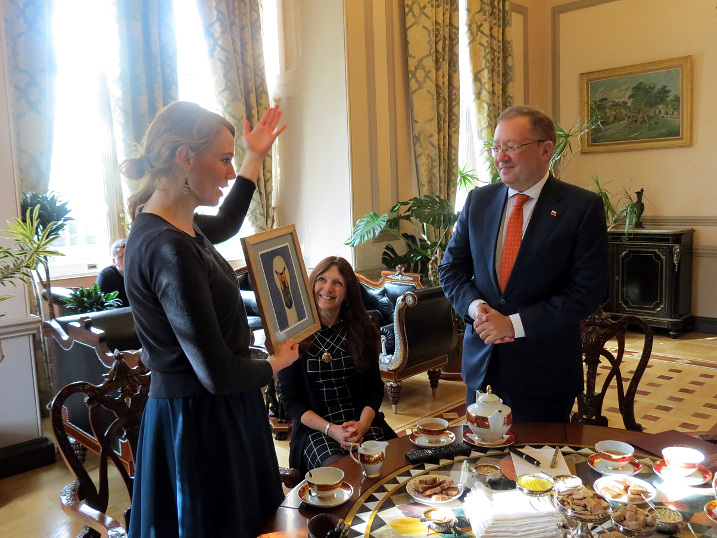 During tea, WWT presented Ambassador Yakovenko with a painting of Bewick's swans by Dafila Scott, who began Bewick's swan research in the 1960s alongside her father, Sir Peter Scott. Sacha and her colleagues talked about how WWT works closely with Russian scientists and authorities in the quest to help Bewick's swans and other Russian species, such as the spoon-billed sandpiper, of which only around 200 pairs still survive.
Sacha Dench said:
"It was an honour to be invited and we had a very useful and productive meeting. WWT has enjoyed a long history of collaboration with Russian scientists over the study and conservation of Bewick's swans. Russia's arctic tundra is absolutely vital as a breeding ground for many migratory wetland birds and as one of the largest expanses of pristine wetlands in the world."