A rare bug – never recorded in Scotland before – was discovered during Chris Packham's Caerlaverock visit.
Two rare saucer bugs, Ilyocoris cimicoides, were spotted by eagle-eyed local expert naturalist, Bob Merritt in a pond on the reserve. Up until this special moment, the furthest north they've ever been sighted was Northumberland.
Chris and helpers counted over 300 species of plants, birds, moths, butterflies, mammals, bugs and fish. Other highlights included marsh harrier, barn owl, badger, painted lady butterfly, fox and tree sparrow.
The popular TV presenter visited the Scottish reserve this month as part of his UK Bioblitz, covering 50 wildlife sites in England, Wales, Scotland and Northern Ireland.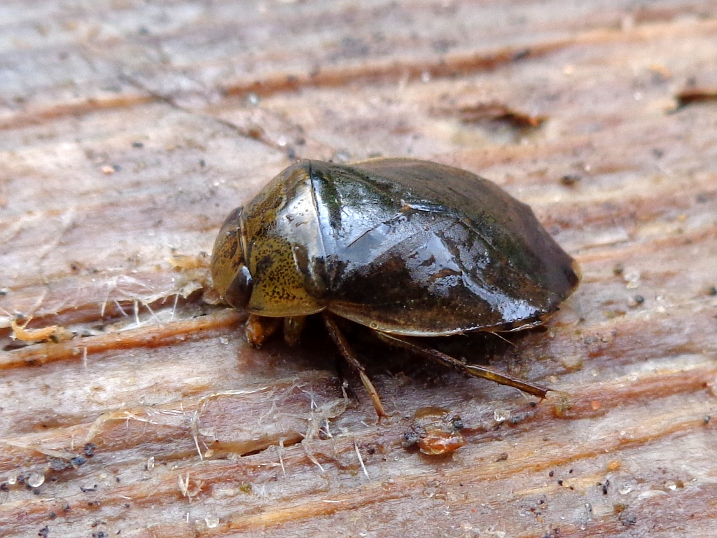 Chris says:
"They are ferocious pod predators and a first for Scotland!

"It just goes to prove that with the assembled expertise – that you will always have here – the wardens, all of the staff and the volunteers, there is always something new to find.

"Forget the geese! Come to Caerlaverock to see the bugs!"
His campaign is to highlight the extent to which the nation's wildlife is under threat and that 'nature reserves are not enough' – we need to preserve our environment everywhere.
He adds:
"I love learning and seeing new places and species but I fear that I will also bear witness to a landscape in huge trouble. I want to spread an awareness of the successes and failures and to encourage people, particularly young people to come out and see the beauty for themselves – to touch it, smell it, feel it.

"If just one youngster learns to love life then it will all be worthwhile. This is not a 'last chance see' this is a big chance to make a difference before it's too late."
A Bioblitz invites local natural history experts to share their knowledge about wildlife species with members of the public. Visitors collect or take photographs of species such as plants, insects, mammals and birds, then show them to the experts who identify and record them. The aim is to see how many different species can be found in 24 hours.
Amongst other activities held at the Caerlaverock Bioblitz were pond dipping, flower, dragonfly and butterfly walks, small mammal trapping, a bird ringing demonstration, owl pellet dissection, moth trapping, wildlife gardening, a badger talk and nature arts and crafts. Other organisations also took part, including Butterfly Conservation, Bat Conservation, the British Dragonfly Society, and the North Solway Ringing Group.