Our experts made the exciting discovery during their annual 2000-mile trip to the Arctic to ring the critically endangered birds.
After spotting just one cygnet last year, Conservation Scientist Kane Brides and Reserve Warden David Dinsley sighted 24 cygnets and ten families during the successful expedition.
The young birds were well-sized and expected to fledge, hopefully adding to the numbers that will visit us over the winter.
Kane said:
"This is a definite indication of a better breeding season than last year when spring was late and the birds didn't have as much of a window to breed. Thankfully the weather was OK this year, allowing the swans to get on.

"In the next four weeks the Bewick's will begin leaving the Arctic to begin their epic journey through Europe. We hope this snapshot means there will be more cygnets in tow with their families."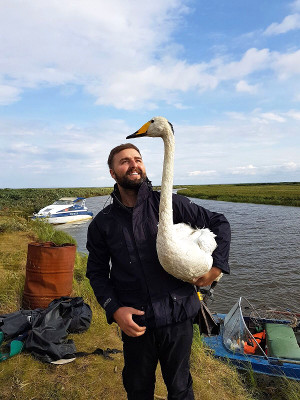 The team managed to tag 74 birds including 60 Bewick's swans, ten of which had been ringed before. Amazingly, two of the swans were known to visit Welney on the Ouse Washes. Nine mutes were also ringed as well as five whoopers.
The team will then carry out three assessments over winter in the UK and collate the details to establish how successful the breeding season was. The yearly Arctic trips give our conservationists an early idea of how it's gone.
Ringing the birds in the tundra is no normal business trip. Bewick's swans are truly wild and as such favour the remote. Kane and David were camped seven hours from the nearest town which meant drinking water from the local lake, eating fish from the local lake and washing in the local lake in temperatures as low as three degrees. The only shelter is an empty fisherman's hut which had to withstand one of the biggest thunderstorms witnessed on a ringing trip so far.
These difficult expeditions wouldn't be possible without the guidance and support of staff from the Nenetsky Zapovednik who help the team tough it out.
But it's all worth it. The vital data these visits provide is an invaluable source to WWT which has been ringing Bewick's at their wintering sites in the wild since the 1960s.