Around 70% of land in the UK is agricultural land. We are blessed with some of the most productive farmland in the world and much of this productivity is connected to wetlands. Wetlands are some of the most productive ecosystems on the planet and much of our farmland in coastal areas, lowland floodplains, and some uplands is located in and around such wetlands.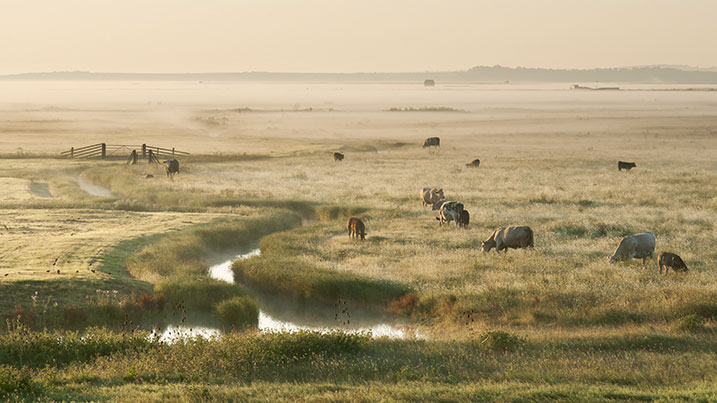 However, this can also create conflict. The very land that we seek to use for productive purposes is vital for wetland habitats and species. Striking the right balance will reap long-term rewards for both, as well as deliver a whole host of other ecosystem services, such as improving water quality and protecting us from flooding.
WWT is actively working to help find this balance. Our 'Working Wetlands' approach seeks to use the multiple benefits provided by wetlands as a tool to bring them back into the agricultural environment. We are working to develop specific solutions such as farm treatment wetlands, demonstrate the role of wetlands at a catchment scale, generate new evidence on the benefits they provide, and influence law and policy to help create, restore and revitalise wetlands in the agricultural landscape.
Human beings are now officially an 'urban species', with more than 50% of the world's population now living in urban areas. However, this trend towards urbanisation for our species has had catastrophic impacts for many others as they, and the habitats they depend on, have been squeezed out of the urban landscape. These impacts are particularly severely felt by wetlands. Most urban centres developed precisely because of wetlands, which provided easy access to water, rich agricultural land, and navigable access. However, the extent of urban development means many have been drained and built on entirely and remaining fragments are severely degraded. As well as being disastrous for wetland wildlife this has also had severe impacts on our society, with the ecosystem services that these wetlands provided having been severely compromised.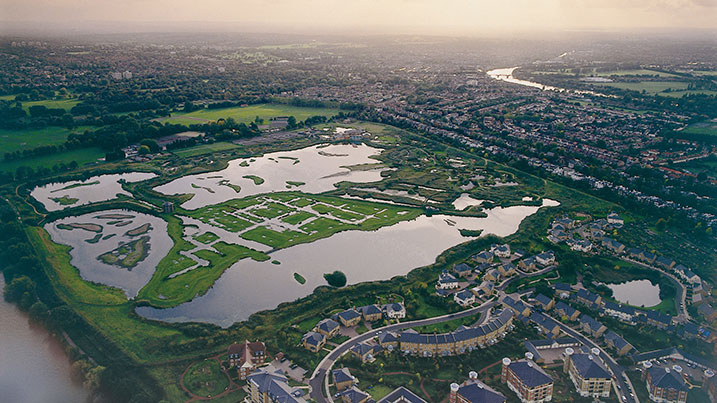 WWT has always played a role in trying to redress that balance. Many of our Wetland Centres are in close proximity to major urban centres and for many people they a vital source of access to nature. London Wetland Centre was created right in the heart of one of the world's biggest urban centres and was a major step forward in bringing wetlands back into the urban environment. We are now taking this concept even further, with our 'Working Wetlands' approach which seeks to use the multiple benefits that these wetlands can provide as a way to bring them back into people's homes, businesses, neighbourhoods and daily lives.
The UK is blessed with several beautiful and iconic wetland landscapes – from the Severn Estuary and the Norfolk Broads in the South to the Scottish Lochs and Flow Country in the North. While these landscapes still hold a special place in the hearts and minds of many of us, several of them are in a perilous state, suffering from a range of problems including pollution, drainage and loss of charismatic and emblematic species.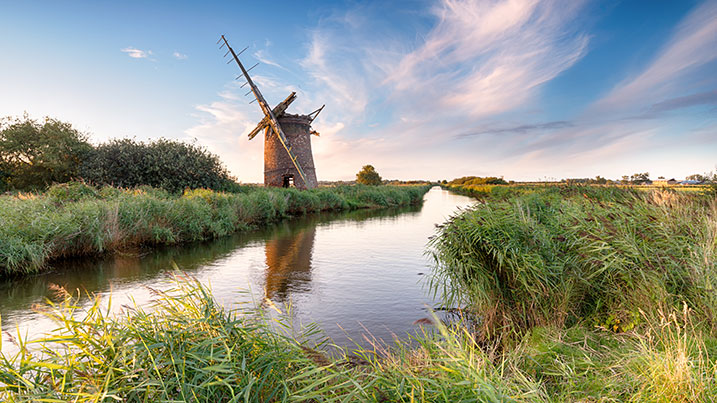 WWT has an active presence in many of these landscapes through its Wetland Centres. Historically we have focussed our efforts on making our own sites the best they can possibly be – the jewels in the crown of these landscapes. However, to reach their full potential, these sites need to be part of an ecologically functional landscape – one that better supports wetland wildlife alongside, and in harmony with, other uses of the land.
In recognition of this, WWT is increasingly engaging in the landscapes around our Wetland Centres – what we call the Waterscapes. Our work focusses on working collaboratively to restore habitats, enhance connectivity, and restore populations of species.
Over the millennia of human influence, a number of wetland species have been extirpated in the UK, and many others have been reduced to tiny remnant populations. The same pattern applies at local and regional level within the country: many wetlands lack the species that would historically have supported its ecosystem function, or would have enriched the lives of the people that spend time in them.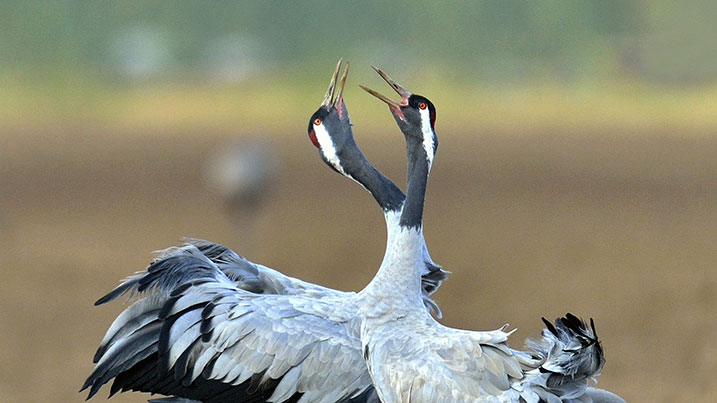 Our UK Species Restoration programme aims to reverse this loss. Our ethos is that as we create, recreate and restore wetlands, we should – where feasible and appropriate – ensure that they have as full a suite of species as possible. Where this means active intervention, we will do it.
We have particular skills in close-order study and management of small populations, wildlife health and in conservation breeding, and these are used to deliver hands-on recovery of some of the most threatened species in the country.
Projects
Eurasian curlew
Common scoter
Wetlands in tropical regions are among the most species-rich habitats on the planet, but in many developing countries they are being degraded and destroyed at an alarming rate. These wetlands are often also vital to the lives and livelihoods of many of the world's poorest people, and when they are destroyed or degraded it is these people who feel the effects first and hardest.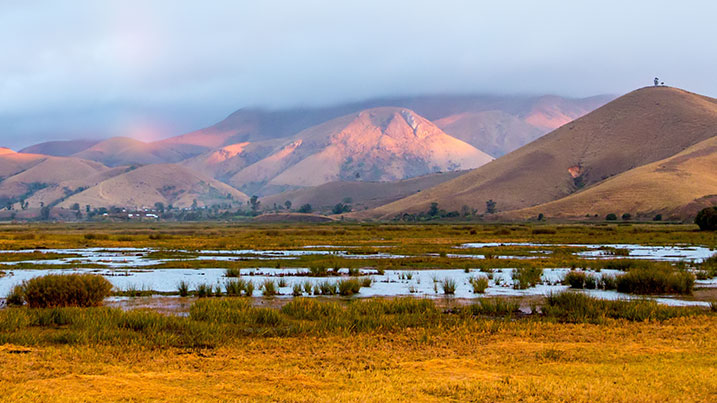 WWT is working with local communities, government and partner organisations to conserve wetland nature and prevent wetland loss in ways that maintain and enhance the lives of those that depend on them – focussed heavily on the promotion of community-based management techniques. In order to maximise our impact, we are focussing our resources on hotspots of wetland biodiversity, such as Cambodia and Madagascar, where the threats from unsustainable development are large but also where opportunities to make a difference are highest.
WWT seeks to achieve change in all of the countries of the UK, on some of the world's great waterbird flyways, and in a selection of lower income – high biodiversity tropical countries. In running projects in these places, we also learn lessons that we believe can be of value to the global conservation community. Further, some wetland conservation issues are truly global in nature and can only be tackled in global forums.
We therefore work with Multilateral Environment Agreements (MEAs) and other global networks to promote the conservation solutions that we have developed, and to deal with global issues. We focus in particular on the experience we have acquired in running Wetland Centres that deliver Communications, Education and Public Awareness programmes, in delivering integrated conservation and development overseas, and in promoting a 'One Health' approach to wetland management.
We work in particular with the Ramsar Convention, where we are one of six International Organisation Partners, and with the Convention on Migratory Species, the African-Eurasian Waterbird Agreement and the East Asian – Australasian Flyway Partnership.
Projects
Ecosystem approach to wetland health
WWT has been conserving waterbirds in the Northwest European Flyway (NWEF) ever since the Severn Wildfowl Trust was established in 1946. This work began with pioneering studies of migration, monitoring waterbirds populations in the UK through the National Wildfowl Counts (now the Wetland Bird Survey), and developing novel catching and marking techniques such as cannon-netting and engraved colour rings.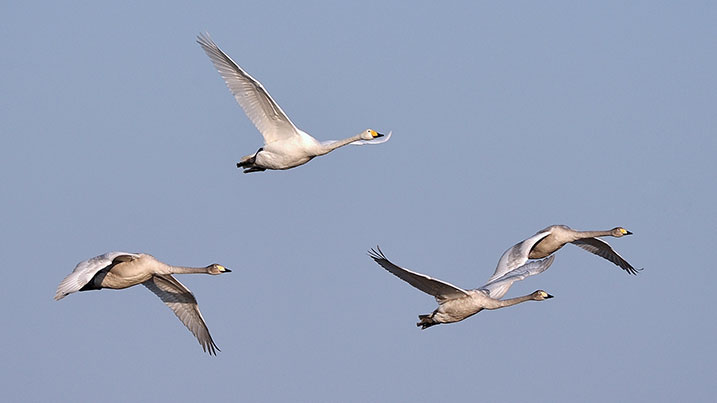 Today our work in the NWEF has three main components – our species conservation work, long terms studies of Svalbard barnacle goose and whooper swan, and our monitoring programmes on swans and geese and through the WeBS partnership.
We take a partnership approach to conserving species in the NWEF including working with international organisations and conventions such as Wetlands International and the African-Eurasian Waterbird Agreement. Nationally we work closely with the British Trust for Ornithology, RSPB, JNCC and the country agencies.
Projects
Common scoter
Greenland white-fronted goose
Swan and Goose Monitoring Programme
Taiga Bean Goose
Wetland Bird Survey
The East Asian-Australasian Flyway (EAAF) stretches from the Russian Far East and Alaska, southwards through East Asia and South-east Asia, to Australia and New Zealand and encompasses 22 countries.
The EAAF is home to over 50 million migratory waterbirds from over 250 different populations, including 32 globally threatened species and 19 Near Threatened species. During migration, waterbirds rely on a system of highly productive wetlands to rest and feed, building up sufficient energy to fuel the next phase of their journey. International cooperation across their migratory range is therefore essential to conserve and protect migratory waterbirds and the habitats on which they depend.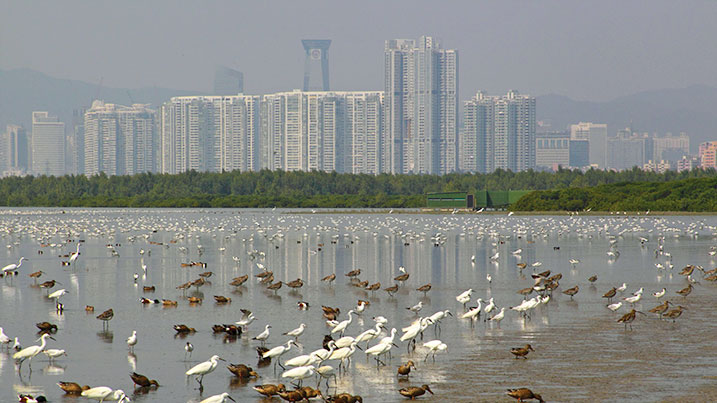 WWT's work in the EAAF focuses on three key projects – saving the globally Critically Endangered Spoon-billed Sandpiper and the inter-tidal habitats on which they depend, saving the globally Critically Endangered Baer's Pochard and the freshwater habitats on which they depend, and working with the East Asian - Australasian Flyway Partnership to strengthen conservation along the flyway.
Projects
East Asian - Australasian Flyway Partnership