Introduction
With chicks the size of bumblebees, a beak the shape of a spoon, this adorable and very rare migratory bird – or "spoonie" as it is affectionately known – has captured a special place in our hearts.
This unusual and attractive bird spends the winter on the vast wetlands of South Asia, making incredible migrations across Indochina to its breeding grounds on the Russian tundra.
What we are doing
WWT is helping save this endangered bird in a number of key ways
Giving a head start in life
For every 20 eggs laid in the wild, only three chicks survive to adulthood. But by using a conservation technique known as headstarting, we've been able to dramatically improve the odds. Carried out on the birds' breeding grounds in remote arctic Russia, this involves collecting, incubating, and hatching eggs and head-rearing chicks ready for safe release once they've fledged. Working this way, we've managed to increase the number of fledglings that survive each year by 20%.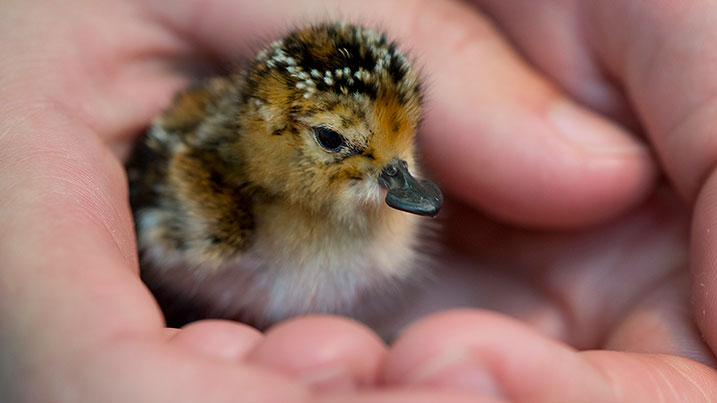 Understanding migration
Where the waders go has been something of a mystery until very recently. Spoonies are serious migrators, travelling between south Asia and its breeding grounds in Russia. With little information about where the spoonie spends its time, it has been a real challenge to know where to focus conservation efforts along their flyway.
But now tiny satellite tags, small enough to be glued to the birds' back feathers are shedding new light on their migration route and more crucially where they stop off to rest. Already we have discovered new wintering and moulting sites in North Korea. To date, we've only been able to identify breeding sites for a quarter of spoonies and wintering sites for about half but we're hoping new tagging data will help shed more light on where the missing birds are.
Wherever the bird is spotted on its long migration between south Asia and its breeding grounds in Russia, communities have been rallying to protect the wetland environments so crucial to the survival of both wetland wildlife and people.
Protecting vital wetlands
In 2008 the spoon billed sandpiper was discovered in the Gulf of Mottama in Myanmar. But overfishing in this vast wetland had forced locals into netting large birds, driving spoonie numbers down as they became an unfortunate bycatch.
But international concern over the plight of this tiny bird sparked a chain of events and in 2017 the Gulf was awarded international protection, promising a better and more sustainable future for spoonies and the people who live there.
Captive breeding programme

As a final defence against total extinction we also have an "ark" population of spoonies at WWT Slimbridge. So far three chicks have hatched but unfortunately none have survived. However by recreating their extreme lifestyles from the Arctic Russia to tropical Asia in the aviaries here – using special lightbulbs, timer switches and diet analysis - our experts are edging ever closer to a breakthrough.
Key achievements
For the first time, spoon-billed sandpiper migration is being tracked with satellite tags.
A captive population has been established as a safe-guard against extinction with breeding plans in place
Headstarting has boosted the number of young spoon-billed sandpipers bred each year in the wild by a quarter – 163 birds have been released so far. This increases the output of the global population by c.20%
Headstarted birds (a total of 15 individuals) have returned to breed in Russia every year since 2014, and have been resighted over 200 times in the flyway. 26% of birds have been resighted at least once
A new breeding site, "Okeanskoe," has been discovered in Russia
The Spoon-billed Sandpiper Task Force is working with villagers in Myanmar and Bangladesh to ease the pressure of trapping
Advocacy work is raising the profile of the critically important intertidal wetlands in the Yellow Sea. China has committed to no more reclamation in the Yellow Sea
Awareness raising activities are introducing this incredible bird to children along the flyway
You can help
By supporting our ark population in the UK and headstarting programme to help spoon-billed sandpipers breed in the wild you are helping to buy time for the whole species. Time which WWT and our partners can use to continue conservation work on the ground.
Partners and funders
Efforts to save the spoon-billed sandpiper are being made a large number of organisations and individuals throughout the flyway and beyond - a truly international and collaborative effort. The key partners involved in conservation breeding, headstarting and satellite tracking are WWT, Birds Russia, RSPB, the BTO and Moscow Zoo, working with colleagues from BirdLife International, ArcCona and the EAAFP Spoon-billed Sandpiper Task Force.








The work has been funded by WWT, RSPB, the UK Government's Darwin Initiative, SOS – Save our Species, ICFC – International Conservation Fund of Canada, a legacy from the late Dr Rosemary H McConnell and Leica Camera AG, with additional financial contributions from WWT members and many other generous organisations and individuals.