Pick up your paddle and canoe your way around our award-winning Canadian canoe trail or sit back and relax on a guided boat tour along our kilometre-long trail!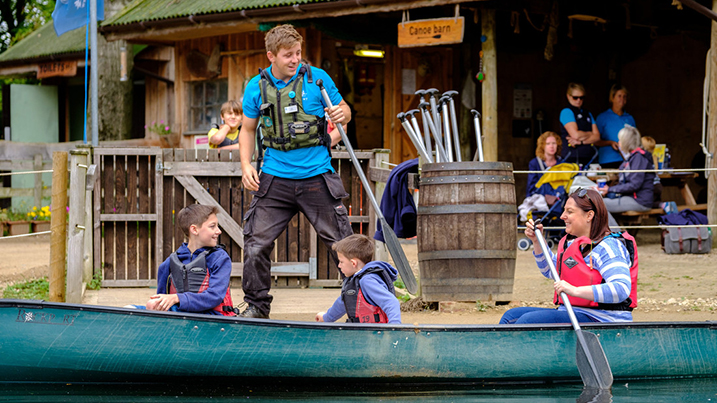 Canoe Safari
This self-guided canoe safari offers you a unique way to explore a part of our wetland centre that isn't accessible on foot. The habitat around the canoe safari is teeming with life, so keep your eyes open and see what you can spot as your paddle your way around the twists and turns of the waterways. Dragonflies, kingfishers, water voles – what treasures will you discover?
Cost: £8.
Seats: Maximum 3 people.
Time: 1 hour maximum.
Open: April - September (11am - 4pm), weekends in October.
Equipment: Canoe, paddle and life jacket included in hire cost.
Restrictions: Children under 18 must be accompanied by an adult. Not suitable for children under 5 or under 95cm tall.


Boat Tour
Sit back and relax on a guided boat tour of our kilometre-long trail. With an abundance of wildlife in the surrounding area, your boat guide will identify and point out the wildlife, plants, fish and insects all around you.
Your guide will be able to help you spot elusive wildlife such as sedge and reed warblers flitting in and out of their reed bed nests. This tranquil and relaxing boat tour is a must-do for any visit!
Cost: £3 per seat
Seats: Maximum 8 people
Time: 30 minutes
Open: April - September (11am-4pm), Weekends in October
How to book: Seats on the Boat Tour are sold on a first come first serve basis, so we highly recommend that when you arrive at the centre, you go straight to the Boat Safari area to book your time slot for that day.
Additional information: The boat is wheelchair friendly.
Sound good? Plan your visit and book your tickets online today!