With warmer weather, longer days and an abundance of new life at the centre, spring is a great time to visit Martin Mere.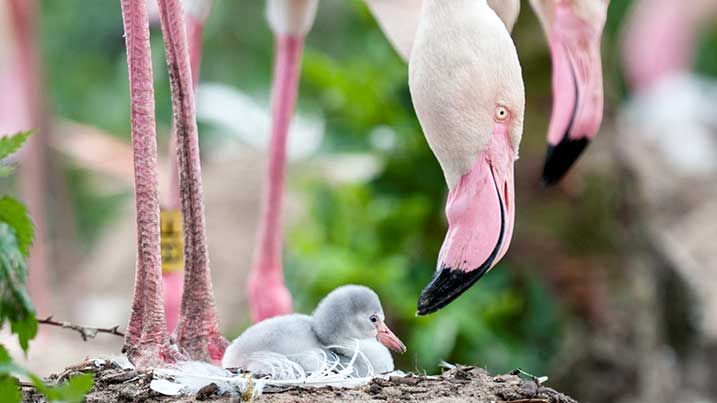 With a packed calendar of family-friendly events including our Annual Duck Race and Fluffy Duckling Week, there really is something for everyone at our centre.
From our all-star cast of flamingos, a family of otters, a muster of white storks and a pair of poisonous spur-winged geese, we've got a wide range of species at our Wetland Centre. You can find out more about these amazing animals in our daily species spotlight talks and feeds.
While you're here, make sure you grab a net and delve into pond dipping in our brand new Pond Zone! We've everything you need to uncover incredible underwater life: nets, trays, magnifying glasses, identity charts, and our friendly Learning Team* are on-hand to help.
For the young adventurers, there's plenty of areas to explore. Venture through three types of 'wild' wetland in one mile-long VIP walk – wellies are a must in the Wild Walk area!
For an additional experience during your visit head over to our Canoe Safari and Boat Tour area. Pick up a paddle and canoe your way around our award-winning kilometre-long Canadian canoe trail, or if you're wanting a more relaxing experience, drift away on a 30 minute expertly-guided boat tour.
For little adventures, make sure you check out our Rushes play area. From zip wire screams and scramble net laughs, to treehouse trailblazing and water zone wonders, our huge adventure playground is a total rush for ages 3 to 12.
Whilst you're here, enjoy hot and cold homemade lunches, freshly-brewed teas and coffees, and delicious cakes overlooking Swan Lake in our Mere Side Café. In our shop, we've got gorgeous gifts, books and toys for you – and every penny you spend in our shop and café goes to support our vital conservation work.
This spring, get the family together and spend some time in the great outdoors. Plan your visit and book your tickets online today!