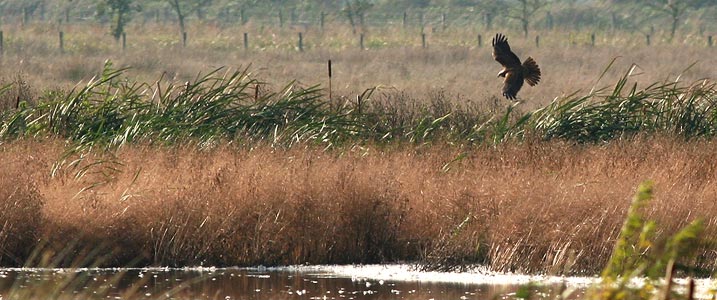 Martin Mere, near Ormskirk, in Lancashire is where wilderness and family-friendliness combine.
Its year-round attractions include an otter enclosure, pond dipping zone, an inspirational eco-garden and the opportunity to enjoy close-up encounters with around 100 species of international water-birds as they swim, feed and wander in wetlands custom-designed to mimic their natural homes.
To this, nature adds many other treats. A survey in 2002 recorded well over 2,000 different species of birds, mammals, insects, fish, amphibians, reptiles and mini-beasts living in and around the mere which gives the site its name. In addition, the site is a haven for many traditional Lancashire plants, such as the endangered whorled caraway, golden dock, tubular water dropwort, early marsh orchids, the large-flowered hemp nettle and purple ramping fumitory.
But what makes Martin Mere truly world class are the many thousands of migrant wild ducks, geese, waders and swans which over-winter at this Ramsar-rated marshland and especially the spectacular displays of feather and flight provided by huge migrant flocks of pink-footed geese, wigeon and whooper swans.
Spring
Wildflowers add colour to the walkways and meadows whilst spotting for lapwing and redshank; courting birds display their finest plumage and songs; the centre's award-winning downy duckling nursery re-opens, allowing visitors to see how newly-hatched babies are hand-reared.
Summer
Raptors can be seen hunting – a sure sign of healthy and rich biodiversity with hen harriers, hobby, merlins and peregrine falcons all hunting on the marshes; dragonflies, butterflies, brown hare and bats come out and summer waders return to breed and feed. Summer is one of the best times to see Barn owls.
Autumn
Fungi flourish, falling leaves make kingfishers easier to spy and there's the awesome sight of thousands of pink-footed geese coming back to the mere for the winter.
Winter
The reserve fills with many more over-winters, including families of whooper swans which are regulars here and, often, a rare species blown in by cold weather, and large migration flocks of wigeon